1.
The Bevy Hotel Boerne, a DoubleTree by Hilton
101 Herff Road, Boerne, TX 78006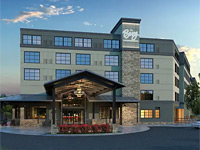 The Bevy Hotel enjoys peaceful, wooded surroundings, close to the northern US 87 frontage road on the south side of Boerne, ideally positioned for explorations of the Texas Hill Country. The five story building was constructed in 2019 and is within a short walk of several restaurants and stores. Accommodations include a selection of suites, while all rooms feature Texas-influenced decor and modern amenities. General facilities include a good sized outdoor pool, a fire pit, business & fitness centers, an all-day restaurant/bar, cafe, 24 hour market and 15,000 square feet of event space.
2.
Hampton Inn & Suites Boerne
34935 I-10 West, Boerne, TX 78006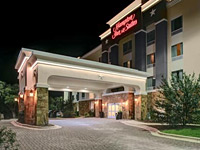 Rooms at Hampton Inn Boerne have pleasant views over the peaceful, tree-lined residential neighborhood, close to the Bandera Road exit of I-10, towards the southeast edge of the city. Some overlook the outdoor pool and sundeck, on the sunny south side of the property. Complimentary amenities are wi-fi, hot breakfast each morning and drinks on some weekday evenings. Facilities include 1,440 sq ft of event space, catering for gatherings of up to 120 people. Over half a dozen restaurants and one supermarket (HEB) are within walking distance, around the interstate exit.

3.
Best Western Boerne Inn & Suites
36756 Interstate 10 W, Boerne, TX 78006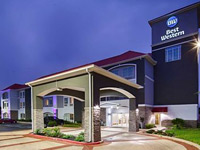 The interior corridor Best Western Boerne Inn (formerly La Quinta) provides good quality free hot breakfast each morning, and has other amenities of a business center, convenience store, fitness center and a secluded outdoor pool - at the rear, well away from I-10 which runs past at the front. The three floor property adjoins a residential area along the eastern frontage road, in a generally quiet, semi-rural neighborhood, one mile from a group of shops and restaurants at the Bandera Road exit of the interstate. The city center is one mile east. All guest rooms are equipped with a sofa bed or lounge chair, plus a refrigerator and microwave.

4.
Fairfield Inn & Suites San Antonio Boerne
6 Cascade Caverns Road, Boerne, TX 78015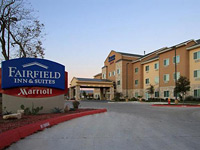 The recently-built Fairfield Inn brings the renowned Marriott hospitality to Boerne, offering 78 modern, brightly decorated rooms and amenities of free hot breakfast, free wi-fi, fitness center and pool. The three floor hotel is built in rural surroundings 3 miles south of the center of Boerne next to I-10 exit 543 - along Cascade Caverns Road, which leads to a scenic cave system that includes a 100 foot subterranean waterfall. Further south, I-10 reaches Six Flags Fiesta Texas after 13 miles, at the edge of San Antonio. The closest restaurants to the hotel are about 1.5 miles away, along Main Street in Boerne.

5.
Comfort Inn & Suites Texas Hill Country Boerne
35000 I-10 West, Boerne, TX 78006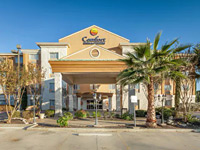 The Comfort Inn hotel in Boerne is located next to exit 540 of I-10, set back a little way from the highway overlooking an area of woodland in the countryside a mile south of the town center. Boerne is a good base for exploring both San Antonio (25 miles southeast) and the Texas Hill Country. Six Flags Fiesta Texas is just 15 miles away. The hotel has 62 rooms & suites - all with microwave and refrigerator, an outdoor pool, hot tub, gift shop, fitness center, business center and meeting space for up to 100 people. Free breakfast is served and there are plenty of places for dining nearby.

6.
Days Inn by Wyndham Boerne
35150 Interstate 10 W, Boerne, TX 78006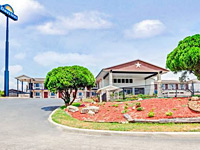 The exterior corridor, pet friendly Days Inn Boerne has a pleasant outdoor pool at the front, enclosed by trees, and a good sized parking area all around, mostly at the rear. To the west, the hotel adjoins an undeveloped, partly wooded area with walking trails, extending towards Frederick Creek. Accommodations include a few suites with a full kitchen; all guest rooms have a microwave and refrigerator, while the hotel also offers a fitness center and 600 sq ft of meeting space. The property adjoins the central I-10 exit for Boerne, at the intersection with Hwy 46.
7.
Motel 6 Boerne
1228 S Main Street, Boerne, TX 78006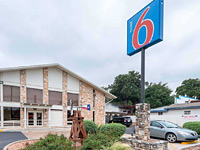 Motel 6 Boerne is one of the more modern properties of this popular, affordable brand; rooms are brightly decorated and attractively furnished, contained within a two floor, exterior corridor building with distinctive stone cladding. Some accommodations are equipped with a refrigerator and microwave. The motel is part of a generally residential neighborhood along US 87 (Main Street), though close to a selection of shopping & dining. Interstate 10 (exit 540) is half a mile west. The one main amenity is an outdoor pool, on the shady north side, shielded from the road by several large trees.