1.
Hotel Paso Del Norte, Autograph Collection
101 S El Paso Street, El Paso, TX 79901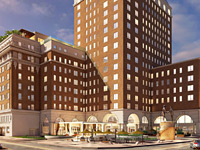 Half a mile from the Mexican border, Hotel Paso Del Norte is a historic, 17 storey, brick-clad property that opened in 1912 and was in recent times known as Camino Real El Paso, before a full refurbishment, and it reopens summer 2018 as a member of Marriott Hotel's Autograph Collection. The 356 room hotel retains all its ornate, decorative features, accompanied by modern amenities and top quality customer service. Features include a full-service spa, a fitness center, a lounge bar, a grand ballroom and a rooftop terrace with views of the city, the Franklin Mountains and across the border to Juarez. Guests enter past a canopied, alfresco dining area with fountains, into a richly-decorated lobby beneath a 25 foot-diameter stained glass dome. Locations within two blocks include El Paso Convention Center, the Plaza Theatre and San Jacinto Plaza.

2.
Hotel Indigo El Paso Downtown
325 N Kansas Street, El Paso, TX 79901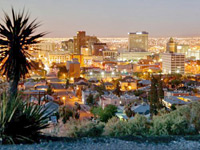 The Artisan Hotel in central El Paso was fully renovated in 2015 and rebranded as Hotel Indigo El Paso - a stylish, boutique property that references the history of the downtown area through its decor and photographic displays. The 12 story building is three blocks from I-10 (exit 19B) and one mile from the international border, situated in a relatively quiet neighborhood. Places within easy walking distance include the Museum of Art, Southwest University, the Convention Center and the Plaza Theatre. The hotel has its own restaurant/bar (room service available), together with a fitness center, pool, meeting space and a business center.

3.
DoubleTree El Paso Downtown/City Center
600 N El Paso Street, El Paso, TX 79901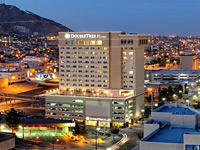 DoubleTree El Paso Downtown rises 17 floors above the surrounding, mostly low rise buildings, so rooms enjoy spectacular views across the city, south into Juarez and north towards the
Franklin Mountains
. The upscale, full service hotel sits beside I-10 within a few blocks of many city center locations such as Williams Convention Center, City Hall, San Jacinto Square and El Paso Museum of History. The on-site, Southwest-style restaurant (Fire) is open all day and provides room service, while other outlets are the 7th floor Sunset Terrace, M Cafe in the lobby and the trendy Liquid Bar. The meetings facilities cater for events of up to 300 people. Leisure amenities are a rooftop pool and a fitness center with machines and free weights. The hotel runs a complimentary shuttle to El Paso Airport, 8 miles east.

4.
Courtyard El Paso Downtown/Convention Center
610 N Santa Fe Street, El Paso, TX 79901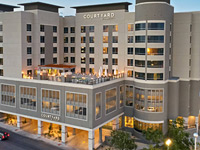 The Courtyard by Marriott is a summer 2018 addition to the accommodation choices in downtown El Paso, prominently located at the corner of Wyoming Avenue and Santa Fe Street, overlooking Interstate 10. Sites within two blocks include Southwest University Park, the Convention Center, San Jacinto Plaza and the El Paso Museum of History, together with many dining outlets. The hotel has nine floors and 151 guest rooms, plus an outdoor rooftop pool, lounge/bar, bistro restaurant and two small meeting rooms.

5.
Hilton Garden Inn El Paso
111 W University Avenue, El Paso, TX 79902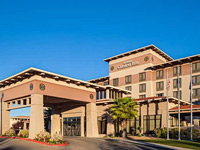 The 153 room Hilton Garden Inn has a northwesterly location in the city center, adjacent to the campus of the University of Texas at El Paso, and also within walking distance of Providence Memorial Hospital. This neighborhood lies close to the foothills of the
Franklin Mountains
and is overlooked by a smaller range of hills to the northwest. The modern, well reviewed hotel provides a free shuttle to places within a five mile radius, and to El Paso Airport, 8 miles east. Amenities include a 24 hour business center, free wi-fi, meeting space for up to 160 people, an all day restaurant (room service available) and a bar.

6.
Aloft El Paso Downtown
303 Texas Avenue, El Paso, TX 79901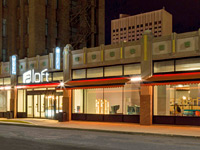 The 89 room Aloft hotel in downtown El Paso opened summer 2018, occupying the historic O.T. Bassett Tower, a 15 storey, Art Deco building constructed in 1930. Locations within a few blocks include the Museum of Art, the Museum of History, San Jacinto Plaza and el Paso City Hall. There are numerous restaurants close by, while onsite dining is available at a self-serve pantry (breakfast & dinner), and a lounge/bar open for dinner and evening drinks, sometimes accompanied by live music. There hotel has a fitness center, open 24 hours, though no swimming pool. Three meeting rooms cater for events of up to 60 people.

7.
Holiday Inn Express El Paso Central
409 E Missouri Avenue, El Paso, TX 79901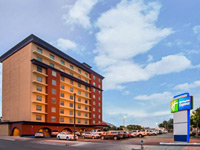 Right in the middle of the tall buildings of downtown El Paso, the Holiday Inn Express is a colorful, nine floor property containing 110 rooms, well placed for the business and entertainment districts of the city center, and adjacent to I-10 exit 19A. Free hot breakfast buffet is provided and there are many nearby restaurants, some within range of the free 1 mile radius local area shuttle. There is an outdoor pool at the rear of the hotel, and a good range of indoor facilities including a fitness center, convenience store, gift shop, guest laundry and business center.