Two small towns towards the northeast of
Grand Staircase-Escalante National Monument
, linked by scenic route 12, described by some as the most beautiful paved road in Utah. The road crosses the Escalante River, and passes various trails, including for Upper and Lower Calf Creek Falls
Only one main road,
UT 12
, enters the Grand Staircase-Escalante National Monument; this crosses the northwest corner and provides the best route between the more heavily visited
Bryce Canyon
and
Capitol Reef
national parks. The section between the small towns of
Escalante
and
Boulder
, completed in the 1930s, is especially spectacular and has been described as the most beautiful paved road in Utah; amongst the many points of interest en route are the easily reached
Upper
and
Lower
Calf Creek waterfalls.
UT 12 traverses the edge of the
Aquarius Plateau
, a fabulous assortment of rocks of every color and form imaginable, with essentially no sign of human habitation. The road at some points traverses narrow ledges with sheer cliffs on either side, and has switchbacks and steep grades.
Photographs
12 views along UT 12
.
Map of Hwy 12 from Escalante to Boulder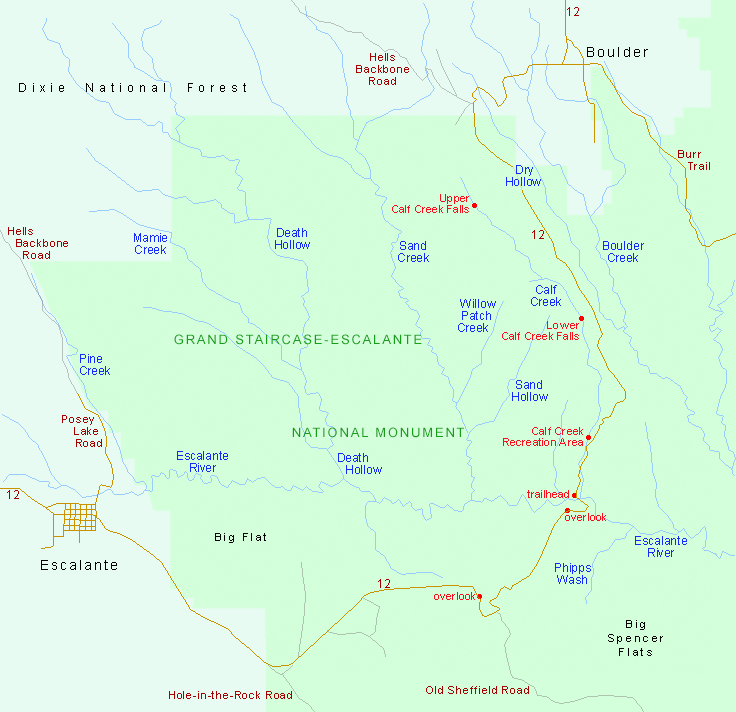 Hell's Backbone Road
An alternative route from Escalante to Boulder is
Hell's Backbone Road
(also known as Salt Gulch Rroad. or FR 153), constructed in 1930. This is unpaved but even more spectacular, with many steep wooded ridges and sheer cliffs, and passes mainly through the Dixie National Forest west of Boulder and north of Escalante. In this region is the ominous sounding
Box Death Hollow Wilderness
, which contains two very scenic deep, watery canyons -
Pine Creek
and
Death Hollow
. This latter offers some of the most challenging hiking in the national monument, with much wading and sometimes swimming necessary to progress all the way through the narrow gorge to its junction with the Escalante River.
Escalante
Two miles outside the town,
Escalante State Park
has a small petrified forest, 1,000 year old petroglyphs and the remains of an old Indian village. The air quality around Escalante is possibly the best in the US; it is usually possible to see 80 miles in many directions. To the west, UT 12 follows up a wooded valley, over a pass at 7,400 feet then drops down towards Cannonville and
Kodachrome Basin
. Beyond Boulder, the road rises even higher - above the treeline to 9,200 feet across the
Aquarius Plateau
, passing through several climate zones, and descends to Torrey and UT 24, which leads to
Capitol Reef National Park
. Another scenic route is the
Smoky Mountain Road
which heads southwest from Escalante town center (where it is also known as the Alvey Wash Road), follows a canyon behind the Straight Cliffs and climbs towards the
Kaiparowits Plateau
. After many miles of remote scenery it approaches Lake Powell, following close to the shoreline for several miles, and eventually joins US 89 near the village of Big Water.