The Wasatch Range runs north-south for over 130 miles and provides an impressive backdrop for the main populated area in Utah; from Ogden through Salt Lake City to Provo and beyond, the mountains rise very steeply from the flat desert plains, with several peaks over 11,000 feet. One of the most interesting regions is just northeast of Orem, centered on Mount Timpanogos, the second highest summit in the range; attractions in the vicinity include Timpanogos Cave National Monument, several spectacular canyons linked by a narrow, winding scenic drive (the Alpine Loop), interesting natural features like Cascade Springs and Bridal Veil Falls, and numerous opportunities for hiking, camping, climbing, fishing & ATV use. The peak itself can be climbed via two paths, both strenuous though relatively popular; from the north via the 6.5 mile Timpooneke Trail, and from the east by the Mount Timpanogos Trail, which is slightly longer and steeper.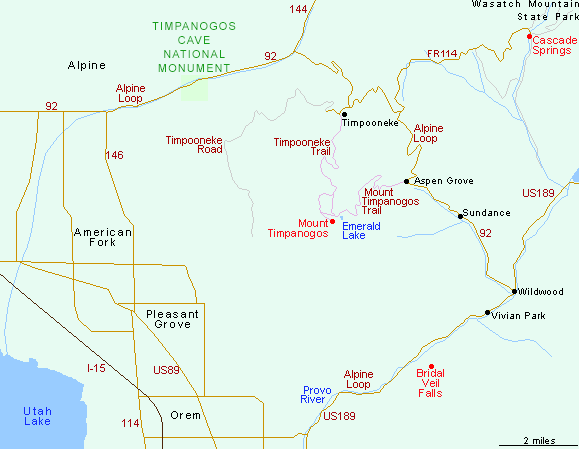 Map of the Mount Timpanogos Region
Roads
Mount Timpanogos is separated from adjacent peaks in the Wasatch Range by two deep, west-aligned canyons;
American Fork
and
Provo
, both emerging from the hills next to the correspondingly named towns. State highway 92 (known as 11000 North Street in the urban area) follows the northernmost of these, besides American Fork Creek for several miles then heads south, round the far side of the mountains through the
Uinta National Forest
to the Provo River where it joins US 189 between Provo and Heber City. There are two paved side roads heading further west, plus a network of unpaved tracks, ATV routes and hiking trails. An entrance charge was introduced for the Alpine Loop in 2000, and the 2015 fee is $6 per vehicle.
Mount Timpanogos Hotels
The nearest towns with hotels close to the Mount Timpanogos region are
American Fork
,
Lehi
and
Orem
.