Map of Wasatch Mountain State Park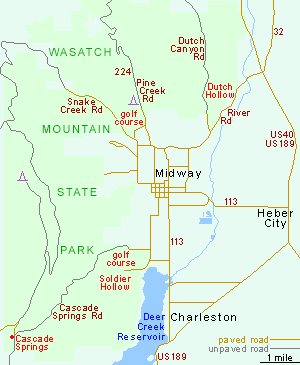 The Park
Approaching from the north (along River Road from US 40/189), the first section of the state park is
Dutch Hollow
, the main hiking area. A short side road leads to a trailhead for a network of intersecting loop paths, totalling 19 miles, over nice-looking but generally unchallenging hills, rounded in shape and covered by bushes.
Wasatch Mountain Golf Course
, and close to various other attractions including
Pine Creek Campground
(136 sites, with hookups), a historic apple orchard and pioneer settlement at
Huber Grove
, an OHV trailhead and two nature paths. Two roads head northwards up into the hills; both soon become unpaved but are generally ok for all vehicles in dry weather. One (Pine Creek Road; UT 224) crosses a ridge and reaches Park City after 13 miles, while the other climbs up Snake Creek Canyon then turns south, over undulating, wooded hillsides then along the crest of a narrow ridge above
Little Deer Creek Canyon
(site of another, primitive, campground) and eventually meeting a paved road from
Cascade Springs
in the Mount Timpanogos region, a route which continues (now unpaved) down the hills on the south side of the state park. Also in this area is a second 36-hole golf course (
Soldier Hollow
), next to a winter tubing and cross-country skiing center, and the large
Deer Creek Reservoir
, which lies just outside the park boundary. Both the park's golf courses have restaurants, open to all visitors.