Devils Kitchen and the South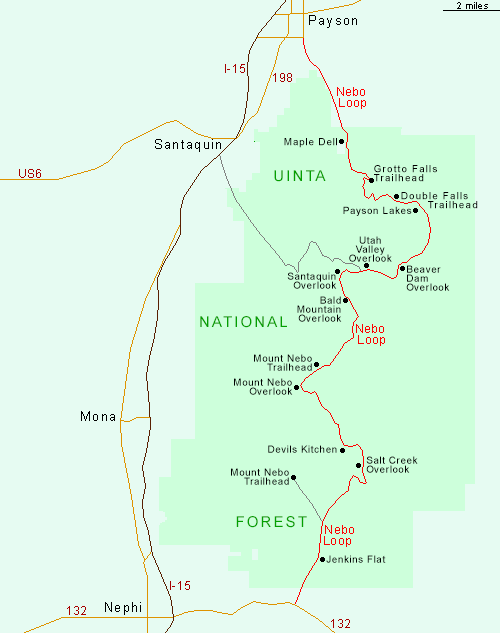 Map of the Nebo Loop Scenic Byway
In the south, the Nebo Loop starts at an intersection with Hwy 132 east of
Nephi
, in the valley of Salt Creek which divides the Wasatch Range in the north from the San Pitch Mountains in the south. The road heads due north along the valley, past a few farm buildings and into the Uinta National Forest where all development stops, then passes the
Jenkins Flat Interpretive Site
and the junction with a side road leading to the southern Mount Nebo trailhead. The gradient increases at the head of the valley as the road becomes narrow and winding, with a rather bad surface; an inconspicuous memorial at one steep place marks the site of a 2002 accident in which 6 people died when their tour bus overturned. A little way beyond, the first overlook is of
Salt Creek Valley
and the San Pitch Mountains, soon after which is the parking for the
Devils Kitchen Geologic Area
. The access trail is just 1/4 mile, leading to a railed viewpoint at the edge of an eroded ravine containing a collection of pointed conglomerate formations, like
Bryce Canyon
but on a much smaller scale. The rocks are colorful enough, contrasting with the dark greens of the enclosing trees, though the site overall is somewhat underwhelming.
Mount Nebo and the North
After several more miles of uneven terrain, the next overlook is of the east face of
Mount Nebo
, a much more dramatic peak than the uniform, wooded hills along most of the route. The mountain sides are steep and treeless, formed of layered limestone strata, kept free of large vegetation by the thick winter snowfall; all of the upper slopes are fairly smooth, lacking any great crags or ravines. The northern trailhead (Nebo Bench Trail) for the summit hike is located a little further along the drive, as the road continues over pristine, forested land - trees are now mostly aspen, mixed with meadows and patches of wildflowers. Many of the meadows are used for (free) primitive camping and have semi-permanent RVs parked there - good bases for hunting, hiking and horse riding. Other named viewpoints are of 10,913 foot Bald Mountain, Santaquin, Utah Valley and Beaver Dam (a deep ravine), before the road reaches the three
Payson Lakes
, the only site that requires a day use fee, though this is avoidable by parking along the highway and walking a short distance west. A path or road loops around the shore of the main lake (Big East), and another road leads to the smaller Box Lake and McClellan Lake. The road begins its descent a few miles north of the lakes, dropping steeply down
Payson Canyon
, past another campground and several trailheads to the north entrance station at
Maple Dell
, then, after a short level stretch along the valley floor, emerges into a recently developed housing estate at the southeast edge of Payson.
Hotels
The nearest towns with hotels are
Nephi
and
Payson
.