Highlights and Best Places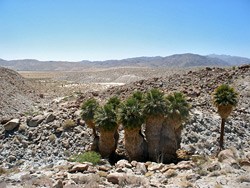 25 Scenic state parks
25 Southwest state parks with the most scenic and varied landscapes, including canyons, deserts, lakes and eroded rocks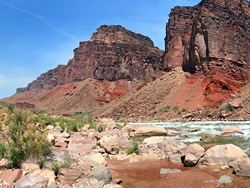 Top 20 Grand Canyon trails
The 20 best hikes starting in the main North Rim and South Rim regions of Grand Canyon National Park, to viewpoints and down towards the river - ranging in length from 0.3 to 9.5 miles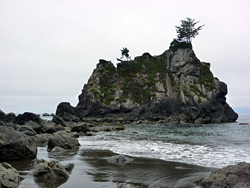 North coast of California
26 locations along the Pacific coast of north California, from San Francisco to Redwood National Park - mostly state parks and state beaches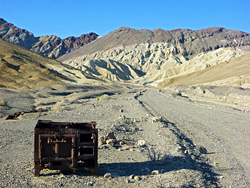 19 Desert parks
Parks of the Chihuahuan, Mojave and Sonoran deserts, Arizona, California, New Mexico, Nevada and Texas. The majority are large preserves, featuring stark scenery, varied plant life, and high temperatures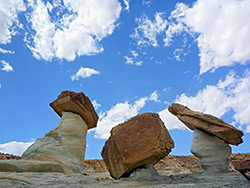 20 Best hoodoo locations
The best places for hoodoos - eroded, photogenic pillars of rock, usually multicolored; in Arizona, New Mexico and Utah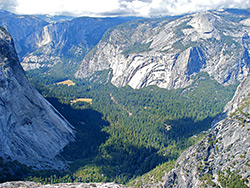 20 Most visited NPS units
The 20 most visited NPS units in the Southwest (including California and Texas); historic sites, lakes, canyons, deserts, trees, coastline and mountains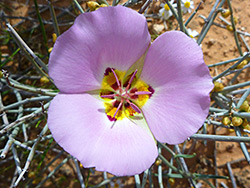 30 Wildflowers of the Mojave Desert
Selection of the prettiest flowers of the Mojave Desert, Arizona, Nevada and California - found in such parks as Death Valley, Joshua Tree and Lake Mead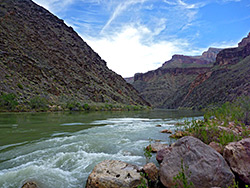 44 Viewpoints of the Colorado River
Views along the Colorado River, from its source in Rocky Mountain National Park, Colorado to Yuma in Arizona; most are in Canyonlands NP, Glen Canyon NRA and Grand Canyon NP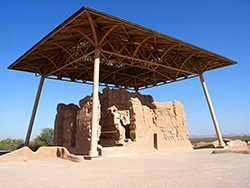 20 Least visited national parks and monuments
National (historical) parks and national monuments in the West that receive the fewest visitors, from 63,000 people per year to just 4,500
25 Spectacular slot canyons
Narrow ravines through richly colored sandstone, on the Colorado Plateau of Arizona and Utah; those featured are the prettiest and longest, can be all or mostly explored without equipment, and reached by regular vehicles
Below are three lists of top ten places in the Southwest.
National Parks and Monuments
Campsites - Official
Difficult to decide - there are many National Forest Service campgrounds in interesting locations that are nice enough but not especially distinctive. Most standard RV/campsites are not particularly memorable. Some of the following sites are free, while for others there is a small fee, but all are quite special.
Campsites - Unofficial
Choices for this list are hard to narrow down. There are many unusual, individual places where camping (or parking a small RV) is possible, often with no other people for miles around. Sometimes just the verge of a remote road or a lakeside beach can be as memorable as a famous scenic location.
Diamond Creek, at the end of Peach Springs Canyon in the Grand Canyon National Park, Arizona; at the junction of the Colorado river with Diamond Creek, in the Hualapai Indian reservation. Where else is it possible to drive to within 2 meters of the Colorado and camp alone, with only stars and the multi-colored layered cliffs of the Grand Canyon rising above? Note as of 2010, it appears this is no longer permitted
Bonnie Claire Flat, north east of Death Valley National Park in Nevada - a completely flat dry lake bed, aside a largely untravelled road enclosed by barren, lifeless hills with oppressive heat and wind in summer. This was a quite amazing place to spend the night, yet it is difficult to describe exactly why
Scottys Junction, Nevada - remains of a petrol station along US 95, surrounded by distant unvegetated mountains. There were various remnants of the station and out-buildings, along a little-used road many miles from anywhere. At night, there was no traffic, just the sound of wind, and ominous creaks from the long-abandoned structures nearby. The ruins have since been removed and the site cleared
FR 110; the end of this forest track leading to Sycamore Canyon, Arizona - at the very edge of this spectacular but little-known canyon southwest of Flagstaff. A 40 minute drive along dirt roads leads to several viewpoints high above the eroded red and orange rocks with distant views south along the canyon towards Jerome
Colorado River, Moab, Utah - along state road 279 that leads to a potash mine there is a large flat area next to the river, with high red cliffs at either side. At night, the only sound is from the rushing waters of the river; there is no traffic or other sign of civilisation. This is now a maintained BLM site - payment required
Santa Fe National Forest, in the Jemez Mountains, New Mexico - a short spur road leading to a car-park area off state road 126. The site has a great position atop a cliff edge with distant views towards the Jemez river valley beneath. The only artificial lights visible at night were from several campfires far below at one of the NFS campgrounds
Near Congress, Arizona - just south of state road 97, off US 93. A short track along a ridge, surrounded by a rocky landscape densely-forested with many types of cactus, including the giant saguaro
Rye Patch Reservoir, Nevada - a great overnight stop on the long drive across Nevada on I-80. There is an elevated area above the rough road to the north of the Reservoir, with uninterrupted views over the water and to desert lands to the north. Slowly moving traffic on the railway and interstate is just visible several miles east. The site is next to some interesting old mine workings, with bright turquoise minerals in many of the surrounding rocks
Dinosaur National Monument, Utah/Colorado - along a remote track leading towards Harpers Corner, there are several places with great views of remote lands and colorful cliffs, with plenty of wood for campfires
Sitgreaves Pass, Route 66, Arizona - a wide lay-by on a little-used road that extends back, along a small, high ridge with great views west; across the semi-ghost town of Goldroad and down to Bullhead City and the Colorado river valley in the distance. Several graves on the adjacent hillside contribute to a slightly spooky atmosphere at dusk