Lassen Peak was originally a side-vent of a much larger volcano, posthumously named Mount Tehama, that exploded with huge force many thousands of years ago leaving a ring of hills some 3 miles across. Lassen itself has erupted several times, most recently after a violent explosion in 1915. Contemporary volcanic activity continued until 1922, by which time the mountain and surrounding area had become part of the Lassen Volcanic National Park. Lassen is the world's largest volcano of the plug dome type, and is visible for many miles across north California, rising 1,000 feet higher than any other nearby summit.


In the 60 years since the last disturbance, the land close to the volcano has largely recovered but much evidence of the destruction remains, and the national park has many fascinating
geothermal features
including mud pools, hot springs and gas vents. These occur mainly in the area once occupied by Mount Tehama, but are also found at locations of other ancient volcanic eruptions; major locations are
Boiling Springs Lake
,
Bumpass Hell
,
Devils Kitchen
and the
Sulphur Works
. They form part of an impressive mountainous landscape, partly forested, also containing steep glaciated valleys, cliffs, lakes and waterfalls, together with several other volcanic domes and ancient lava fields.
Cascade Range
that extends north all the way to British Columbia. Two major east-west roads, CA 44 and CA 36, pass either side of the park and intersect with
CA 89
which winds through the western section, passing close to most of the major features. This is the only paved access route although several gravel tracks lead to sites in the more remote eastern section, including
Butte Lake
and
Warner Valley
. Most visitors approach from the south and drive only a few miles from the entrance to view the nearby thermal areas, but it is well worth continuing the whole way across the park to get a better appreciation of the varied landscape. This
scenic drive
takes about 90 minutes excluding stops. The park also has a fine network of
hiking trails
.
Lassen is one of the most unusual places in California, yet is relatively little visited, partly because it is a long way from most other famous natural attractions in the state. Also, access is restricted due to the heavy snowfall that this area receives - the park may be fully open for only 3 months of the year though is at least partially accessible in any month. It is amazing to visit when the road is being ploughed after a hard winter as although the machines leave the surface clear, the vertical walls of snow at either side may tower many feet above, enclosing the road in a dazzling white canyon.
Featured Lassen Trails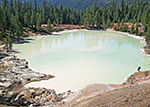 Boiling Springs Lake
★★★

★★
0.8 miles, 300 feet
Set in a deep crater in the mixed fir/pine/cedar forest, Boiling Springs Lake contains simmering, acidic, 125°F water and is surrounded by many small vents, pools and mud pots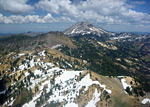 Brokeoff Mountain
★★★★★
3.5 miles, 2600 feet
Rocky volcanic summit in the southwest corner of the national park, reached by a steep trail passing forest, meadows, pools and talus slopes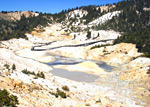 Bumpass Hell
★★★★★
1.5 miles, 300 feet
Although unspectacular by Yellowstone's standards, Bumpass Hell is the largest thermal area in Lassen, and in summer many visitors walk the easy trail to the basin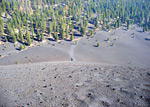 Butte Lake and Cinder Cone
★★★★★
1.5 miles, 850 feet
Cinder Cone is a well preserved volcanic peak, symmetrical in shape, black in color and completely lacking in vegetation - a highlight of the national park yet one that few people see owing to its isolated location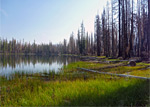 Cluster Lakes Loop
★★★★

★
11 miles, 800 feet
A long loop in the center of the park, passing 13 lakes and ponds; through thick woodland, some burnt by a recent wildfire. The terrain is mostly level or only gently sloping. Some lakes can be seen by a shorter hike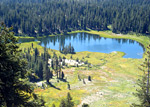 Crumbaugh Lake
★★★

★★
1.2 miles, 230 feet
This short trail leads southwards through open woodland to the shallow Cold Boiling Lake, then descends through a patch of thicker woodland to larger Crumbaugh Lake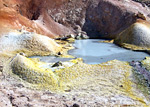 Devils Kitchen and Warner Valley
★★★★★
2.1 miles, 440 feet
Devils Kitchen is the second largest thermal area in Lassen Volcanic National Park, and one that receives far fewer visitors than the main region at Bumpass Hell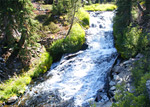 Kings Creek Falls
★★★

★★
1.5 miles, 500 feet
The 40 foot waterfall on Kings Creek is a popular destination, suitable for families with children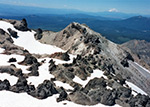 Lassen Peak
★★★★★
2.4 miles, 1957 feet
Beginning at an already high elevation of 8,500 feet, the well defined trail up the south face of Lassen Peak gains another 2,000 feet as it switchbacks across a steep slope of stones and lava blocks to the wind-swept summit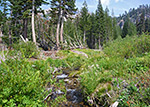 Manzanita Creek
★★

★★★
3.5 miles, 1100 feet
This relatively long and little used path climbs through forests of pine and fir then enters more overgrown surroundings close to a fast-flowing stream, ending at a bushy, marshy meadow
Mill Creek Falls
★★★

★★
1.5 miles, 300 feet
The highest waterfall in the national park (70 feet) is reached by an easy trail that descends gradually through woods and floral meadows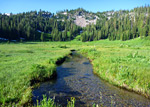 Paradise Meadows
★★★★

★
1.4 miles, 700 feet
Sheltered, marshy basin beneath Reading Peak, filled with many and varied wildflowers in summer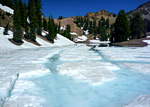 Ridge Lakes
★★★★

★
1 miles, 1045 feet
Starting from the parking area next to the Sulphur Works, the short but steep Ridge Lakes Trail ascends a partly wooded hillside to the two interconnected Alpine lakes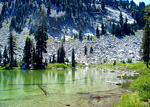 Terrace, Shadow and Cliff Lakes
★★★★★
1.8 miles, 700 feet
Three of the prettier lakes in Lassen Volcanic National Park may be accessed from the same trail; Cliff Lake is the most scenic, set beneath the north face of Reading Peak
Lassen Hotels
The closest hotel to Lassen Volcanic National Park is the recently opened
Best Western Rose Quartz Inn
, which provides 50 comfortable rooms in the center of Chester at 306 Main St (CA 36) - a mile from the north shore of Lake Almanor and 29 miles from the southern park entrance. The tree-lined neighborhood has a mixture of residences and businesses, including plenty of restaurants an easy walk away. The hotel has an exercise facility (though no pool), and serves free continental breakfast.
Check rates at the Best Western Rose Quartz Inn
Other nearby towns with hotels are (with distances from the south entrance):
Red Bluff
(50 miles),
Susanville
(64 miles) and
Chico
(70 miles), while
Redding
is 47 miles from the northern entrance.
Affiliate disclosure