The south rim of the Grand Canyon has around 50 named points, where the rim projects outwards allowing for unobstructed views both up and down the gorge - from Rock Point on Navajo land in the east to Yumtheska Point in the west, near Havasu Canyon. Many are far from any trail and quite inaccessible, but the South Rim Drive passes close enough to 20 of them; only six require a certain amount of hiking.

Select a point from the list or on the map below for descriptions and photographs.

See also North Rim Viewpoints.

South Rim Points from west to east: Yuma, Pima, Mohave, Hopi, Powell, Maricopa, Grandeur, Yavapai, Mather, Yaki, Shoshone, Grandview, Moran, Zuni, Papago, Pinal, Lipan, Navajo, Desert View, Comanche.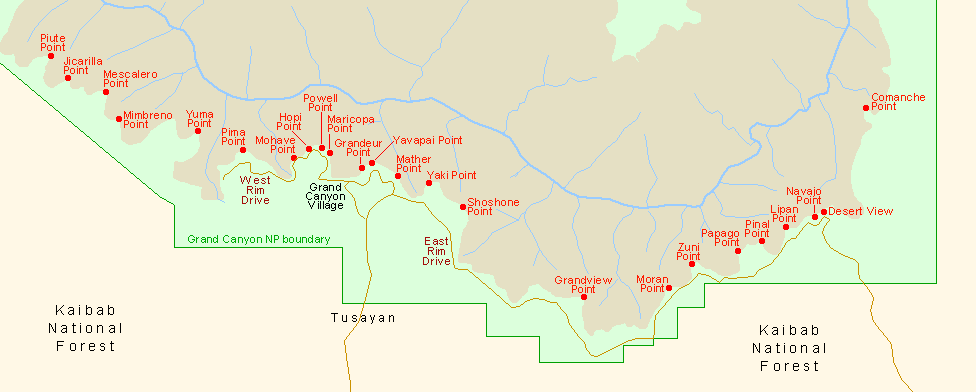 | | | | |
| --- | --- | --- | --- |
| The best Grand Canyon south rim viewpoints are probably Yavapai & Yaki in the main area around the US 180 road junction, Pima & Hopi along Hermits Rest Road, Grandview, Moran & Desert View along the the East Rim Drive, Zuni & Papago for more peaceful views requiring a little hiking, or Yuma & Comanche for even more remote locations, reached by an all-day hike. | | | |