ALBUQUERQUE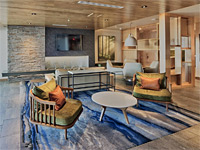 All Albuquerque hotels

Fairfield Inn & Suites Albuquerque North
Open January 2018
4875 Pan American West Freeway NE, Albuquerque, NM 87109
Marriott hotel with a quiet location near Interstate 25, within walking distance of a good selection of shops and restaurants, plus a 24 screen movie theater.
ALBUQUERQUE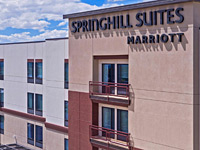 All Albuquerque hotels

SpringHill Suites Albuquerque North/Journal Center
Open May 2018
5910 Holly Avenue NE, Albuquerque, NM 87113
Located along a short side road near the Paseo Del Norte exit of Interstate 25, ten miles from the city center.
CARLSBAD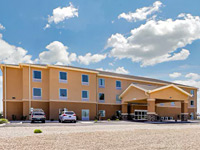 All Carlsbad hotels

Quality Inn & Suites Carlsbad
Open March 2018
4200 National Parks Hwy, Carlsbad, NM 88220
Occupies a newly constructed building on the east side of US 180/62 from El Paso, in a lightly developed area, 16 miles from Carlsbad Caverns National Park.
CLOVIS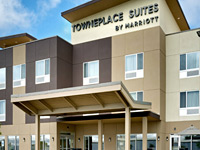 All Clovis hotels
TownePlace Suites Clovis
Open September 2018
4612 N Prince Street, Clovis, NM 88101
Part of a small group of hotels at the north edge of Clovis, also including a Marriott sister property, the Fairfield Inn. The neighborhood is semi-rural, though with a few restaurants within walking distance.
EDGEWOOD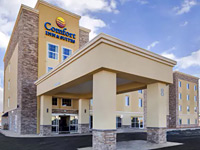 All Edgewood hotels
Comfort Inn & Suites Edgewood
Open December 2017
8 Marietta Court, Edgewood, NM 87015
The first chain hotel in Edgewood; an interior corridor, pet friendly property adjoining a row of businesses on the south side of the interstate, including several restaurants.
GALLUP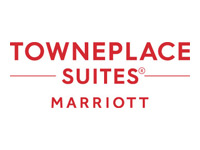 All Gallup hotels
TownePlace Suites Gallup
Open August 2017
3920 Highway 66, Gallup, NM 87301
Addition to the group of hotels on the east edge of Gallup, in between I-40 and old Route 66, also adjoining two restaurants and a gas station.
ROSWELL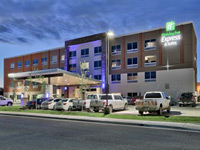 All Roswell hotels

Holiday Inn Express & Suites Roswell
Open June 2017
3 Military Heights Drive, Roswell, NM 88201
Replacement for an existing property of this brand right next door. The new hotel has four floors and 80 rooms, and sits right opposite another IHG property, the extended stay Candlewood Suites.
SANTA FE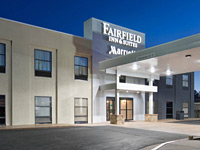 All Santa Fe hotels

Fairfield Inn & Suites Santa Fe
Open January 2018
3625 Cerrillos Road, Santa Fe, NM 87507
81 room/suite property, part of the long line of businesses along Cerrillos Road, 4.5 miles southwest of the city center and 3.5 miles from the I-25 intersection.
SUNLAND PARK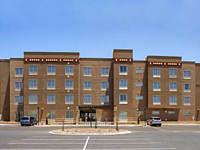 All Sunland Park hotels

The Hotel at Sunland Park Casino, Ascend Hotel Collection
Open May 2017
1202 Futurity Drive, Sunland Park, NM 88063
Located right next to the Sunland Park racetrack and casino, one mile south of Interstate 10 at exit 13 (in Texas).
TUCUMCARI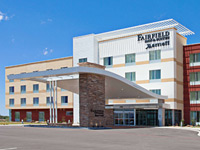 All Tucumcari hotels

Fairfield Inn & Suites Tucumcari
Open May 2018
1901 S Mountain Road, Tucumcari, NM 88401
The first Marriott hotel in Tucumcari; also provides the first accommodations at the Mountain Road exit of I-40, 2 miles southeast of the city center.