BRIGHAM CITY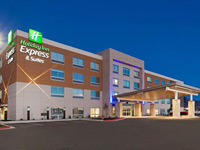 All Brigham City hotels

Holiday Inn Express & Suites Brigham City - North Utah
Open October 2017
1600 W Forest Street, Brigham City, UT 84302
Situated in a rural neighborhood beside the Forest Street exit of I-15 (no. 363), 2 miles west of the city center.
CEDAR CITY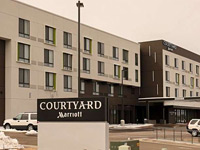 All Cedar City hotels

Courtyard Cedar City
Open December 2017
1294 S Interstate Drive, Cedar City, UT 84720
At the south edge of town (2 miles from the center) beside I-15 at the Cross Hollow Road exit; a lightly developed area, with good views of the nearby mountains.
DRAPER
All Draper hotels

Homewood Suites by Hilton Salt Lake City Draper
Open February 2017
473 W 13490 S, Draper, UT 84020
Located in a quiet district on the south side of the city close to Hwy 154. In the vicinity are a few large stores including IKEA, while the eBay campus is just up the road.
FARMINGTON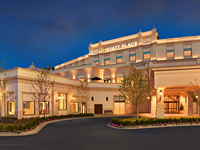 All Farmington hotels

Hyatt Place Salt Lake City/Farmington/Station Park
Open August 2016
222 North Union Avenue, Farmington, UT 84025
Part of the Station Park shopping center in Farmington, on the west side of I-15 opposite the US 89 intersection, and also close to the popular Lagoon Amusement Park.
HOLLADAY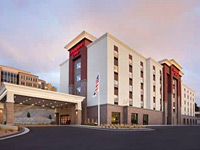 All Holladay hotels

Hampton Inn Salt Lake City Cottonwood
Open January 2018
3210 E Millrock Drive, Holladay, UT 84121
Part of a small business park beside I-215 at the 6200 S exit on the south edge of Holladay, adjoining part of Salt Lake City.
LEHI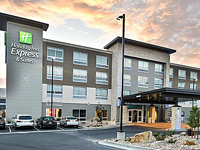 All Lehi hotels

Holiday Inn Express & Suites Lehi - Thanksgiving Point
Open June 2018
3701 North Ashton Boulevard, Lehi, UT 84043
Part of a group of hotels and other businesses on the east side of I-15 at the Club House Drive exit, near the varied attractions at Thanksgiving Point
MOAB

Homewood Suites by Hilton Moab
Open February 2017
132 N Main Street, Moab, UT 84532
The first dedicated extended stay/all-suite hotel in Moab, situated towards the north end of Main Street, bordering a residential area to the rear.
MOAB

MainStay Suites Moab
Open January 2018
356 S Main Street, Building B, Moab, UT 84532
Situated on the south side of the downtown area along Main Street, backing on to the wooded corridor of Pack Creek, beside an equally new sister property, the Sleep Inn.
MOAB

SpringHill Suites Moab
Open October 2017
1865 N Highway 191, Moab, UT 84532
Built at the lower end of Courthouse Wash where it meets the Colorado River, beside another Marriott hotel, the Fairfield Inn.
SALT LAKE CITY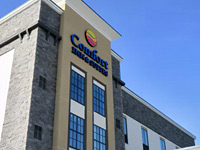 All Salt Lake City hotels
Comfort Inn & Suites Salt Lake City Airport
Open March 2018
202 N Jimmy Doolittle Road, Salt Lake City, UT 84116
Latest addition to the large group of Salt Lake City Airport hotels at I-80 exit 113 - on the north side of the interstate, next to a business park that also contains a few restaurants.
SOUTH JORDAN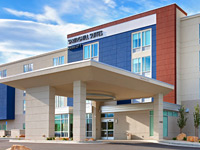 All South Jordan hotels

SpringHill Suites Salt Lake City-South Jordan
Open June 2017
11280 S River Heights Drive, South Jordan, UT 84095
Built alongside the Bangerter Highway (154), in a mostly residential neighborhood though one block from the edge of a large shopping center.
SPRINGDALE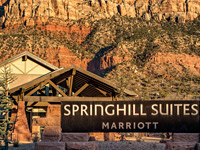 All Springdale hotels

Springhill Suites Springdale Zion National Park
Open February 2017
1141 Canyon Springs Road, Springdale, UT 84767
Built just off Hwy 9 on the south side of town, at the edge of a belt of woodland along the Virgin River, surrounded by tall red peaks including Johnson Mountain to the south.
SPRINGVILLE
All Springville hotels

Microtel Inn & Suites Springerville
Open June 2017
535 South 2000 West, Springville, UT 84663
Near shopping and dining beside I-15 at the Hwy 77 exit, in a generally rural neighborhood, 2.5 miles west of the city center and 5 miles south of Provo.
ST GEORGE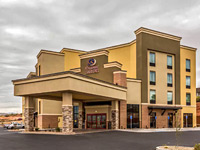 All St George hotels

Comfort Suites St George
Open November 2017
175 North 1000 East, St George, UT 84770
Occupies an elevated site in a quiet neighborhood; rooms on the south side have fine views across town towards the distant Beaver Dam Mountains.
ST GEORGE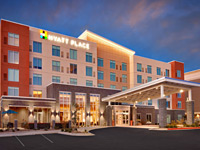 All St George hotels

Hyatt Place St George / Convention Center
Open October 2017
1819 South 120 East, St George, UT 84790
On the south side of St George in a lightly developed area just across the street from the Dixie Convention Center, and a short walk from parkland beside the Virgin River.
WEST JORDAN
All West Jordan hotels
Residence Inn Salt Lake City-West Jordan
Open October 2017
7558 S Plaza Center Drive, West Jordan, UT 84084
All-suite hotel, part of the Jordan Landing development that includes many restaurants and large stores - in between Hwy 154 and South Valley Regional Airport, a 15 mile drive from downtown Salt Lake City.