1.
Hampton Inn & Suites Carlsbad
120 Esperanza Circle, Carlsbad, NM 88220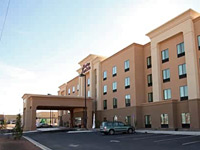 Although reached by the main road through Carlsbad (US 62/180/285), the Hampton Inn has a quiet location overlooking an aqueduct, set back a little from the highway at the end of a short side street, in between a restaurant and a Wal-Mart store. The newly constructed property opened its doors late 2010, and provides comfortable, modern accommodation in 85 one or two bed rooms, equipped with a microwave, free wi-fi, hair dryer, work desk and ironing facilities. The hotel's complimentary breakfast includes several hot items, and is available in take-out format for those in a hurry. Guests can relax in the fitness center and indoor pool.
2.
TownePlace Suites Carlsbad
901 S Canal Street, Carlsbad, NM 88220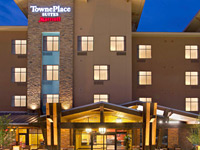 The second Marriott property in Carlsbad opened early 2015, and is the most central chain hotel in the city, located beside US 285, half a mile south of the US 180 junction. Sites within walking distance include a small selection of restaurants & shops, several city parks, and Bataan Recreation Area on the shores of Lower Transil Reservoir. The hotel contains 94 suites (two bedroom, one bedroom, studio) on four floors, plus meeting space, business/fitness centers, an outdoor pool and barbecue area. Breakfast and internet access are complimentary.

3.
Holiday Inn Express Hotel & Suites Carlsbad
2210 I W Pierce Street, Carlsbad, NM 88220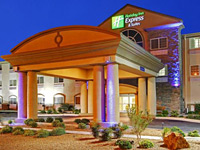 The well regarded Holiday Inn Express hotel in Carlsbad offers 80 rooms and suites, an indoor pool, complimentary hot breakfast buffet, a fitness center, hot tub, indoor pool and basic business services. The three floor property is located along Pierce Street (US 285), 2 miles northwest of the center of Carlsbad, close to the Pecos River, the Ocotillo Hills and the
Living Desert State Park
. There are plenty of restaurants nearby, in either direction along the main road.

4.
Candlewood Suites Carlsbad South
3711 San Jose Blvd, Carlsbad, NM 88220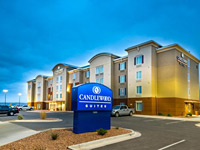 All accommodations at the 81-room Candlewood Suites Carlsbad feature a work desk, free wi-fi and a fully equipped kitchen; cookable meals and other sundries can be purchased from the on-site convenience store, or from the nearest supermarket (Walmart), one mile north. The hotel has a southerly location in Carlsbad, along US 62/180, bordering undeveloped grassland to the west; some rooms have views of the distant Guadalupe Ridge, site of
Carlsbad Caverns National Park
. Other facilities include a fitness center, indoor pool, gazebo with bbq grill, and a free book/movie lending library. The hotel opened spring 2016.

5.
Fairfield Inn & Suites Carlsbad
2525 S Canal Street , Carlsbad, NM 88220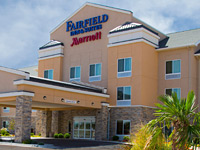 Marriott's most affordable brand is represented in Carlsbad, NM, by the three story, 91 room Fairfield Inn & Suites, a relatively new property (open summer 2011), beside the US 285-US 180 intersection on the south side of town, next to a Wal-Mart superstore. There is one restaurant nearby and others half a mile north, though good quality free (continental) breakfast is available at the hotel. Services and amenities include a pool, fitness center, business center, guest laundry and a 582 sq ft meeting room, catering for events of up to 40 people.

6.
Comfort Suites Carlsbad
2600 West Pierce Street, Carlsbad, NM 88220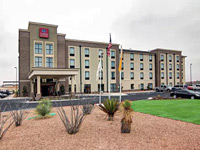 Comfort Suites Carlsbad is the closest hotel to the popular
Living Desert State Park
, just 1.5 miles from the entrance; the park buildings are visible from some of the rooms, on top of the low hills to the west. The hotel is built at the edge of the countryside on the northern approach to the city (US 285), opposite a Lowe's superstore and within walking distance of several other shops. Also close by are New Mexico State University, Carlsbad Mall and Carlsbad Medical Center. All the usual amenities are provided at the Comfort Suites including free hot breakfast, an outdoor pool/hot tub, fitness center and a small meeting room. The property was newly constructed late 2014.

7.
Sleep Inn & Suites Carlsbad
3825 National Parks Hwy, Carlsbad, NM 88220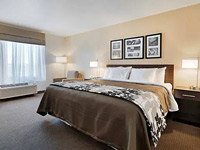 The Sleep Inn is nearly the southernmost hotel in Carlsbad, newly constructed in 2015 on the west side of US 180, bordering open countryside to the rear. There are several other hotels in the vicinity but no restaurants; the best selection of dining outlets is one mile north. Wi-fi, hot breakfast and weekday newspapers are complimentary. All guest rooms feature a microwave and refrigerator, while the hotel also has the usual amenities of a pool (indoor), fitness center and business center. Pets are welcome.

8.
Days Inn Carlsbad
3910 National Parks Hwy, Carlsbad, NM 88220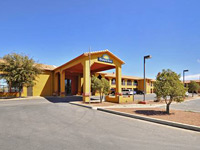 Right on the southwest edge of Carlsbad along US 62/180, the Days Inn occupies a traditional two story, exterior corridor building, the rooms looking southwards across the parking lot towards open countryside beyond. There are few facilities in the vicinity; shopping and dining can be found about 1.5 miles north along the main road. All guest accommodations feature free wi-fi, a microwave and refrigerator, while the motel amenities are an indoor pool, hot tub and laundry. Free continental breakfast is available.

9.
Econo Lodge Carlsbad
3706 National Parks Hwy, Carlsbad, NM 88221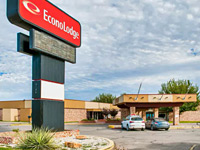 Highlight of Econo Lodge Carlsbad is the outdoor pool, surrounded by a sizeable garden and shielded from the nearby main road (US 62/180). Half the 112 guest rooms have pool views; the remainder look out east or south, across the mostly residential surroundings. Free continental breakfast is provided, while lunch & dinner can be purchased from a sports bar/grill, on the premises. A few shops and other restaurants are within walking distance but most facilities in town are between 1 and 6 miles north. The motel also offers a business center, free wi-fi and guest laundry.

10.
Super 8 Carlsbad
3817 National Parks Hwy, Carlsbad, NM 88220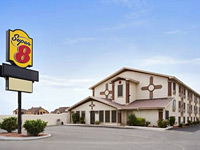 The Super 8 is one of a group of motels along US 62/180, 3.5 miles south of downtown Carlsbad, close to the start of flat, empty countryside that stretches southwards into Texas and beyond. There are 60 rooms available, in a two floor building surrounded by ample parking space, with a patio, outdoor pool and bbq area on the south side. All rooms are equipped with a refrigerator and microwave. The standard basic free continental breakfast is provided each morning.

11.
Rodeway Inn Carlsbad
3820 National Parks Hwy, Carlsbad, NM 88220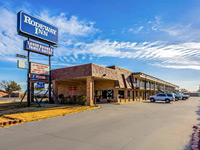 The Rodeway Inn is part of the largest group of hotels in Carlsbad, on the south edge of town along US 62/180, close to open countryside. The two floor property has exterior corridors, a parking lot on all sides and a small outdoor pool at the rear, while interior facilities are limited to free coffee, free wi-fi and coin-operated laundry. Guest rooms contain a microwave and a refrigerator.

12.
Motel 6 Carlsbad
3824 National Parks Hwy, Carlsbad, NM 88220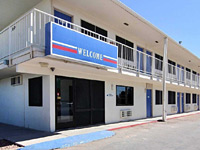 Near the south edge of Carlsbad, the Motel 6 provides budget lodging in a rather old, 2 floor, exterior corridor building with amenities slightly above average - free wi-fi, free coffee, a microwave & mini refrigerator in each room, an outdoor pool and a basic business center The motel sits alongside US 62/180 and looks out over empty desert to the west; most other services are 2 or 3 miles north in the city center though there are a few restaurants within walking distance.