Sheiks
, and adjacent
Bullet
canyons are two of the easiest-reached
Grand Gulch
tributaries, and both offer a good half day hike to several, intricate, well preserved ruins including pictographs in a variety of colors and styles, or alternatively a longer (14 mile) day hike visiting both.
Sheiks is shorter and has two main ruins;
Yellow House
near the start and
Green Mask
at the lower end, just before the Grand Gulch junction, while a third major site (
Wall Ruins
) lies one mile downstream; all three can be seen by a 9 mile round trip hike taking 3 to 4 hours. The canyon itself is quite scenic, with some dryfalls, nicely eroded walls and a cliff-bound lower section containing a shallow stream, but otherwise is typical of all drainages in this region, enclosed by high, stepped walls of yellowish white Cedar Mesa sandstone, streaked by desert varnish and eroded into many forms.
Guidelines for visiting archaeological sites
Location
Map of
Cedar Mesa, Grand Gulch and Comb Ridge
.
Photographs
24 views of Sheiks Canyon
.
Map of Sheiks and Bullet Canyons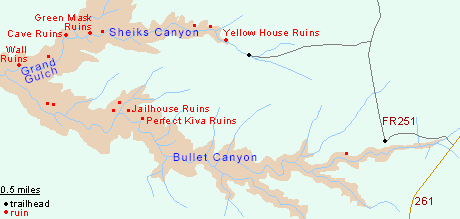 Access
Both Sheiks and Bullet canyons are near UT 261, another reason for their popularity. Bullet is the closest, 1.2 miles along a good dirt track forking west off the highway between mileposts 21 and 22; after the trailhead (where the day use permit may be purchased, cost $2), the road turns north and a lesser track branches west after 2.6 miles, ending in another mile at the Sheiks Canyon trailhead. The very last section is a little rough but vehicles can be parked anywhere as the surroundings are level and treeless, covered by a mixture of grass and sagebrush, with plenty of good camping places. If hiking the full loop, the best plan would be to park at the Bullet trailhead and road walk the 2.8 miles to the start of Sheiks Canyon, or take a direct course cross country, over gently undulating, partly wooded terrain, saving one mile.
Yellow House Ruins

There is no sign of any canyon at the Sheiks trailhead, just a small dry wash to the north. A well used path follows this downstream, through bushes and trees, as the drainage gradually forms a shallow ravine. Yellow House Ruins are reached after just a quarter of a mile, located below the rim in an alcove on the north side, where the canyon is about 50 feet deep. The site holds three structures, one of three rooms, the largest being a semi-circular, yellow walled dwelling with a perfect, original and unrestored ceiling made of large logs crossed by smaller sticks at right angles, the gaps filled with adobe, all taped together using grass stalks. The next structure, built between some boulders, consists just of several wall fragments, while the third, a little further away, has walls and a neat doorway.


Green Mask Ruins

Below the Yellow House, Sheiks Canyon becomes wider while remaining quite shallow. Around a big bend are two granaries, one just a few wall fragments, the other larger, with two walls, situated quite high up the sloping valley side. The drainage stays similar in appearance for another mile or so until a tributary joins from the south, after which it deepens a lot but without any sheer drops, just steeply angled rock chutes and slopes. Below, the path traverses along a bench before descending some more, a slope that is steep and requires caution, then reaching a gap in the cliffs (on the north side), that allows a fine view of Grand Gulch. A small seep adjacent to the viewpoint produces tiny pools of good tasting water. The cliffs rise again and in an alcove stand two small granaries, reachable by careful walking along narrow ledges. The path drops down further to a stream, and shortly after to the Green Mask Ruins, consisting of several structures, the main part built high up on an inaccessible bench. The best aspect of the site are the pictographs - many intricate designs, mostly in red but some in white and green, together with four unusual circular designs made by adobe on a soot-blackened wall, and a selection of black signatures from early explorers such as Charles McCloyd. The eponymous green mask is rather harder to locate.


Wall Ruins
Sheiks Canyon meets Grand Gulch just beyond the Green Mask Ruins, after some flat, easy walking along a wide trail. Downstream, the route crosses a patch of slickrock then is all through shady, wooded land. The next ancient site is
Cave Ruins
, on the right side of a big alcove, quite high up, above a large pile of fallen rocks. Alluvium walls enclose the tree-bound streamway, making it a little difficult to reach the far side. Soon after is another small alcove ruin, not easily visible, and then
Wall Ruins
, reached by a path at the alluvium followed by a short climb of some steepish, rather flaky slickrock. The lower level includes some isolated wall remnants, while the larger upper level, about 20 feet higher, has more intact structures, accessed by climbing using stones between the cliff and a huge, slightly detached slab of rock. There are also various nice petroglyphs (red and white), including handprints and a variety of shapes.
Bullet Canyon
joins Grand Gulch around the next end, marked by a junction in the trail beside an entrenched section of streambed that may contain flowing water.