Lava
The Valley of Fires lava fields are reached by driving 4 miles northwest along US 380 from the junction with US 54 at Carrizozo. A short side road ends at a BLM-managed campsite, on a ridge of Dakota sandstone which overlooks a large expanse of lava, extending to low hills over 10 miles away on the hazy horizon. The ridge is a small remnant of the land before the eruption, just high enough to remain uncovered. The volcanic action responsible was relatively recent, occurring between 1,500 and 5,000 years ago, but the lava has become quite overgrown with grass and small bushes so the landscape is generally greenish in color rather than black, less of a dramatic spectacle than other Southwest deposits such as
Sunset Crater
in Arizona or the
Fantastic Lava Beds
in Lassen Volcanic National Park, California. It is however quite well preserved, with interesting geological features including lava caves, pressure ridges, collapsed gas bubbles and two types of lava - rough blocks of aa and ropy flows of pahoehoe. Plant life is typical of the northern Chihuahuan Desert; common species include banana yucca,
sotol
,
echinocereus
,
opuntia
,
cane cholla
, mesquite, sumac and creosote bushes.
Facilities
The campsite has 19 sites, all equipped with tables, grills, drinking water and metal shelters, and some with electric hookups. Views are good but the place is quite exposed, so is often very windy, and hot in summer; most people visit in spring and fall. Apart from a partly paved, 3/4 mile nature loop trail on the west wide of the campground, and an unmaintained path at the south end of the ridge, opportunities to explore the surroundings are somewhat limited as the surface is sharp and unstable, but off-trail hiking is quite possible with care. Day use fees start at $3 for a vehicle with one person, avoidable by parking along the highway just outside the entrance and walking directly into the lava - but then all other parts of the vast lava field, away from the small recreation area, are also free to explore. The southern edge of the black formations is only 14 miles from the start of the dazzling white dunes of the
White Sands National Monument
, just one of many striking contrasts in the state of New Mexico.
Map of Valley of Fires Recreation Area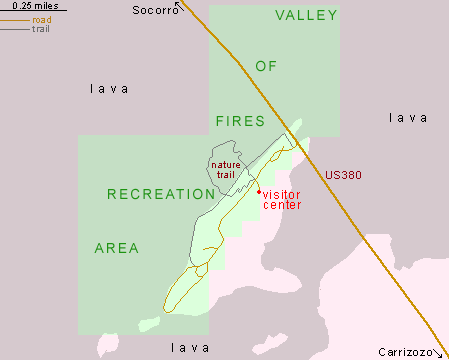 Valley of Fires Hotels
The nearest main towns with hotels close to the Valley of Fires are
Ruidoso
(36 miles) and
Socorro
(70 miles).