1.
Renaissance Reno Downtown Hotel & Spa
1 South Lake Street, Reno, NV 89501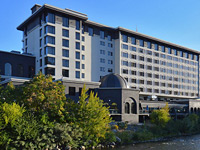 The long established Siena Hotel (built 1958) rebranded as Renaissance Reno Downtown in 2017, accompanied by a full renovation; the second hotel from this luxurious, stylish chain to open in Nevada, after a property in Las Vegas. The 214 hotel enjoys a prominent position in the city along Center Street, bordering the Truckeee River, also adjacent to the Pioneer Center for Performing Arts, and the National Automotive Museum. Reno International Airport is 3 miles away. Amenities include an all-day restaurant, bar, rooftop pool, and over 18,000 sq ft of meeting/event space. Guest rooms & suites have classic styling, accompanied by artistic touches, and are decorated in bright, welcoming colors.

2.
Whitney Peak Hotel Reno, Tapestry Collection by Hilton
255 N Virginia Street, Reno, NV 89501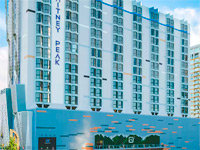 Whitney Peak Hotel has a central location in downtown Reno at the intersection of Virginia Street and 3rd Avenue, within a few blocks of such popular locations as the National Bowling Stadium, Silver Legacy Casino, Reno Events Center and Greater Nevada Field. This is a large, full service property with such unusual attractions as a concert hall, outdoor climbing wall, and indoor bouldering park, together with a restaurant/bar, a range of shops, and over 20,000 square feet of event space. The Whitney Peak became part of Hilton's Tapestry Collection late 2023, a range of upscale hotels with individual styling.

3.
Circus Circus Hotel & Casino
500 N Sierra Street, Reno, NV 89503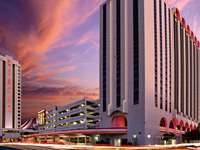 Right at the center of downtown Reno's casino district, Circus Circus offers every conceivable facility including comfortable, reasonably priced accommodation - there are 1,572 rooms & suites, most with elevated views across town and westwards towards the Sierra Nevada mountains. Hotel highlights are six main dining outlets, free live circus-theme shows, cabaret, 23,000 sq ft of meeting/convention space, and of course a large casino that offers a choice of over 60 table games, 1,200 slot machines, race & sports book, and many other attractions. Circus Circus occupies two blocks between 5th/6th and Virginia/West streets, a short distance south of I-80 exit 13.

4.
Best Western Peppermill Resort Spa Casino
2707 S Virginia Street, Reno, NV 89502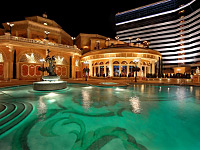 The well-established, AAA Four Diamond-rated Peppermill Resort became a Best Western affiliate in 2022; one of the top properties in Reno, including a large casino, 1,621 guest rooms (600 in the all-suite Tuscany Tower), a 33,000 square foot spa/salon with 22 treatment rooms, a large outdoor pool complex, and nine restaurants. The leisure amenities also include a caldarium, a hot plunge bath, together with other (indoor) pools and hot tubs. The hotel is situated along Virginia Street, 2 miles south of the city center and 2.5 miles from the international airport.

5.
Courtyard Reno Downtown/Riverfront
340 E Second Street, Reno, NV 89501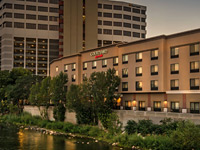 Courtyard Reno has a quiet yet central location along 2nd Street overlooking the Truckee River, just across the road from the Greater Nevada Field baseball stadium. The casinos along Virginia Street are around half a mile away and the are plenty of nearby restaurants, bars and shops. Highlights of the 135 room, non-gaming and non-smoking hotel are the brightly decorated lobby with media board and comfortable seating, the Bistro restaurant (open for breakfast, dinner & evening drinks), an indoor/outdoor pool and a range of facilities for business & meetings.
6.
Hampton Inn & Suites Reno West
900 Ambassador Drive, Reno, NV 89523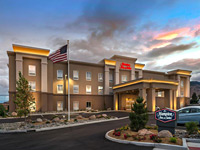 The Hampton Inn is the westernmost chain hotel in Reno, built beside Interstate 80 at the Robb Drive exit (8), with views of hills and mountains in most directions. Facilities in the vicinity include three restaurants, two gas stations, a bank and several shops, while on the premises are a convenience store, indoor pool, fitness & business centers and a 675 sq ft meeting room, catering for events of up to 60 people. Free hot breakfast is provided each morning. All guest rooms contain a coffee maker, work desk, refrigerator and microwave; there are also a selection of suites featuring a sofa bed and wet bar.
7.
Element Reno Experience District
2030 Element Lane, Reno, NV 89502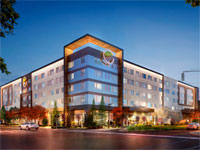 Open late 2022, the 170 room Element hotel is part of the Reno Experience District (RED), also including retail units, apartments and a cinema - at the intersection of Plumb Lane and Virginia Street, 7 miles south of the city center and 2 miles from the international airport. Facilities include a meeting room, a breakfast room, guest laundry, a tree-lined rooftop pool and spa with sundeck, plus an all-day restaurant, the Patio Grille. In the vicinity are a good selection of shopping and dining outlets, and Virginia Lake, complete with paths and a playground.

8.
Aloft Reno-Tahoe International Airport
2015 Terminal Way, Reno, NV 89502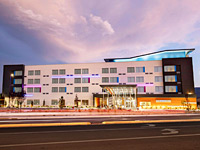 New for 2020, the Aloft is now the closest hotel to Reno-Tahoe International Airport, along Terminal Way just 800 feet from the main entrance, served by complimentary shuttle. There are several shops and restaurants within walking distance, to the west. 24 hour amenities are a fitness center and market, which sells drinks and snacks. The onsite bar is open for evening drinks and light meals, often to the accompaniment of live music. The hotel also has meeting space and an outdoor pool. The pet friendly, loft-style accommodations feature free wi-fi, bright decor and rainfall showerheads.

9.
Ramada by Wyndham Reno Hotel & Casino
1000 E 6th Street, Reno, NV 89512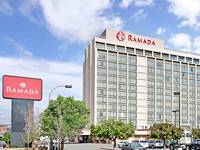 A few blocks east of the center of Reno along 6th Street, the Ramada Hotel/Casino is a high rise, full service property of 281 rooms, most with fantastic views of the city or the Sierra Nevada mountains. The hotel is easily reached from I-80 or I-580 and it occupies a spacious site, surrounded by ample free parking. On the south side is a sheltered outdoor pool, while inside, the many facilities include two restaurants, bars, a business center, meeting space for events of up to 500 people, games room and fitness center. A free shuttle is operated to Reno-Tahoe International Airport.

10.
Holiday Inn Express Hotel & Suites Reno
2375 Market Street, Reno, NV 89502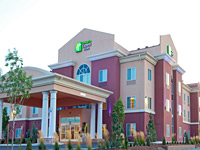 Holiday Inn Express Reno has a good location along the I-580 frontage road, a few blocks from the international airport and 2 miles south of the downtown area. Upper floor west facing rooms have a fine view over the Sierra Nevada Mountains around
Lake Tahoe
, while all are equipped with microwave, refrigerator, and some feature a whirlpool bath. Free hot breakfast buffet is served each morning, and for lunch & dinner the best choice of restaurants is half a mile west along Kietzke Lane. A indoor pool, hot tub, fitness center and business center are the other principal amenities.

11.
SureStay Plus Hotel Reno Airport
1981 Terminal Way, Reno, NV 89502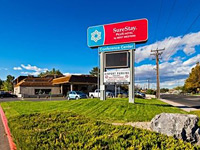 The SureStay Plus (Best Western) is the closest hotel to Reno-Tahoe International Airport - a large building (269 rooms on three floors), located directly opposite the main terminal, linked by complimentary, 24 hour shuttle. Accommodations are divided between four blocks that completely enclose extensive landscaped grounds with heated pool and hot tub; entry is through an atrium lobby that enjoys relaxing views over the gardens. The hotel also offers the full service, American-style Plaza Court Restaurant, a lounge/bar, fitness center, business center and extensive meeting space. Rooms contain a microwave & refrigerator; for extra space a selection of fireplace suites are available.

12.
Comfort Inn & Suites Reno Airport
1250 East Plumb Lane, Reno, NV 89502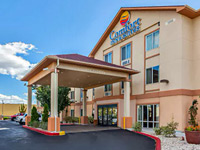 The new Comfort Inn Airport hotel in Reno offers bright, clean rooms containing microwave & refrigerator, a free full breakfast, a fitness center, and a free local area shuttle that besides the international airport - just a quarter mile east - also reaches many of the nearby businesses, restaurants and casinos. The hotel is located along Plumb Lane, close to US 395/I-580 and next to a small shopping center with one restaurant; downtown Reno is an easy 2.5 mile drive away.

13.
Howard Johnson by Wyndham Reno Downtown
660 N Virginia Street, Reno, NV 89501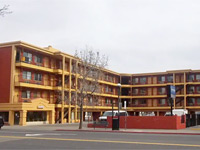 The Howard Johnson has a fine, central location in downtown Reno along Virginia Street, close to Interstate 80, within walking distance of many restaurants, casinos, bars and other attractions. The hotel occupies part of a four floor, exterior corridor building, with the parking lot (and outdoor pool) at the front; inside, amenities are limited to free continental breakfast and free wi-fi. Guest rooms are equipped with a refrigerator and microwave.

14.
Travelodge by Wyndham Reno Downtown
636 N Virginia Street, Reno, NV 89501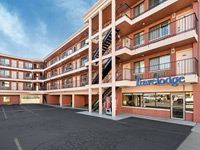 Travelodge Reno is a typically low-priced motel with limited facilities, at the intersection of 7th Street and Virginia Street in the city center, one block from Circus Circus. Rooms are on four exterior corridor floors, and they feature free wi-fi and a coffee maker; a few hot tub suites are available. The standard free continental breakfast is provided. Accommodations are contained within three blocks looking out across the rather small parking lot.

15.
Econo Lodge near Reno-Sparks Convention Center
1000 E Sixth Street, Reno, NV 89502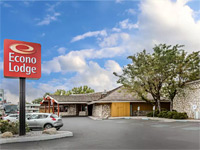 Just south of the downtown area of Reno, the Econo Lodge is located on the main road through town, US 395 (Virginia Street), in a commercial neighborhood but close to the relaxing waters of Virginia Lake Park. On the opposite corner of the highway intersection is the Park Lane Mall, and the hotel is easily reached from Reno airport and I-580, both a short distance east. The Econo Lodge features an outdoor pool & hot tub, on-site restaurant and a business center. All rooms have either a balcony or patio. Free hot breakfast buffet is prepared each morning.