Please refer to the
disclosure notice
for information about the affiliate (commissionable) links on this page.

1.
Studio 6 Mccarran - Tahoe Reno Industrial Center
795 USA Parkway, McCarran, NV 89434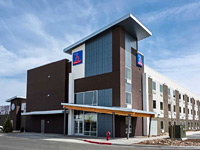 The Studio 6, open 2018, provides extended stay lodging to contractors at the Tahoe Reno Industrial Center 15 miles east of Sparks, and is also convenient for cross-state travellers along I-80, which runs past one mile north. The three storey hotel has 91 modern studio suites, all containing a full kitchen; other features include a laundry facility, an electric vehicle charge point, and the Recharge Bar & Grill. There are two other restaurants close by. The center is described as the largest industrial park in the world, and is home to such companies as Google, Tesla and Switch.