Sparks
borders
Reno
to the northeast, beginning a few blocks from US 395 and extending 5 miles along I-80, as far as the foothills of the Pah Rah mountains. The interstate divides the southern, industrial/business section of the city from the larger residential district to the north; most hotels & large stores are found nearby, with a few other shopping centers along Oddie Blvd, McCarran Blvd and Pyramid Way. To the north, this latter street (Hwy 445) soon exits the city, heading along
Spanish Springs Valley
and through Mullen Pass to the beautiful but little visited
Pyramid Lake
and then eventually to the even more remote landscapes of the
Black Rock Desert
. East of Sparks, the next major city along the interstate is
Fernley
after 30 miles.
Please refer to the
disclosure notice
for information about the affiliate (commissionable) links on this page.

1.
Residence Inn Reno Sparks
300 Legends Bay Drive, Sparks, NV 89434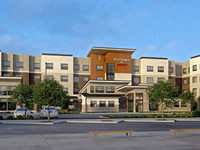 The Residence Inn is one of two newly constructed hotels to open late 2018 on the edge of the Outlets at Sparks, facing Sparks Marina - on the east side of the city, 6 miles from downtown Reno. Besides the various shops and restaurants there is an IMAX theatre close by, and a casino under construction. The 104 room hotel offers suites in two bedroom, one bedroom and studio configurations, all including a fully equipped kitchen. Complimentary services are wi-fi, hot breakfast, weekday socials (Monday to Wednesday) and grocery delivery. Snacks and sundries can be purchased from a 24 hour market. The hotel also has a bbq area, outdoor pool, fitness center and meeting room.
2.
Hampton Inn & Suites Reno/Sparks
200 Legends Bay Drive, Sparks, NV 89434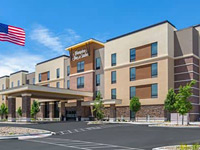 New for summer 2018, the Hampton Inn benefits from a quiet and scenic location overlooking Sparks Marina Park Lake, just a short drive from I-80 (Sparks Blvd exit) though well shielded from the interstate, by some of the buildings of The Outlets at Legends Mall. There are several restaurants in the vicinity, and the popular Wild Island water theme park is less then a mile away. The 102 room/suite hotel provides free hot breakfast (take-out version available), and has all the expected facilities for business, meetings and recreation.

3.
Best Western Plus Sparks Reno Hotel
55 E Nugget Avenue, Sparks, NV 89431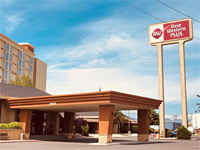 The Best Western hotel in Sparks, NV, benefits from an easily reached location adjacent to exit 19 of I-80 along the southern frontage road, in a busy commercial neighborhood yet less than a mile from the recreation facilities of Sports Marina Park, and several shopping centers in Sparks city center. There are also many restaurants nearby, plus a few casinos. The hotel has 220 guest rooms, an on-site restaurant/bar, outdoor pool/whirlpool (on the secluded south side of the property), games room, newsstand, business center, and meeting/event space for up to 400 people. A free shuttle serves nearby locations, including Reno Airport.

4.
Fairfield Inn & Suites Reno / Sparks
2085 Brierley Way, Sparks, NV 89434
Right at the east edge of Sparks, the Fairfield Inn is the first hotel for travelers arriving on I-80, and offers 88 rooms on 3 floors, in a beautiful, clean building just north of exit 21 of the interstate (Vista Boulevard) - part of a business area though adjacent to the deserted foothills of the Pah Rah Mountains. The hotel provides above average free continental breakfast, and leisure amenities of an indoor pool, hot tub & fitness center. There are two fast food restaurants next door (Del Taco and McDonald's). The center of Reno lies 7 miles to the west, though the immediate neighborhood has its own attractions including Wild Island Family Adventure Waterpark (I-80 exit 20).
5.
Motel 6 Reno Airport - Sparks
2405 Victorian Avenue, Sparks, NV 89431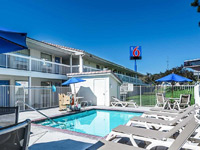 Motel 6 Reno Sparks has a prominent but rather isolated location, surrounded on all sides by roads, including I-80 immediately south. Guest rooms are on two floors of an exterior corridor building, with the parking lot to the rear and a pleasant garden at the front, including an outdoor pool and a few shady trees. Other amenities are wi-fi, coin-operated laundry and free coffee. Rooms are available with microwave & refrigerator. There are several restaurants a short walk away, and two city parks within one mile.