One hour's drive east of
Reno
,
Fallon
is a relatively large town centered on the junction of US 95 and US 50, surrounded by one of the few major agricultural regions of Nevada, irrigated using water from the
Carson River
, which terminates a few miles south at the Carson Sink and also sustains the wetlands of
Fallon National Wildlife Refuge
to the northeast. The surroundings are quite flat, part of the vast
Lahontan Valley
, and include several dry lake beds, one occupied by the main unit of Fallon Naval Air Station. Also in the vicinity,
Lahontan State Recreation Area
contains a large artificial lake, popular for boating, fishing, water skiing and camping.
Supermarkets, restaurants and hotels are concentrated along the western approach to Fallon, US 50 from
Carson City
.
Please refer to the
disclosure notice
for information about the affiliate (commissionable) links on this page.

1.
Holiday Inn Express Fallon
55 Commercial Way, Fallon, NV 89406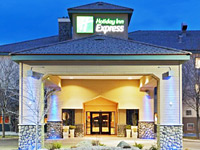 The elegant Holiday Inn Express - the best hotel in Fallon, NV - is situated in the northwest corner of town, close to the start of farmland, just off US 50. The building is surrounded by plenty of parking space, with secluded gardens, sundeck and swimming pool to the rear. The hotel has 98 rooms and suites on 3 floors, a fitness center, sauna, whirlpool, business center and a dining area for the free hot breakfast buffet. Just across the parking lot is Stockman's Casino, offering dining and gambling, while the other attractions of downtown Fallon are just a few blocks away to the east, including Wa-Mart superstore.

2.
Best Western Fallon Inn & Suites
1035 W Williams Avenue, Fallon, NV 89406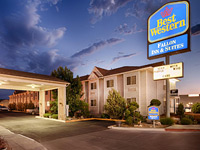 Fallon's well reviewed Best Western hotel has a west central location along highway 50 (Williams Avenue; opposite Wal-Mart), five blocks from the US 95 junction, in a commercial area with several restaurants, shops and casinos. The 54 comfortable rooms face either east or west, away from the main road, and are complemented by an outdoor swimming pool, exercise room, guest laundry and free breakfast bar. Besides the regular accommodation, some rooms have added amenities like a whirlpool bath and extra beds for families. Fallon Naval Air Station is 4.5 miles south.

3.
Comfort Inn & Suites near Fallon Naval Air Station
1830 W Williams Avenue, Fallon, NV 89406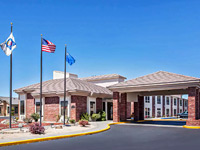 The 82 room Comfort Inn is the first hotel in Fallon for travelers arriving from the west - it is a relatively small building on the north side of main street (US 50), in an commercial neighborhood with many shops and restaurants, one mile from the center of Fallon at the junction with US 95. The Comfort Inn has a good reputation - for helpful staff, clean rooms and decent free continental breakfast; the other main amenities are an indoor pool, hot tub, guest laundry, and several oversized rooms featuring a whirlpool bath, microwave & refrigerator.

4.
Quality Inn & Suites Fallon
1051 W Williams Avenue, Fallon, NV 89406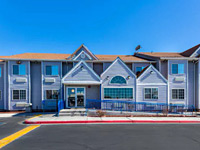 Guest laundry, free wi-fi, free coffee and a basic business center are the only amenities of Quality Inn Fallon, a small, interior corridor property along the main road through town (Lincoln Highway), within walking distance of shopping and dining. All accommodations contain a microwave, desk and refrigerator. The Nevada Livestock Market is half a mile west.

5.
Econo Lodge Fallon Naval Air Station Area
70 E Williams Avenue, Fallon, NV 89406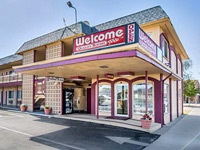 The small (30 room) Econo Lodge Fallon provides simple, affordable lodging with basic amenities of free continental breakfast, free wi-fi and an outdoor heated pool. The older, two floor, exterior corridor motel is situated right in the center of town along Williams Avenue (US 50), a short walk from many restaurants along Maine Street. Some deluxe accommodations are available, containing a kitchenette with sink, refrigerator & microwave.

6.
Super 8 by Wyndham Fallon
855 W Williams Avenue, Fallon, NV 89406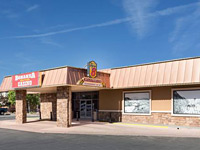 Highlight of the affordable, pet friendly Super 8 Fallon is the onsite restaurant/casino, offering 24 hour entertainment; also available are a meeting room, a dining area for the free continental breakfast, free wi-fi and basic business services. The accommodation block has a quiet setting, shielded from the main road (US 50) by the casino. Guests are within a few minutes walk from a selection of shops including Safeway supermarket.
7.
Motel 6 Fallon
1705 S Taylor Street, Fallon, NV 89406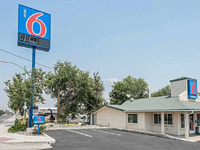 The Motel 6 has a southerly location in Fallon, within sight of open countryside. Rooms are in two blocks (one of two stories, the other ground floor only) overlooking the central parking area, which has an outdoor pool at one side, close to the main road (US 95). This leads to Tonopah (174 miles) and Las Vegas (389 miles). Besides the pool, the only amenities are free wi-fi, free coffee and guest laundry. There are two city parks within walking distance, and a couple of restaurants; more dining choices can be found a mile or so north, in the downtown area.