1.
DoubleTree Club by Hilton Orange County Airport
7 Hutton Centre Drive, Santa Ana, CA 92707-5794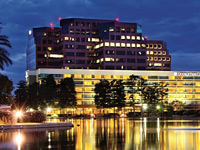 Like most hotels in Santa Ana, the DoubleTree Club is part of a large business district along both sides of the Costa Mesa Freeway (Hwy 55), extending over six miles towards Costa Mesa in the south. The full service property sits on the west side of the freeway overlooking a small lake, which has a footpath all around the edge. The site includes plenty of parking space and a nice outdoor pool with patio and whirlpool. Inside, the list of amenities is headed by the a restaurant/bar, Lakeside Bistro, providing all day dining pus room service and evening drinks until 10 pm. Half the guest rooms have lake views, while the others look south to the adjacent business premises. The largest of several meeting rooms can accommodate events of up to 180 people.

2.
DoubleTree Hotel Santa Ana Orange County Airport
201 East MacArthur Blvd, Santa Ana, CA 92707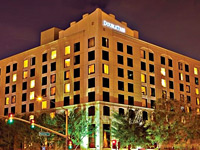 The Doubletree Hotel borders a residential area along MacArthur Boulevard, one block from Hwy 55, in a business district a few miles south of the city center, also close to Costa Mesa and Irvine. John Wayne Airport is a quick 2.5 mile drive south (served by complimentary shuttle), while the main shopping center in the neighborhood (South Coast Plaza) is 1.5 miles west. The hotel offers 253 rooms, including a selection of suites featuring upgraded furniture, a sofa bed and dining table. Onsite dining is provided by Meritage Restaurant, open for dinner, lunch & breakfast, while meals are also available at the adjacent wine bar, which has a happy hour on weekday evenings. Other hotel highlights are a fitness center with free weights, a walled outdoor pool, a modern business center and 12,000 sq ft of event space.

3.
Holiday Inn Santa Ana Orange County Airport
2726 South Grand Avenue, Santa Ana, CA 92705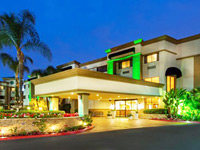 By general consensus the best of a group of hotels in Santa Ana serving Orange County Airport, the Holiday Inn also has good connections to other south Los Angeles locations via the adjacent Costa Mesa Freeway, which links with I-5 and I-405; Disneyland and the Pacific Ocean at Newport Beach are both just ten miles away. The place is quite large, with 176 clean, spacious, well decorated rooms, all containing a microwave and refrigerator. Facilities include a lobby level bar and a restaurant (Panini), serving Italian dishes, and open all day for dinner, lunch & breakfast, plus room service until 9.30 pm. The hotel has a good sized outdoor pool, next to a courtyard/garden; other leisure amenities are a fitness center and whirlpool. For meetings/events, there are 9 function rooms available, largest single capacity 200 guests. A free shuttle is operated to the airport, to other locations within 3 miles and (once a day) to Disneyland.

4.
Courtyard Costa Mesa South Coast Metro
3002 South Harbor Boulevard, Santa Ana, CA 92704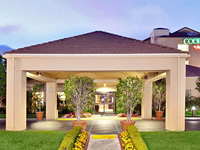 Within a few miles of Fountain Valley, Costa Mesa, Garden Grove, Westminster and Santa Ana, the Courtyard by Marriott makes a good base from which to visit the many attractions of south Orange County. The well regarded hotel has the familiar rectangular design with its 145 rooms & suites arranged around a secluded tropical courtyard garden and outdoor pool; all accommodation includes free internet access, luxurious bedding, a microwave, sofa bed and a large work desk. Breakfast and dinner are available on-site at the Bistro, and although the neighborhood is mostly a business park, there are a few restaurants half a mile south along Harbor Boulevard. For those here to work, the hotel has 2 meeting rooms and a business center.

5.
Courtyard Santa Ana Orange County
8 MacArthur Place, Santa Ana, CA 92707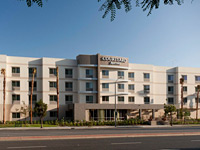 New for 2011 (fall/winter) Courtyard by Marriott Santa Ana Orange County is a modern, upscale addition to the range of lodging choices in the Irvine/Costa Mesa/Santa Ana area, and it has an easily-reached location along MacArthur Boulevard, one block from the 55 Freeway and 2 miles from John Wayne Airport. The on site restaurant (Bistro) is open for breakfast, dinner and evening drinks (plus room service); the other main feature of the hotel is the spacious lobby, home to a coffee bar, media wall and plenty of comfortable seating for work or relaxation. Free wi-fi, free airport transportation, an indoor pool, fitness center and meeting space are some of the other facilities.

6.
Embassy Suites Santa Ana Orange County Airport North
1325 East Dyer Road, Santa Ana, CA 92705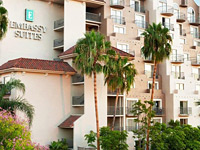 The 300 room Embassy Suites is one of the largest Santa Ana hotels, offering many facilities, and benefiting from an easy-to-reach location just off Hwy 55 at the Dyer Road exit. Like most properties of this chain, the building is centered on a tall atrium lobby, filled with tropical plants and water features, and including plenty of quiet spaces for working, relaxing, and dining; both free hot breakfast and free evening receptions are offered, while other meals can be bought from the restaurant/sports bar, open until 11 pm. All guests are accommodated in two room suites, with a separate living area, a bedroom, pull-out sofa and wet bar. The hotel's meetings facilities can cater for events of up to 380 people. The usual leisure amenities of a pool (indoor), hot tub and fitness center are available.
7.
Hampton Inn & Suites Santa Ana/Orange County Airport
2720 Hotel Terrace Drive, Santa Ana, CA 92705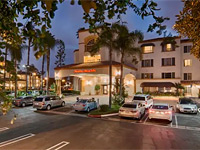 The Hampton Inn is one of many good quality hotels alongside the Costa Mesa Freeway, 3 miles south of the city center, and like most of the others it has a relatively quiet location, set back a little from the freeway, surrounded by tree-lined business premises. About half the 122 rooms overlook a secluded garden at the rear, with outdoor pool. The hotel provides free hot breakfast each morning, served in a southeast-facing room that also enjoys pool views. All accommodations are suites, equipped with a microwave, refrigerator, coffee maker, sofa bed and free wi-fi. A free shuttle is operated to John Wayne Orange County Airport, 3 miles south.

8.
Clarion Inn & Suites Orange County John Wayne Airport
2620 Hotel Terrace Drive, Santa Ana, CA 92705
The whitewashed walls of Clarion Inn in Santa Ana make a pleasing contrast to the lush greenery surrounding the property, and the (usually) deep blue sky above. The hotel is situated along a quiet side street off Dyer Road near the Hwy 55 intersection, 4 miles north of John Wayne Airport. Guests can relax by a decent sized pool & hot tub beneath tall palm trees, then in the evening take the short walk down the road to one half a dozen restaurants nearby. The 129 oversized rooms have divided living/sleeping areas, and contain a microwave & refrigerator. A free shuttle is operated to the airport. The hotel also has a cafe, a fire pit and a fitness center.

9.
Holiday Inn Express & Suites Santa Ana - Orange County
1600 E First Street, Santa Ana, CA 92701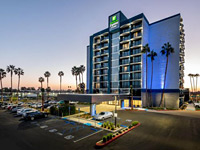 Holiday Inn Express Santa Ana opened summer 2018 after full renovation of an existing property; a mid-rise building with a relatively quiet location, set back from the approach road (First Street) in a mixed business/commercial neighborhood. Interstate 5 runs past close by to the east, near the Hwy 55 intersection. Corporate offices in the vicinity include Oracle, IBM and General Electric. The hotel has a well-equipped business center and eight meeting rooms, plus a 24 hour fitness center and an outdoor pool. Hot breakfast is complimentary.

10.
Best Western Plus Orange County Airport North
2700 Hotel Terrace Drive, Santa Ana, CA 92705-5602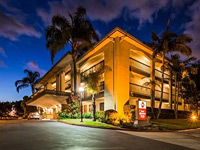 The Best Western in Orange County is one of several good quality hotels near the Dyer Rd exit of the Costa Mesa Freeway, 3 miles from John Wayne Airport (free shuttle available 6 am to 11 pm), and 6 miles from University of California Irvine. Central attraction is an enclosed courtyard garden containing a pool, hot tub and tropical plants; more palms line the exterior of the buildings, and the whole place has a generally clean and well maintained appearance. There are 148 rooms to choose from - all clean, welcoming, comfortable, and equipped with refrigerator/microwave. Free full breakfast is served, including cooked-to-order hot dishes, while for lunch & dinner the nearest restaurants are just a couple of minutes walk away. The Best Western also offers a business center, free internet access, a courtesy local area shuttle (also to Disneyland), and facilities for meetings/events.

11.
MainStay Suites Orange County John Wayne Airport
2701 Hotel Terrace Drive, Santa Ana, CA 92705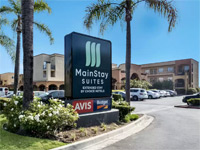 MainStay Suites John Wayne Airport is one of a group of hotels along a quiet side road (Hotel Terrace Drive), close to the 55 Freeway (Dyer Road exit), and it occupies a large site, with the 176 microwave/refrigerator-equipped suites divided into several blocks separated by tree-lined paths and courtyards, all centered on a tropical pool area. Several larger suites are available, featuring a whirlpool bath. Free full breakfast is prepared each morning, and the many other amenities at the hotel include a free airport shuttle, gift shop, guest laundry, car rental desk, fitness center, and a 100-person meeting room.
12.
Motel 6 Irvine Orange County Airport
1717 East Dyer Road, Santa Ana, CA 92705
Guests at Motel 6 Irvine have a choice of 150 modern, brightly decorated guest rooms, contained within three red-roofed, exterior corridor accommodation blocks centered on a tree-lined outdoor pool, and surrounded by plenty of parking space. More trees around the perimeter help shield the motel from the roads on all sides, which including Hwy 55 to the west. Coin-operated laundry, wi-fi, meeting space, a business center and free coffee are the other amenities. The motel is situated at the Dyer Road exit of the freeway, 2.5 miles north of Orange County Airport.
13.
Motel 6 Santa Ana
1623 E 1st Street, Santa Ana, CA 92701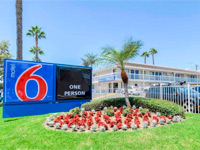 In between the centers of Santa Ana, Orange and Tustin, the Motel 6 is a typically small, budget-priced, limited facility establishment, located beside the First Street exit of Interstate 5, close to half a dozen restaurants. Highlight is a small outdoor pool, in a sheltered courtyard garden, beneath a few palm trees, and overlooked by some of the guest rooms. The motel also offers wi-fi, laundry and free coffee. Accommodations have modern fixtures & fittings, and are brightly decorated.