1.
DoubleTree Hotel Anaheim/Orange County
100 The City Drive, Orange, CA 92868-3204
The full service DoubleTree is the closest hotel to the Outlets at Orange mall, and is conveniently positioned near the busy I-5/22/57 intersection for easy travel to other area destinations. The property is also just across the street from UCI Medical Center Irvine. The hotel is tall (20 floors) so most of the 454 rooms & suites have excellent views over the bustling neighborhood. Guests have a choice of three dining outlets; the Looby Lounge/Bar, Coffi (a cafe, open all day) and the elegant, California-style Trofi Restaurant, providing breakfast, lunch, dinner & room service. An outdoor pool, sundeck, fitness center, tennis, volleyball and basketball courts are the leisure amenities. Meetings facilities are also comprehensive, with 22,000 sq ft of space catering for events of up to 100 people.

2.
Embassy Suites Anaheim - Orange
400 N State College Boulevard, Orange, CA 92868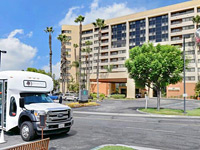 All 230 accommodations at the Embassy Suites Anaheim/Orange are oversized, two room suites, which include a refrigerator, microwave, wet bar, sofa bed and work desk; some have a private balcony. The well established hotel (formerly Hilton Suites) is centered on a ten story atrium lobby, setting for many of the amenities including the Atrium Cafe (serving breakfast, lunch & dinner), the lobby bar and the business center. It also has both indoor & outdoor pools, a fitness center and meeting space. The Embassy Suites is located right next to I-5 (exit 107C), 2.5 miles from Disneyland, half a mile from the Angel Stadium and just over half a mile from Outlets at Orange. Hot breakfast and evening receptions are complimentary.

3.
Best Western Plus Meridian Inn & Suites, Anaheim-Orange
720 The City Drive S, Orange, CA 92868-4927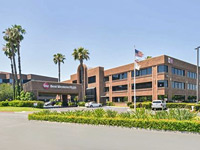 Best Western Meridian Inn has 140 elegant, modern, well furnished rooms & suites, including some with additional amenities of a sofa bed, full kitchen and hot tub bath. Rooms look out either over the enclosed courtyard garden/outdoor pool at the center, or the extensive parking area around the outside; beyond here, the neighborhood is mixed commercial/residential, with the Outlets at Orange half a mile away, at the far side of the Garden Grove Freeway (Hwy 22). I-5 runs past one mile east, while all the many attractions of Anaheim are a few miles north, including Disneyland. The other main facilities at the Best Western are a fitness room, free breakfast, free wi-fi and a business center.

4.
Best Western Orange Plaza
1302 W Chapman Avenue, Orange, CA 92868-2833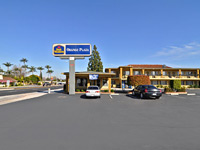 The smaller of two Best Western hotels in Orange, southeast Los Angeles, is built along a typical suburban street (Chapman Avenue) of restaurants, houses & small shops, and is also within a few miles of neighboring Anaheim and Santa Ana. The major intersection of I-5/Hwy 22/Hwy 57 is just a mile west, putting the Best Western Orange Plaza within an easy drive of many other area attractions. The place has a typical motel-style layout, with its 32 recently refurbished rooms on two exterior corridor floors, looking out over the parking lot and outdoor pool. Free continental breakfast is available.

5.
Days Inn by Wyndham Orange Anaheim
279 South Main Street, Orange, CA 92868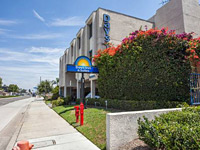 Days Inn Orange is surrounded by a medical district centered on St Joseph Hospital - along main Street, three blocks north of the intersection with the Garden Grove Freeway, Hwy 22. There are also plenty of restaurants within walking distance, and a Staples store. The 30 guest rooms occupy the upper two floors of a three story building, the ground floor being used for parking. Rates are low, and the only amenities are free wi-fi, complimentary continental breakfast and basic business services.
6.
Motel 6 Orange - Anaheim
3191 N Tustin Street, Orange, CA 92865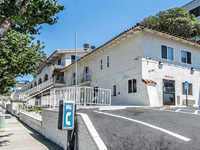 Although situated right next to the Costa Mesa Freeway, the Motel 6 in northeast Orange is accessed by a quiet residential street. There is one restaurant adjacent and others half a mile south, together with a supermarket. The motel is within 6 miles of the centers of Anaheim, Fullerton and Yorba Linda as well as Orange, and it offers free coffee, free wi-fi and a refrigerator/microwave in all accommodations.