Please refer to the
disclosure notice
for information about the affiliate (commissionable) links on this page.

1.
Residence Inn Tustin Orange County
15181 Newport Avenue, Tustin, CA 92780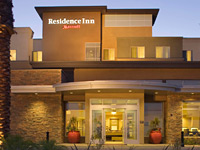 Residence Inn Tustin is the larger of a pair of new Marriott hotels to open in 2013, catering mainly for the extended stay traveler; the four floor property contains 149 suites in studio, one bed or two bed configurations, all featuring an executive desk, free wi-fi, sofa bed and full kitchen; food for cooking can be ordered using the complimentary grocery delivery service. Free hot breakfast is provided each morning, and a free reception on weekday evenings. The hotel is located beside the Costa Mesa Freeway, one mile south of the I-5 intersection, so within a few miles of Irvine, Orange, Santa Ana and Costa Mesa.

2.
Fairfield Inn & Suites Tustin Orange County
15011 Newport Avenue, Tustin, CA 92780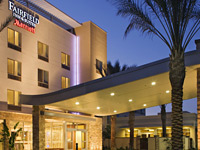 New for summer 2013, the 103 room Fairfield Inn Tustin is a modern, stylish hotel adjacent to the extensive business/commercial district on the southeast side of Santa Ana, just off the 55 Freeway. It provides free continental breakfast and is within walking distance of a few restaurants, though much better selection can be found a mile or so north, in downtown Tustin. Other facilities are the usual pool, fitness center, business center and meeting space.