1.
Marriott Anaheim Suites
12015 Harbor Blvd, Garden Grove, CA 92840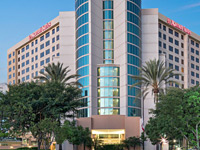 The Anaheim Suites is the larger but slightly cheaper of two adjacent all-suite Marriott hotels in Garden Grove along Harbor Boulevard, 1.2 miles south of Disneyland; a large and impressive 14 floor building of 371 luxurious rooms (accommodating 4 guests, or 6 for the King Suites), equipped with refrigerator, work desk, 2 TVs and dual telephones. There are two restaurants on site, both open for breakfast (not free), lunch & dinner, with plenty more a short walk away. The Anaheim Shuttle stops right outside the hotel, transporting guests to Disneyland and other nearby Anaheim attractions such as the Convention Center and the Angel Stadium. Additional amenities include free parking, an outdoor pool, fitness center, business center and nearly 10,000 sq ft of meeting/event space.

2.
Sheraton Garden Grove - Anaheim South Hotel
12221 Harbor Boulevard, Garden Grove, CA 92840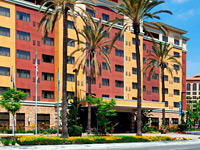 Like most hotels in Garden Grove the Sheraton is located along the main north-south route through the city, Harbor Boulevard - just south of the Chapman Road exit, within walking distance of shopping and dining. The hotel has quite an imposing frontage; a seven floor building of 285 guest rooms and over 10,000 square feet of function space, with an outdoor pool on the south side and plenty of parking places all around. Select accommodations, on the 7th floor, feature a private balcony. Dining outlets at the Sheraton are an American-style restaurant and a lobby-level bar, both serving breakfast, lunch and dinner.

3.
Delta Hotel Anaheim Garden Grove
12021 Harbor Boulevard, Garden Grove, CA 92840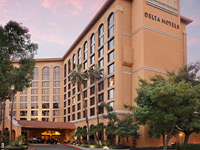 Along Harbor Boulevard on the border between Garden Grove and Anaheim, the full service Delta Hotel is an upscale property occupying a quiet, spacious site set back a little from the main road. Leisure travelers appreciate the proximity to Disneyland, 1.4 miles north, and have use of a large, palm tree-lined pool/hot tub, in a sheltered garden area at the rear. The hotel has 376 well presented, newly renovated guest rooms, in three wings of a handsome nine floor building, next to which is a large conference center - one of the top places for meetings in Anaheim, this includes over 36,000 square feet of space, and can cater for up to 1,000 guests at a single event. There is one restaurant on the premises (California Grill).

4.
Residence Inn Anaheim Resort Area/Garden Grove
11931 Harbor Boulevard, Garden Grove, CA 92840
1.2 miles south of the main gate at Disneyland, the all-suite Residence Inn Anaheim Resort Area/Garden Grove has 200 spacious and well equipped rooms plus many family-friendly amenities, including a large swimming pool set amongst palm-lined gardens, a children's wading pool, a Kids theater and a number of Kid Suites, which contain bunk beds and a games table. All accommodation features a full kitchen, two-person sofa sleeper, the extra comfortable Marriott bedding and complimentary internet access; half have views over the pool and gardens. Hot breakfast and evening reception are both provided free of charge. Surrounding the hotel are many shops and stores, including Target just across the street.

5.
Embassy Suites Anaheim-South Disneyland Area
11767 Harbor Boulevard, Garden Grove, CA 92840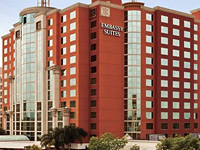 The Embassy Suites sits at the end of a very short side road west of Harbor Boulevard, adjacent to two other Hilton properties (Hampton Inn and Hilton Garden Inn), and offers the best range of facilities. It also has the quietest location, set back furthest from the road, bordering a city park to the west. Guests have a choice of 373 two-room suites, featuring a microwave, refrigerator, wet bar & work desk, all accessed by interior corridors around the central, floor-to-ceiling atrium lobby. Evening receptions and hot breakfast are provided free of charge, while the onsite Serengeti restaurant provides lunch and dinner, including an extensive children's menu. Meetings facilities are also comprehensive, with 30,000 sq ft of space, maximum capacity 990 people.

6.
Homewood Suites by Hilton Anaheim
12005 Harbor Boulevard, Garden Grove, CA 92840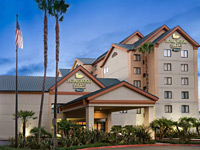 Upscale, extended stay lodging is featured at the Homewood Suites by Hilton; the handsome, modern hotel offers suites in two bedroom, one bedroom or studio configurations, all containing a full kitchen, and all decorated in warm, relaxing tones. Complimentary amenities include wi-fi, full breakfast, evening receptions (Mon-Thu) and a grocery shopping service, though sundries, snacks and ready meals can be purchased from a 24 hour convenience store on the premises. The hotel's outdoor pool are tropical garden are on the south side, well shielded from the nearby main road (Chapman Avenue). Anaheim Convention Center is one mile north, with Disneyland one mile further.

7.
Hilton Garden Inn Anaheim/Garden Grove
11777 Harbor Blvd, Garden Grove, CA 92840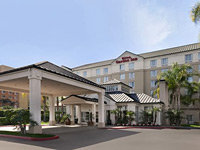 The Garden Grille restaurant at Hilton Garden Inn Garden Grove is open for freshly cooked breakfast (complimentary), dinner and evening drinks, while a 24 hour convenience store sells snacks and cookable meals, heated using the microwaves that are installed in all guest rooms. Accommodations also feature a coffee maker, refrigerator, large work desk and free wi-fi. The hotel occupies a modern, six story building along Harbor Boulevard, adjacent to one restaurant and two sister properties (Hampton Inn, Embassy Suites). More dining outlets, and a Target superstore, can be found one block south. Also available at the Hilton Garden Inn are an outdoor pool, 24 hour fitness center and meeting space.
8.
Hampton Inn & Suites Anaheim/Garden Grove
11747 Harbor Blvd., Garden Grove, CA 92840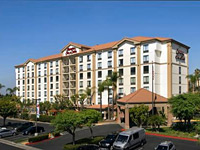 The Hampton Inn is part of the main lodging area in Garden Grove, around the Harbor Boulevard - Chapman Avenue intersection, within walking distance of many restaurants. The east entrance to Disneyland is just over one mile north; tickets can be purchased on the premises. The hotel is one of the larger properties of this popular brand, with seven floors and 172 rooms, and it offers all the usual business and leisure facilities. Free hot breakfast is prepared each morning, and guests in a hurry can choose a take-out version. At the front is a pleasant garden area with swimming pool, hot tub and padding pool.

9.
Holiday Inn Express Hotel & Suites Garden Grove
12867 Garden Grove Blvd, Garden Grove, CA 92843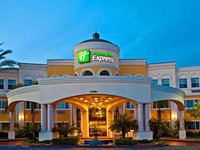 The Holiday Inn Express hotel in Garden Grove has quite a central location, midway between the centers of Anaheim, Santa Ana and Orange as well as Garden Grove, and it is well connected to nearby locations via the 22 Freeway which runs past one block away, and links with I-5 a short distance east. The hotel presents a particularly elegant frontage, and has a nice pool area at the side; inside, the 98 rooms & suites are equally smart and well maintained. Free hot breakfast is served, and there are a couple of restaurants close by though a better choice can be found along Harbor Boulevard, half a mile west. This is the road that leads to Disneyland, 2.6 miles away.

10.
Candlewood Suites North Orange County
12901 Garden Grove Blvd, Garden Grove, CA 92843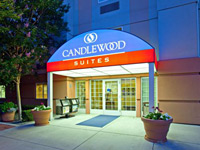 Candlewood Suites North Orange County adjoins an IHG sister property (Holiday Inn Express), offering similar amenities but catering more for the long stay traveler; the all suite hotel has 133 large rooms that all contain a full kitchen including stove & dishwasher. Other guest amenities are a convenience store, 24 hour fitness center, free high speed internet access, complimentary laundry, and bbq grills, though no pool. The nearest major shopping/restaurant center is The Block at Orange, 1.3 miles west.

11.
Ramada Plaza by Wyndham Garden Grove/Anaheim South
10022 Garden Grove Blvd, Garden Grove, CA 92844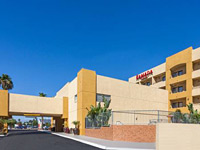 The Ramada has a southwesterly location in town along Garden Grove Boulevard, near Westminster and Stanton. One block west, Garden Square Shopping Center offers a good selection of Asian-themed shops and restaurants. The interior corridor hotel has a secluded outdoor pool and a good-sized parking lot, mostly at the rear. Other recreation amenities are a hot tub, fitness center and karaoke bar. A free shuttle is operated to Anaheim Convention Center (4 miles) and Disneyland Resort (5 miles). Working guests can take advantage of a business center and nearly 2,000 sq ft of meeting space.

12.
Days Inn & Suites by Wyndham Garden Grove
12792 Palm Street, Garden Grove, CA 92840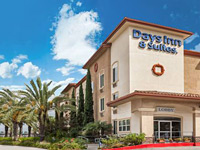 Days Inn Garden Grove is situated along Harbor Boulevard, opposite a group of shops and restaurants, and 1.5 miles from many more stores at the Outlets at Orange. Other locations within 2 miles include Garden Grove Hospital, Twin Lakes Park, UC Irvine Medical Center and Anaheim Convention Center, with Disneyland just a little further. All guest rooms are accessed by exterior corridors, contained within a three floor building that also has a fitness center and a dining room where the free continental breakfast is served. Guests have use of an outdoor pool and patio.
13.
Motel 6 - Garden Grove
12091 Trask Avenue, Garden Grove, CA 92843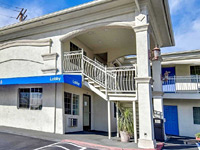 The 22 Freeway runs right past Motel 6 Garden Grove, enabling easy travel to Long Beach/Los Angeles in the west, and Orange/Santa Ana in the east. Rates are low and facilities limited to free coffee and a small outdoor pool, but the 50 rooms all contain a microwave & refrigerator, and the motel is very close to several shops and restaurants. A few rooms with a whirlpool bath are also available. For those here to visit Disneyland, the resort is a quick 2.9 mile drive due north along Harbor Boulevard, half a block west.