1.
Hilton Buena Park
6988 Beach Boulevard, Buena Park, CA 90621
The Hilton is a large, full service hotel at the intersection of Beach Blvd with Orangethorpe Avenue (one mile from Interstate 5), part of the Source OC entertainment center, which also includes a cinema, shops and restaurants. Hotel highlights are a rooftop pool, with fantastic views across the city towards the San Gabriel Mountains, and a restaurant/bar at ground floor level; it also offers a 24 hour fitness center, a spacious lobby, and meeting/event space. Pet friendly accommodations are available.

2.
Doubletree by Hilton Buena Park
7000 Beach Blvd, Buena Park, CA 90620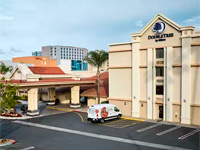 Besides Knott's Berry Farm, one mile south, the free shuttle at Doubletree by Hilton Buena Park serves the other major area attractions including Disneyland (6 miles). The hotel is a large and popular establishment, offering full service amenities of a restaurant, lobby bar, fitness center, large outdoor pool & hot tub, free wireless internet access, and over 13,000 square feet of meetings/event space. The 248 clean & comfortable guest rooms look out over a commercial neighborhood beside the 91 Freeway, a few blocks west of the I-5 junction; the nearest mall is Buena Park, 1.3 miles away on La Palma Avenue, though several shops and restaurants are within walking distance.

3.
Courtyard Anaheim Buena Park
7621 Beach Boulevard, Buena Park, CA 90620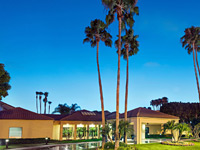 Just half a mile from Knott's Berry Farm and the nearby attractions in Buena Park's E-Zone, the Courtyard by Marriott has a deserved reputation for excellent customer service, the clean & well maintained rooms, and the beautiful courtyard garden - setting for an outdoor pool, gazebos and picnic areas. Inside, the main facilities are the Bistro, serving freshly cooked breakfast each morning (free with some room packages), a 24 hour convenience store, fitness center, whirlpool, guest laundry, and two meeting rooms. There is no free shuttle, but other sites in Anaheim/Buena Park are an easy drive away, including Disneyland 6 miles southeast.
4.
Hampton Inn & Suites Buena Park
7307 Artesia Blvd, Buena Park, CA 90621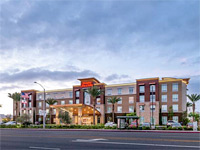 Hampton Inn Buena Park faces I-5 at the Artesia Boulevard intersection (exit 117, east side), on the edge of an extensive business/industrial area though close to many leisure destinations including Knott's Berry Farm, 2.5 miles south. There are several restaurants within walking distance, along Beach Boulevard, Hwy 39. The hotel provides free Uber service to locations within five miles. Wi-fi and daily hot breakfast are also complimentary. All accommodations contain a microwave and refrigerator, while the suites have a sofa bed and wet bar. Recreation facilities are the usual pool (outdoor), hot tub and fitness center.

5.
SureStay Hotel by Best Western Buena Park Anaheim
7921 Orangethorpe Avenue, Buena Park, CA 90621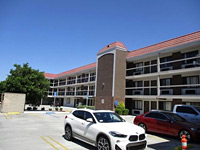 The SureStay Hotel occupies an older though recently renovated building of three floors accessed by exterior corridors, at the Stanton/Orangethorpe intersection on the south side of Buena Park, close to Interstate 5. In the vicinity are several restaurants, a supermarket, and the Source OC entertainment hub. The hotel has 50 guest rooms, equipped with refrigerators, microwaves and coffee makers, and offers other amenities of an outdoor pool, hot tub, free wi-fi and free breakfast.

6.
Fairfield Inn & Suites Anaheim Buena Park/Disney North
7828 Orangethorpe Avenue, Buena Park, CA 90621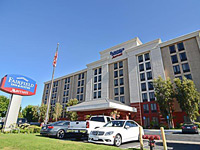 Fairfield Inn Buena Park is located on the same road as the other Marriott hotel in the area (the Courtyard) - next to the 91 Freeway and one mile from Buena Park's E-Zone, including Knott's Berry Farm, Knott's Soak City and Buena Park Downtown Mall. The seven story hotel has a nice outdoor pool at one side, and is surrounded by plenty of parking space; inside, facilities are a fitness center, business center, guest laundry and meeting room. Free breakfast is served each morning. There are many restaurants within walking distance, and several large stores.

7.
Quality Inn & Suites Buena Park Anaheim
7555 Beach Blvd, Buena Park, CA 90620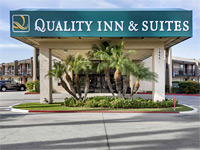 Formerly the Buena Park Hotel, the Quality Inn is an affordable property of two exterior corridor blocks, overlooking a secluded courtyard containing a patio and outdoor pool. Wi-fi and hot breakfast are complimentary, while other amenities are a meeting room, guest laundry and a refrigerator/microwave in all accommodations. The hotel is located along Beach Boulevard at the junction with the 91 freeway, near a selection of shops and restaurants.

8.
Howard Johnson by Wyndham Buena Park
7039 Orangethorpe Avenue, Buena Park, CA 90621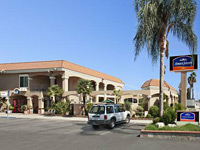 Howard Johnson Buena Park accommodates Orange County guests in a long, narrow building angled away from the main road (Orangethorpe Avenue), so most guest rooms are nice and quiet, especially those at the rear. The hotel's outdoor pool is at the front, shielded by walls from the surroundings, which include a typical collection of restaurants and small shops. Nearby freeways are Hwy 91 one block south and I-5 one mile northeast. The free breakfast comes with hot waffles; other amenities are a barbecue area, free wi-fi, laundry and a 30 person meeting room. All accommodations feature a microwave and refrigerator.

9.
Days Inn by Wyndham Buena Park
7121 Beach Boulevard, Buena Park, CA 90620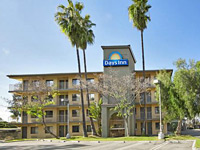 Days Inn Buena Park benefits from an easily-reached location beside the major intersection of Beach Boulevard and the Artesia Freeway (Hwy 91), one mile due north of Knott's Berry Farm. Locations in the vicinity include a Target superstore, St Pius V Catholic Church and around a dozen restaurants. The hotel is relatively large, with four exterior corridor floors and 132 rooms, many overlooking the outdoor pool and hot tub, on the south side of the property. Continental breakfast, weekday newspapers, wi-fi and all-day tea/coffee are complimentary. The onsite meeting facilities can accommodate events of up to 40 people.

10.
Travelodge by Wyndham Buena Park
6532 Auto Center Drive, Buena Park, CA 90621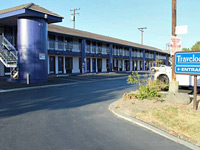 The Travelodge has a fairly central position in Buena Park, along the northern I-5 frontage road, 1.6 miles north of Knott's Berry Farm. In the vicinity are several restaurants, car dealerships and other businesses, though the wider neighborhood is mostly residential. Guest rooms are on two floors, accessed via exterior corridors and overlooking the parking lot; all have a microwave and a refrigerator. Rates are low, reflecting the limited amenities, just free wi-fi and free breakfast.
11.
Motel 6 Buena Park - Knotts Berry Farm/Disneyland
7051 Valley View Street, Buena Park, CA 90620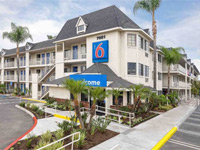 The Motel 6 is a west-side Buena Park property, near Cerritos, Cypress and Central Park, situated at the edge of a business district at the Valley View Street exit of Hwy 91; from here, Knott's Berry Farm is 2.6 miles east, and Disneyland 7.4 miles east, the latter all along freeways. Like most motels of this budget-priced chain, rooms are divided between several intersecting two floor exterior corridor blocks, here centered on a pair of courtyard gardens, one containing an outdoor pool. The motel has a large parking lot, including large vehicle spaces.