1.
Courtyard Cypress Anaheim/Orange County
5865 Katella Avenue, Cypress, CA 90630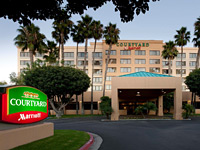 Close to Westminster, Stanton, Long Beach and Los Alamitos as well as Cypress, Courtyard Cypress Anaheim/Orange County is a clean, popular and well managed establishment located in a quiet business park along Katella Avenue, within a few miles of such places as Los Alamitos Racetrack, Cypress College and El Dorado Park. Katella leads directly to Disneyland, 6.5 miles east. The seven story, full service hotel features 180 rooms & suites, a cafe serving breakfast & dinner, a courtesy shuttle, outdoor pool, fitness center and 8 meeting rooms (largest single capacity 225). There are many restaurants one block north, and the nearest supermarket (Vons) is a mile south.

2.
Hyatt House Cypress/Anaheim
5905 Corporate Avenue, Cypress, CA 90630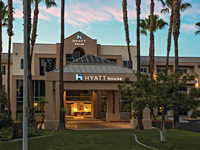 The Hyatt House hotel in Cypress is centered on a courtyard garden with palm trees and an outdoor pool, and surrounded by the good-sized parking lot; part of a business district on the north side of Katella Avenue, 8 miles west of Anaheim. There are plenty of restaurants within walking distance, while light meals may be purchased from the onsite, 24 hour market, or from the H Bar, which also offers coffees and evening drinks. The all-suite accommodations feature full kitchens, large work desks and separate living areas. Complimentary amenities are daily hot breakfast, local area shuttle, grocery shopping service and wi-fi.
3.
Hampton Inn Los Angeles-Orange County-Cypress
10900 Yamaha Way, Cypress, CA 90630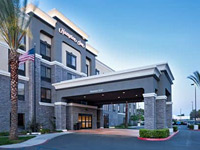 Hilton's representative in Cypress is the Hampton Inn, just off Katella Avenue; set back from the main road behind a small business park, bordered to the east by a Target superstore and to the west by the extensive lawns of the Yahama Motor Corporation headquarters. The large and modern hotel has an outdoor pool and sundeck at the rear (south side), a spacious parking lot all around, and inside facilities of a business center, convenience store (both open 24 hours), a fitness center and 50-person meeting room, plus a dining room where the free daily hot breakfast is served. There are 110 rooms available (no suites). At least ten restaurants are within a few minute's walk.

4.
Studio 6 Cypress
5601 Lincoln Avenue, Cypress, CA 90630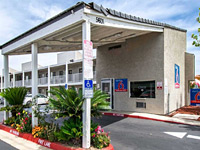 Studio 6 Cypress offers affordable, all-suite lodging; all rooms are studio suites equipped with microwave, refrigerator and kitchenette, contained within an old-style, exterior corridor building of two blocks, either side of the central parking lot. The property is located along Lincoln Avenue, a little way west of Valley View Street - a short walk from Cypress College and near several stores including Home Depot, Albertson's and Marshall's. Also available are coin-operated laundry, an outdoor pool and free wi-fi.

5.
Super 8 by Wyndham Cypress
5651 Lincoln Avenue, Cypress, CA 90630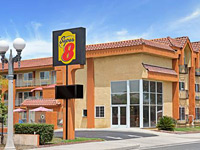 Recently renovated following its acquisition by the Wyndham chain, Super 8 Cypress offers 47 smart, spacious guest rooms, free continental breakfast, a small outdoor pool, laundry facility - and relatively low rates. All the rooms contain a refrigerator and microwave; a few suites have an executive work desk and in-room hot tub. There are various restaurants close by along the main road (Lincoln Avenue) though not much else within walking distance; the two main attractions of this part of southeast Los Angeles are Knott's Berry Farm (3 miles) and Disneyland (8 miles).

6.
Rodeway Inn Cypress
5311 Lincoln Avenue, Cypress, CA 90630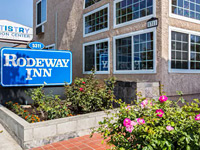 The 41 basic but comfortable rooms of Rodeway Inn Cypress are on three exterior-corridor floors, and some have one or more of a refrigerator, microwave and sofa bed. The motel sits along busy Lincoln Avenue towards the north side of town, within a few miles of Buena Park and La Palma, and 2.5 miles east of I-605. Cypress College is a few blocks further east. Amenities at the budget-priced inn are limited to free continental breakfast, free internet access and copy/fax services.