1.
Embassy Suites Anaheim-North
3100 East Frontera Street, Anaheim, CA 92806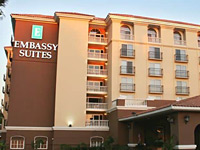 Highlight of Embassy Suites Anaheim-North is the huge, floor to ceiling lobby, adorned with a 14 foot waterfall, koi ponds, palm trees and other tropical plants, providing a relaxing setting for dining, reading and informal meetings. The 222 suites (on 7 stories) overlook the atrium, and are equipped with a wet bar & separate living area. The hotel serves both free hot breakfast and free evening receptions; other meals may be purchased from the on-site restaurant (Bisto 3100), open all day and providing room service. All the usual facilities for business, meetings and leisure are available, and the hotel is a short drive from many Anaheim area attractions via the Riverside Freeway, which runs right past. Disneyland is 6.5 miles southwest.

2.
TownePlace Suites Anaheim
1730 South State College Boulevard, Anaheim, CA 92806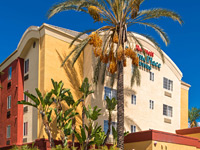 Anaheim's TownePlace Suites by Marriott is part of a quiet neighborhood along State College Boulevard, within sight of the Angel Stadium - a little removed from the hustle and bustle of Harbor Boulevard but still close (1.8 miles) from Disneyland, and linked to it by a regular shuttle service. The Honda Center, I-5 and the 57 Freeway are all within one mile. The hotel features affordable all suite lodging, offering 140 rooms (studio, one bed or two bed layouts) that all contain a full kitchen, large work desk, free internet access and a sofa sleeper. Leisure facilities are a pool, hot tub and fitness center.

3.
Holiday Inn Express Anaheim West
727 S Beach Blvd, Anaheim, CA 92804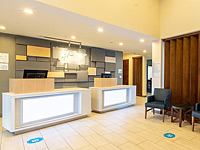 The Holiday Inn Express has a westerly location in Anaheim along Beach Bouldvard, close to the districts of Stanton, Cypress and Buena Park; Disneyland and interstate 5 are four miles east. There are several restaurants nearby, and a few other hotels, though not much else in the immediate neighborhood - the nearest attraction is Knott's Berry Farm, 1.5 miles north. The hotel's palm lined frontage hides a secluded courtyard garden with pool and hot tub, while inside, the facilities include an exercise room, business center, guest laundry and a dining area for the free continental breakfast. The hotel opened spring 2020, after renovation of an existing property.

4.
Studio 6 Anaheim
1251 N Harbor Blvd, Anaheim, CA 92801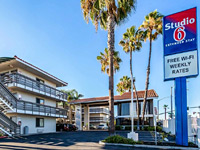 Unlike most Anaheim area hotels which are a little way south of the city center, around Disneyland, the Studio 6 is located north of the downtown area (along Harbor Boulevard), a few blocks from such sites as Orangefair Marketplace, Fullerton Metro Center and La Palma Stadium. The 91 Freeway runs past just to the north, linking with I-5 and Hwy 57. All guest rooms have kitchenette facilities; other amenities are free coffee, free wi-fi and a small outdoor pool.

5.
Days Inn by Wyndham Anaheim near the Park
800 South Beach Boulevard, Anaheim, CA 92804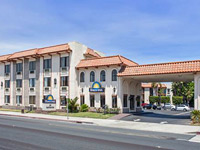 Days Inn Anaheim is part of a small group of hotels along Beach Boulevard, half way between the Orange Avenue and Ball Road intersections, in a mostly residential district though near a small selection of restaurants. Some rooms overlook the main road but most face south, and have views of the secure, tree-lined parking lot, complete with outdoor pool at the front. Accommodations are on three floors, and access is via exterior corridors; all contain a microwave and refrigerator. The hotel offers free continental breakfast and a 450 sq ft meeting room. Disneyland Resort is 5 miles east.
6.
Motel 6 Anaheim - Buena Park
705 South Beach Blvd, Anaheim, CA 92804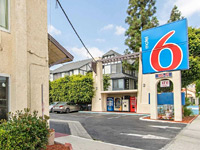 The pet friendly Motel 6 Anaheim has the familiar exterior corridor layout, the majority of the rooms looking out northwards across the parking area to an adjoining apartment building. The motel sits on the east side of Beach Boulevard, 3 miles south of Interstate 5 and 12 miles from the south end of the main road, beside the Pacific Ocean at Huntington Beach. All guest rooms feature a refrigerator/microwave, while some have a kitchenette. Free morning coffee and free internet access are available, plus an outdoor pool.
7.
Motel 6 Anaheim
701 S Brookhurst Street, Anaheim, CA 92804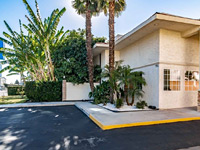 Motel 6 Anaheim has a typical suburban setting, bordering a residential district to the rear, and part of a long row of shops, restaurants and other businesses along a main road - Brookhurst Street, 3 miles west of Anaheim city center. Disneyland is 2.5 miles away. Guest rooms face north, away from the road, looking out across a garden and outdoor pool. All are modern in appearance, decorated with bright colors. Select accommodations contain a microwave & refrigerator. Morning coffee and wi-fi are complimentary.
8.
Motel 6 Anaheim - Fullerton East
1440 N State College Blvd, Anaheim, CA 92806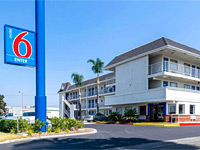 The medium-sized (126 room), exterior corridor Motel 6 Anaheim is a basic, affordable property with an easily reached location beside the 91 Freeway, near the Hwy 57 intersection, at the south edge of a large business/industrial area. All-day dining is available right next door at Denny's restaurant. Rooms are divided into two blocks, either side of the good-sized parking lot. Amenities are wi-fi, coin-operated laundry and free morning coffee. Pets are welcome.