1.
Residence Inn Anaheim Hills Yorba Linda
125 South Festival Drive, Anaheim Hills, CA 92808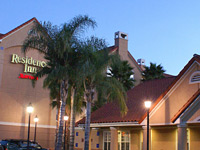 Residence Inn Anaheim Hills has a peaceful location backing on to an undeveloped hillside close to the edge of the Santa Ana Mountains, next to a shopping center with several restaurants and large stores. The Riverside Freeway runs past just to the north, reaching the center of Anaheim after 8 miles. The hotel is centered on a pleasant courtyard garden containing a sports court, hot tub and pool; inside, accommodation comprises 128 suites, aimed primarily at the extended stay traveler. Each is equipped with a full kitchen (dishwasher, microwave, stove, refrigerator/icemaker), plus an extra sofa bed, work desk and free internet access. Hot breakfast, evening reception and a weekly barbeque are all provided free of charge.

2.
Fairfield Inn Anaheim Hills/Orange County
201 N Via Cortez, Anaheim Hills, CA 92807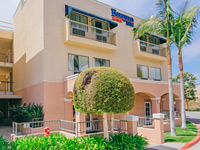 Midway between Anaheim Hills and Yorba Linda, Marriott's Fairfield Inn Orange County faces the 91 Freeway (at the Imperial Hwy exit), next to a shopping center with several restaurants and bars. The 163 rooms are clean, quite large, well maintained, and contain a microwave/refrigerator; half look out over the hotel's outdoor pool & hot tub. Free breakfast is provided each day, including a hot sandwich. Also available are a fitness center, guest laundry, a business center and three meeting rooms.