1.
Residence Inn Corona Riverside County
1015 Montecito Drive, Corona, CA 92879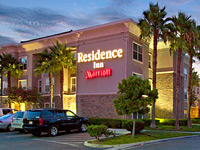 For extended stay lodging in the Riverside area, the Residence Inn by Marriott (open 2007) is one of the top choices, offering 95 very clean & spacious suites, all containing a full kitchen, work desk, extra sofa bed and separate living/dining area. Some have a fireplace. The hotel is part of a quiet business park near the Magnolia Avenue exit of I-15 - 9 miles from Riverside and 15 miles south of Ontario International Airport. Both an evening reception (weekdays) and buffet breakfast are provided free of charge; for lunch/dinner guests can walk to half a dozen nearby restaurants. Leisure facilities are good, with a sports court, fitness center, hot tub and indoor pool all on site.

2.
Staybridge Suites Corona South
2700 Blue Springs Drive, Corona, CA 92883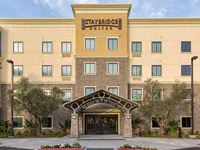 The Staybridge Suites has a southerly location in Corona, in the Temescal Valley, close to Interstate 15 though shielded from it by a small hill. Access is from exit 90. Many of the rooms enjoy good views of the mountains to the east; the hotel is a just short drive from Estelle Mountain Reserve and the calm waters of Lake Matthews. In the vicinity are a 15 screen movie theater and a selection of restaurants. The hotel opened spring 2017, and provides high quality, extended stay accommodations - all rooms are suites, containing a full kitchen, and other amenities include a fitness center, outdoor pool and complimentary buffet breakfast.

3.
SpringHill Suites Corona Riverside
2025 Compton Avenue, Corona, CA 92881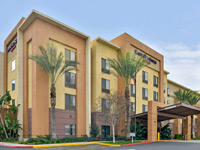 Open spring 2009, the recently built SpringHill Suites Corona Riverside features affordable, well managed, all suite accommodation, in a four floor, 130 room building alongside I-15 (Ontario Ave exit) - 2.5 miles south of downtown Corona and the junction with the Riverside Freeway. The suites all contain a kitchenette (refrigerator, sink, microwave), plus a work desk and extra sofa bed. Complimentary amenities are parking, internet access and breakfast buffet, while for leisure the hotel has a pool and hot tub.

4.
Holiday Inn Express Hotel & Suites Corona
1550 Circle City Drive, Corona, CA 92879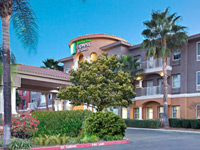 The Holiday Inn Express provides reliable, mid range accommodation to visitors to Corona, CA, with facilities of an outdoor pool, fitness center, hot tub and above average free hot buffet breakfast. The hotel sits in a generally quiet neighborhood on the east side of town, although it is right opposite I-15 (by exit 95; Magnolia Avenue) - a mile south of the intersection with the Riverside Freeway, and so well connected for travel to other places in the Los Angeles area. Free wireless internet access is available.

5.
Best Western Kings Inn
1084 Pomona Road, Corona, CA 92882-1834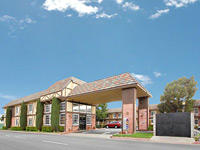 On the north side of Corona, Best Western Kings Inn is a clean, friendly and well presented hotel with a good location - adjacent to two family-oriented restaurants, a short walk from Corona Towne Center shopping mall, and right next to the 91 Freeway which provides quick travel to nearby Anaheim and Riverside. There are 86 rooms available, on 2 floors facing the sheltered, tree-lined parking area, which is set back a little from the main road for a quieter stay. The obligatory pool and hot tub are situated at one side of the car park, while facilities inside include free continental breakfast and guest laundry. Some rooms are available with a microwave and refrigerator.

6.
Rodeway Inn & Suites Corona
1701 W Sixth Street, Corona, CA 92882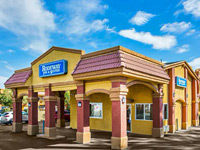 The ten-lane Riverside Freeway (Hwy 91) runs past Rodeway Inn Corona just to the north, enabling quick travel to nearby locations, including San Bernardino 25 miles east and Anaheim 20 miles west. The motel is a fairly standard establishment, centered on an outdoor pool and a small garden, overlooked by some of the 48 guest rooms, all of which contain a microwave & refrigerator. Some feature one or more of a hot tub bath, coffee maker and pillow top mattresses. Free continental breakfast is provided and there are several restaurants nearby, plus a shopping center a short distance east.
7.
Motel 6 Corona
200 N Lincoln Avenue, Corona, CA 92882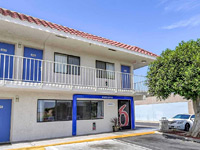 The Motel 6 is part of a business neighborhood on the north side of the 91 freeway, though still within walking distance of several restaurants. A supermarket and other large stores can be found half a mile south, along Lincoln Avenue on the far side of the highway. Corona City Hall is one mile away. The low price motel occupies a spacious site that includes an outdoor pool and large parking lot. The only amenities are free morning coffee, wi-fi and coin-operated laundry.