1.
Marriott Riverside
3400 Market Street, Riverside, CA 92501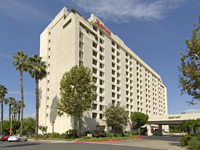 The Marriott hotel has a central location on Market Street in the middle of downtown Riverside, adjacent to the convention center and a short walk from plenty of restaurants, bars and shops. The junction of the 215, 91 and 60 Freeways is just one mile away. Although a rather old building, all 292 rooms & suites are very large and clean, and most have excellent views over the city, especially those on the top floor concierge levels. Four different restaurants provide food and drink for every occasion, and besides the convention center, the Marriott has its own 14,000 sq ft of event space, catering for up to 400 guests. Leisure amenities are the usual outdoor pool, hot tub and fitness center.

2.
Courtyard Riverside
1510 University Avenue, Riverside, CA 92507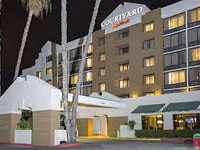 The 163 spacious, non smoking guest rooms at Courtyard Riverside all feature a microwave, free internet access, a large work desk and the luxurious Marriott bedding - part of a substantial, 6 floor building on the east side of town, half a mile from University Village and one mile from the entrance to University of California Riverside. The hotel has a good sized outdoor pool at the rear, well away from the main road, plus a hot tub & fitness center. Hot breakfast is available from the Bistro restaurant, and there is no shortage of nearby places to provide other meals. Meeting facilities are relatively modest, comprising four rooms and a total of 1,550 sq ft of event space.
3.
Hampton Inn & Suites Riverside Corona East
4250 Riverwalk Parkway, Riverside, CA 92505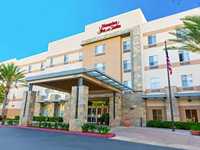 The Hampton Inn has a southwesterly position in Riverside, closer to the center of neighboring Corona. Rooms benefit from a particularly quiet location, in a small business park just off Riverside Parkway, surrounded by residential estates and within walking distance of La Sierra University. The nearest freeway (Hwy 91) is half a mile south. The 131 room/suite hotel provides free hot breakfast (or a take-out version) and is adjacent to half a dozen restaurants. A meeting room can accommodate events of up to 142 people, theater style. The standard three recreation amenities of a pool (outdoor), hot tub and fitness center are available.

4.
Hyatt Place Riverside/Downtown
3500 Market Avenue, Riverside, CA 92501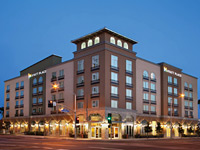 On the corner of 5th Street and Market Street in downtown Riverside, the Hyatt Place is a modern, five floor hotel of 125 oversized guest rooms, all featuring a corner sofa bed, separate sleeping/living areas, and views over the bustling neighborhood, which includes Riverside Convention Center just down the road. There are plenty of shops, bars and restaurants nearby. Hot breakfast is complimentary, while other meals can be purchased 24 hours a day from the Gallery market. A bar serves coffees, beers, wines, & cocktails. Other facilities are a shady courtyard garden with outdoor pool, business & fitness centers, and 1,800 square feet of function space.

5.
Comfort Inn Riverside University
1590 University Avenue, Riverside, CA 92507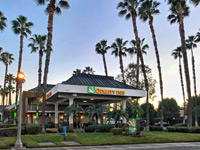 One mile west of University of California Riverside, the Comfort Inn has 115 guest rooms, all large and well maintained if a little dated, and some equipped with a microwave, refrigerator & whirlpool bath. Most are relatively far from the busy main road (University Avenue) and so allow a quiet night's sleep. There is a small shopping center one block away, including at least half a dozen restaurants. The main amenities at the 115 room hotel are free continental breakfast (plus waffles) free internet access, and a large, sheltered outdoor pool.

6.
Days Inn by Wyndham Riverside - Tyler Mall
10545 Magnolia Avenue, Riverside, CA 92505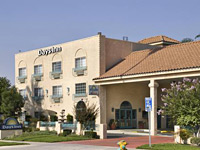 Most guest rooms at Days Inn Riverside face east, looking across the parking lot towards an adjoining mobile home park. Locations within one mile include Galleria at Tyler Mall, Kaiser Permanente Medical Center, West Plaza Shopping Center and several other large stores. Hwy 91 runs past one block south, leading to San Bernardino (20 miles east) and Corona (6 miles west). The motel has a rather shaded outdoor pool, and interior amenities of guest laundry, one meeting room and a dining area for the free continental breakfast.

7.
Econo Lodge Inn & Suites Riverside
11043 Magnolia Avenue, Riverside, CA 92505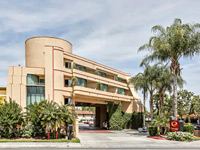 The Econo Lodge Inn & Suites is one of the generally old, small, but reasonably priced motels along Magnolia Avenue in west Riverside, part of a collection of shops, restaurants and other businesses that line the highway for several miles. The 91 Freeway runs past one block south, allowing quick travel to San Bernadino and Los Angeles. Rooms are basic, bright, clean, and contain a refrigerator; also available are larger suites that have a whirlpool bath and/or balcony. The exterior corridor property offers the two main amenities of free continental breakfast and an outdoor swimming pool.

8.
Rodeway Inn Riverside
10518 Magnolia Avenue, Riverside, CA 92505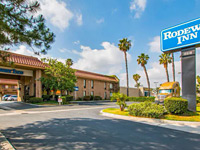 Offering similar facilities to its Choice Hotels neighbor (Quality Inn) just down the street, Rodeway Inn Riverside along Magnolia Avenue features free continental breakfast, free internet access, a microwave/refrigerator in each of the 57 rooms, and a rather shady pool/hot tub, located in one corner of the central courtyard. Places within half a mile include Galleria at Tyler, Castle Amusement Park and the Kaiser Permanente Riverside Medical Center; the center of Riverside is 6 miles east, with the university 5 miles further.
9.
Motel 6 Riverside South
3663 La Sierra Avenue, Riverside, CA 92505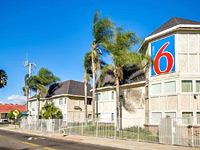 Motel 6 Riverside South has a prominent location at the intersection of La Sierra Avenue with Hwy 91 (north side), half way (5 miles) between the downtown area and the adjacent city of Corona. Guests are within walking distance of Kaiser Permanente Medical Center, Castle Amusement Park, several large stores and a fine selection of restaurants. Rooms are divided between two exterior corridor blocks separated by a narrow courtyard garden, extending to a larger open area containing an outdoor pool, with plenty of parking space to one side. The other standard Motel 6 amenities are wi-fi, coin-operated laundry and free morning coffee.
10.
Motel 6 Riverside East
1260 University Avenue, Riverside, CA 92507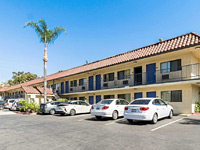 Although just 0.3 miles from I-215 at the University Avenue intersection, Motel 6 Riverside provides quiet accommodations; the two story, exterior corridor property is set back slightly from the main road, behind a line of trees and a gas station, and is half a block from the edge of the developed area, at the start of orchards and farmland. There are no amenities beyond wi-fi and free coffee. The motel is a short walk from University of California Riverside, on the far side of the freeway; also nearby are various shops & restaurants, and a movie theater. Pets are welcome. Select rooms are equipped with a refrigerator and microwave.