1.
Residence Inn Riverside Moreno Valley
12940 Day Street, Moreno Valley, CA 92553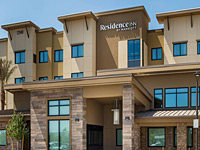 The 112 room Residence Inn of Moreno Valley is built at the corner of Day Street and Eucalyptus Avenue, a short walk from the many outlets at Moreno Valley Mall, and close to a wide selection of restaurants. Open spring 2020, the hotel offers accommodations in two bedroom, one bedroom and studio configurations, all of which include a full kitchen. Guests can take advantage of daily free hot breakfast and free weekday evening receptions, together with such amenities as a pool, convenience store, fitness & business centers, coin-operated laundry and meeting/event space.
2.
Hampton Inn Moreno Valley
12611 Memorial Way, Moreno Valley, CA 92553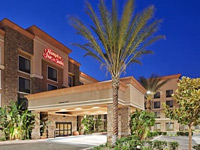 The Hampton Inn provides the closest accommodations to the 130-outlet Moreno Valley Mall, on the west side of town near the intersection of I-215 and Hwy 60. There are many other large stores in the vicinity, and dozens of restaurants. The 115 room hotel has a good-sized parking lot all around, with large vehicle spaces, and an outdoor pool/hot tub on the north side. Interior amenities are a fitness center, business center, one meeting room and a convenience store where snacks and drinks may be purchased, including beer & wine. Free hot breakfast is served each morning. Accommodations include a range of studio suites featuring a sofa bed, microwave, refrigerator and wet bar.

3.
Holiday Inn Express & Suites Moreno Valley - Riverside
12960 Day Street, Moreno Valley, CA 92507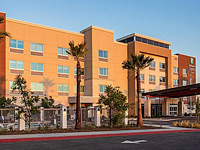 At the end of a row of restaurants on the southwest side of Moreno Valley Mall, the Holiday Inn Express (open summer 2019) is an affordable, mid range hotel of four storys and 104 guest rooms, all equipped with a refrigerator, microwave, coffee maker and sofa bed. Complimentary hot breakfast buffet is prepared each morning. Recreation facilities are the usual fitness center, hot tub and (outdoor) pool. The hotel is easily reached from the nearby I-215 and Hwy 60 freeways.

4.
Best Western Moreno Hotel & Suites
24840 Elder Avenue, Moreno Valley, CA 92557-7300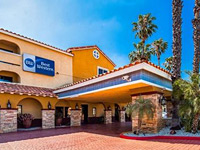 There are four large shopping centers within a couple of miles of the Best Western in Moreno Valley, CA, all of which, like the hotel, are next to US 60 on the north side of town. Despite the nearby freeway, the hotel has a quiet location adjoining a residential district, and its 120 rooms are built around a series of sheltered courtyards, one containing the outdoor pool. Accommodation is generally clean & comfortable; all rooms have a microwave/refrigerator, and the suites include a wet bar plus separate living/sleeping areas. Free deluxe continental breakfast is served, and there are at least 8 restaurants a few minutes walk away around the freeway exit. The hotel also has a hot tub, guest laundry and meeting facilities.

5.
Fairfield Inn & Suites Riverside Moreno Valley
22100 Eucalyptus Avenue, Moreno Valley, CA 92553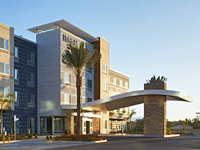 The Fairfield Inn is part of a 2019 Marriott development, also including the all-suite Residence Inn, at the corner of Eucalyptus Avenue and Day Street a short distance south of Moreno Valley Mall, close to the intersection of US 60 and I-215. The hotel provides free hot breakfast and is within walking distance of a wide range of restaurants; it also has a pool/hot tub, fitness & business centers, and a meeting room. Guests can also use some of the facilities of the companion hotel.

6.
Comfort Inn Moreno Valley
23330 Sunnymead Blvd, Moreno Valley, CA 92553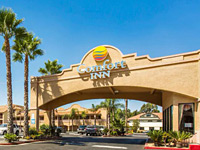 One mile east of Moreno Valley Mall at Towngate, the Comfort Inn is an older, economically-priced motel of 93 refrigerator/microwave-equipped rooms, an outdoor pool, hot tub and guest laundry. Although close to US 60, the inn is set back a little from the freeway and from the main road (Sunnymead Boulevard), so the rooms offer a quiet night's sleep. Besides the regular accommodation, the hotel's one bedroom suites have added amenities of a separate living area, wet bar, sofa bed and wet bar. The usual complimentary continental breakfast is available.

7.
Econo Lodge Moreno Valley
24412 Sunnymead Blvd, Moreno Valley, CA 92553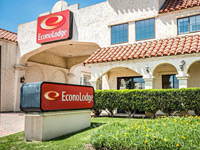 Another motel along Sunnymead Boulevard, close to US 60 on the north side of Moreno Valley, the Econo Lodge has the traditional 2 floor, exterior corridor layout, with the 50 rooms in two parallel blocks facing the parking area and outdoor pool/hot tub. Rates are low, but the place still provides the basic amenities of free continental breakfast, and a microwave/refrigerator in each room. There are half a dozen restaurants within a quarter mile.