1.
Marriott Irvine Spectrum
7905 Gateway, Irvine, CA 92618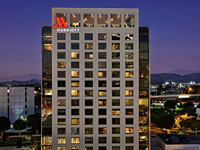 The second Marriott hotel in Irvine opened winter 2017/8, newly constructed along Alton Parkway, beside Interstate 5 (access is from exit 94) and on the north edge of the Spectrum Center. The full service, 271 room/suite hotel occupies a spacious site, centered on the 15 story tower and also including gardens, an outdoor pool with palm trees and fire pits, and plenty of parking space. Other highlights are an all-day restaurant, over 13,000 square feet of function space, a well-equipped fitness center, and a rooftop lounge/bar, which provides unobstructed views over the bustling surroundings.
2.
Marriott Irvine
18000 Von Karman Avenue, Irvine, CA 92612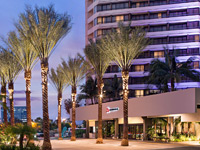 Equidistant between the centers of Irvine, Costa Mesa and Santa Ana, the Irvine Marriott provides high quality customer service, luxurious rooms and upscale features to Orange County business or leisure travelers. The 17 floor building is part of a small group of hotels on the east side of John Wayne Airport (served by complimentary shuttle), and a few blocks from three freeways - I-405, Hwy 55 & Hwy 73. No fewer than five dining outlets serve drinks and food for all occasions, while for relaxation the Marriott has a modern fitness center and an indoor/outdoor swimming pool; the nearest golf course (Strawberry Farms) is 3 miles away, and the Pacific Ocean at Newport Beach is 7 miles southwest. For meetings there are 29 rooms, totaling 26,000 of event space.

3.
Hilton Irvine/Orange County Airport
18800 MacArthur Blvd, Irvine, CA 92612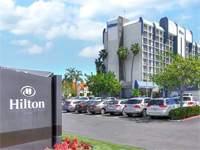 The Hilton is a typically large, full service, business-oriented hotel, providing the closest chain accommodation to John Wayne Airport - located just east of the terminal buildings along MacArthur Boulevard. Complimentary shuttle service is provided, even though the walking distance to the airport is only about 700 feet. The hotel has spacious parking lots at either side (fees apply), and an outdoor pool, hot tub, sun deck and tennis court at the rear. The 289 guest rooms are contained within a ten storey tower, with the public areas and the extensive meeting facilities (20,000 sq ft) in a single floor building at the front. All day dining and room service are available at the California-style Aura restaurant/lounge.

4.
DoubleTree Hotel Irvine Spectrum
90 Pacifica, Irvine, CA 92618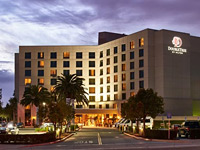 At the heart of the Irvine Spectrum business district, the Doubletree by Hilton enjoys quiet surroundings, well separated from adjacent properties and bordered by patches of undeveloped land. The hotel lies within the I-5, I-405 and Hwy 133 triangle, 7.5 miles east of Orange County Airport, and its many amenities include 90 Pacifica Restaurant & Wine Bar, which serves dinner, lunch & breakfast, and both provides room service and private dining. One third of the guest rooms overlook the outdoor pool and palm-lined patio; accommodations are divided between three blocks, radiating outwards from the center. Also available are free airport transportation, free wi-fi, a 24 hour business center and 4,000 square feet of meeting/event space.

5.
AC Hotel Irvine
3309 Michelson Drive, Irvine, CA 92612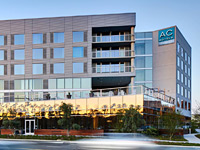 AC Hotel Irvine is the second property of this upscale, European-influenced brand from Marriott to open in California, located in a business district beside the Jamboree Road - I-405 intersection, 3 miles west of the city center. John Wayne Airport is 1.5 miles west. Open spring 2017, the hotel occupies a handsome, six-story building of 175 guest rooms and one meeting room (500 square feet). Highlights include a restaurant, bar, outdoor pool, fitness center and business center. At least six other restaurants are within a short walk, along nearby Michelson Drive.

6.
Courtyard Irvine Spectrum
7955 Irvine Center Drive, Irvine, CA 92618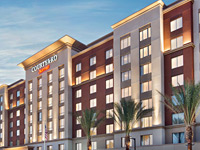 The Courtyard by Marriott is a mid range member of the wide range of hotel choices in Irvine, with a convenient location within the I-405, I-5 and Hwy 133 triangle; it is also the closest hotel (a quarter of a mile) to the Irvine Spectrum Center. The Courtyard has an onsite restaurant, open for breakfast, lunch & dinner, plus a convenience store where snacks and sundries may be purchased. Accommodations comprise regular rooms and one bedroom suites; some have views west towards the city center, while others look east, over the palm-lined outdoor pool and gardens. The largest of four meeting rooms can cater for events of up to 600 people.

7.
Courtyard Irvine John Wayne Airport/Orange County
2701 Main Street, Irvine, CA 92614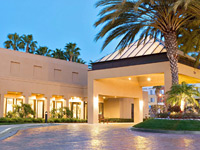 Central attraction of 153 room Courtyard Irvine is the familiar tranquil courtyard garden, containing an outdoor pool, sundeck and patio, providing a pleasant contrast to the sometimes busy surroundings - the hotel sits along Main Street in Irvine, one block from I-405 and within a few miles of John Wayne Airport, South Coast Plaza, Tustin Marine Corps Station, University of California Irvine, and many corporate offices. On arrival, guests are greeted by an open, welcoming lobby, setting for the Bistro lounge/bar; other interior facilities are a cafe (serving breakfast), business center, exercise room, 24 hour convenience store and 1,250 sq ft of meetings space.

8.
Residence Inn Irvine John Wayne Airport/Orange County
2855 Main Street, Irvine, CA 92614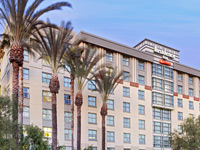 The hotel is well suited to short visits, but Residence Inn Irvine is most renowned as one of the top choices in south Orange County for extended stay accommodation. The imposing frontage of the 8 floor building hides a quiet, courtyard garden at the rear, setting for the large outdoor pool; inside the 174 modern suites (studio, one bed or two bed layouts) have a full kitchen plus separate living/sleeping/dining areas. Guests benefit from free full breakfast and free weekday evening reception, together with other complimentary long stay amenities such as laundry, grocery shopping service and local restaurant delivery service. The Residence Inn has a quiet location just off Main Street in Irvine, one block from I-405 and 2 miles from John Wayne Airport.

9.
Residence Inn Irvine Spectrum
10 Morgan Street, Irvine, CA 92618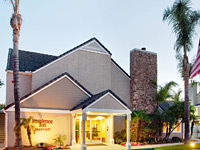 The well established Residence Inn by Marriott hotel in Irvine is part of a quiet business/industrial district along the Alton Parkway, 2 miles east of the Spectrum Center by the I-5/I-405 junction. The 112 suites are divided into several separate two-story blocks, and all contain a full kitchen, fireplace, pullout sofa, and of course the luxurious Marriott bedding. Free hot breakfast and free weekday evening reception are provided; for other meals the nearest restaurants are around the Spectrum Center. The tree-lined grounds of the hotel also contain a sports court, picnic area, hot tub and heated pool.

10.
Staybridge Suites Irvine
1660 Barranca Parkway, Irvine, CA 92606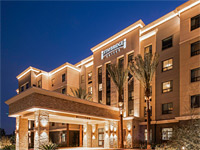 Open early 2020, the Staybridge Suites has a northerly location in Irvine, close to Tustin and Santa Ana - along Barracuda Parkway, one block from the Costa Mesa Freeway (Hwy 55). The neighborhood is mostly a business district, though a good selection of shops and restaurants, and a movie theater, can be found one mile south. Complimentary amenities include wi-fi, daily hot breakfast, weekday evening receptions and a shuttle service to John Wayne Airport, 4 miles south. Accommodations comprise studio, one bedroom and two bedroom suites; all have a fully equipped kitchen.

11.
Embassy Suites Irvine Orange County Airport
2120 Main Street, Irvine, CA 92614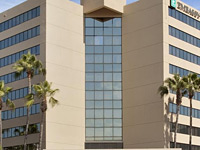 Embassy Suites Orange County Airport is surrounded by the numerous corporate offices of the Irvine Business Complex, 1.3 miles from the terminal on the north side of I-405 - free shuttle available. The hotel occupies a triangular-shaped building, with the 293 guest accommodations (all are spacious, two-room suites) in three blocks centered on a floor-to-ceiling atrium lobby, in which are found tropical plants, water features, quiet seating areas and a dining area where the free hot breakfast and free evening receptions are provided. Lunch and dinner can be purchased from the onsite restaurant, the Irish-themed Ha' Penny Pub and Grill. Meetings facilities are somewhat limited; the largest event capacity is 80 people.

12.
Homewood Suites by Hilton Irvine John Wayne Airport
17370 Red Hill Avenue, Irvine, CA 92614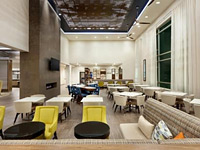 A work desk, fireplace and full kitchen are installed in all 161 accommodations at Homewood Suites by Hilton Irvine, even the studio suites; the one and two bedroom suites offer additional living space. The hotel was constructed late in 2016, in a business district along Red Hill Avenue, a short drive from the I-405/Hwy 55 intersection on the north side of John Wayne Airport. Weekday evening receptions and daily full hot breakfast are complimentary. Leisure amenities are a games room, sports court, fitness center, hot tub and outdoor pool. 1,200 sq ft of meeting space can accommodate events of up to 50 people. A 24 hour market sells snacks and sundries.

13.
Hilton Garden Inn Irvine/Orange County Airport
2381 Morse Avenue, Irvine, CA 92614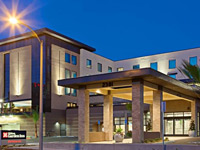 The Hilton Garden Inn is part of the Irvine Business Complex, on the north side of I-405 just over one mile from Orange County Airport (served by free shuttle service) and a short walk from the many restaurants at Main Plaza. Onsite dining is provided by the Garden Grille, open for breakfast, dinner, room service and evening drinks. Other highlights are a modern fitness center, an indoor pool with outdoor access, a 24 hour business center, a convenience store/snack shop and 2500 sq ft of meeting space (six rooms), catering for events of up to 120 people. Accommodations include two room suites which have a spacious living area and a hot tub bath.
14.
Hampton Inn & Suites Irvine-Orange County Airport
2192 Dupont Drive, Irvine, CA 92912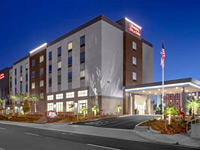 Hampton Inn Irvine (open spring 2018) provides free hot breakfast each morning (take-out version available), and has a lounge/bar that serves drinks, snacks and light meals. There are several restaurants nearby though most of the neighborhood is a business park, on the south side of I-405. John Wayne Airport is one block west, linked by complimentary shuttle. All accommodations are equipped with a work desk and refrigerator, while the suites have a sofa bed and separate living area. 2,500 square feet of meeting space caters for events of up to 120 people.

15.
SpringHill Suites Irvine John Wayne Airport/Orange County
17601 Fitch Avenue, Irvine, CA 92614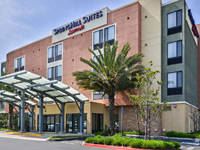 SpringHill Suites Irvine is located in a business district just east of Hwy 55, 1.3 miles by road from John Wayne Airport. There are few facilities in the vicinity; the nearest restaurants are about half a mile away on the far side of the freeway, though free buffet breakfast is available at the hotel. Also complimentary are parking, internet access and airport transportation. Guests are accommodated in 132 modern, brightly-decorated studio suites all featuring a coffee maker, microwave, refrigerator and desk; many have a sofa bed. Exterior amenities are a patio with fire pit and a courtyard garden with putting green, while inside are a pool, fitness center, business center and boardroom.

16.
Candlewood Suites Orange County/Irvine Spectrum
16150 Sand Canyon Avenue, Irvine, CA 92618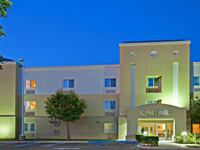 All 122 spacious rooms at Candlewood Suites Orange County contain a full kitchen complete with stove, dishwasher & refrigerator, plus a large work desk and separate living/sleeping areas. The all-suite hotel is aimed mostly at the long stay market but is well suited to short visits as well; it has a music/movie library, fitness center, guest laundry, free internet access, and a 24 hour convenience store where snacks and food for cooking can be purchased. Rooms offer a quiet night's sleep since the hotel has a secluded location close to Irvine Hospital, set back from the main road next to a wooded stream, which has a cycle/walking path alongside. Irvine Spectrum Center is 2 miles east, by the I-405/I-5 junction.