1.
Crowne Plaza Costa Mesa Orange County
3131 South Bristol Street, Costa Mesa, CA 92626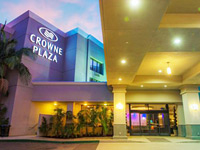 Crowne Plaza Costa Mesa is part of an extensive business/commercial district around the junctions of I-405, Hwy 55 and Hwy 73, one mile from John Wayne Airport Orange County (served by free shuttle) and a short walk from the huge South Coast Plaza shopping mall. The 228 rooms & suites are elegantly decorated and recently renovated, to include such features as marble countertops and extra luxurious bedding. All are equipped with microwave/refrigerator. The on site restaurant (Savoy) is open for breakfast, lunch, dinner & room service, and has a pleasant patio for outdoor dining. For leisure, the Crowne Plaza offers the usual pool, hot tub and fitness center.

2.
The Westin South Coast Plaza, Costa Mesa
686 Anton Blvd, Costa Mesa, CA 92626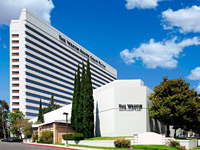 With 394 rooms & suites, on 16 floors, the Westin is one of the larger Orange County hotels, offering full service amenities and an easily-reached location, right beside I-405 at the Bristol Street exit, adjacent to South Coast Plaza. John Wayne Airport (SNA) is 2 miles east along the freeway, linked by complimentary shuttle. Guests are also just a short walk from the Segerstrom Performing Arts Center. The hotel is centered on a tropical courtyard garden with waterfall, beside the heated outdoor pool; other highlights are tennis courts, a fitness center, an all-day restaurant, a lobby-level cafe, and 35,000 square feet of meeting space.
3.
Avenue of the Arts Costa Mesa, a Tribute Portfolio Hotel
3350 Avenue of the Arts, Costa Mesa, CA 92626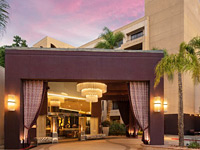 Segerstrom Center for the Arts and Samueli Theater are just across the street from the Avenue of the Arts hotel, a luxurious and distinctive property of 238 rooms & suites, close to I-405 though adjoining a quiet neighborhood, overlooking an artificial lake. All-day dining, and 24 hour room service, is provided by Silver Trumpet Restaurant & Bar, serving Californian dishes with emphasis on organic ingredients. Al the individually-decorated accommodations feature a private balcony, and include three sizes of suite. A free shuttle serves John Wayne Airport and other area attractions. Guests can relax by a tree-lined outdoor pool, and have use of an 24 hour fitness center.
4.
Marriott Costa Mesa
500 Anton Boulevard, Costa Mesa, CA 92626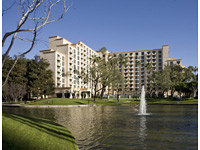 Luxurious, high rise Costa Mesa Marriott accommodates guests in 253 one-bedroom suites, all equipped with a refrigerator, two TVs, dual phone lines and the extra comfortable Marriott bedding. Northwest-facing rooms overlook a picturesque artificial lake, surrounded by lawns and footpaths, though the hotel is part of a busy commercial neighborhood, within walking distance of South Coast Plaza and Orange County Performing Arts Center, and one block from I-405. Facilities on site include Hemingway's restaurant (open for dinner & breakfast), a gift shop, fitness center, outdoor pool, hot tub and 3,200 sq ft of meetings/event space. A courtesy shuttle is operated to John Wayne Orange County Airport, 2 miles southeast.

5.
Hilton Orange County/Costa Mesa
3050 Bristol Street, Costa Mesa, CA 92626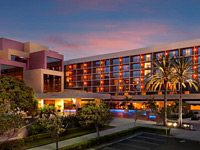 Hilton Costa Mesa is centrally located in the middle of the I-405/73/55 freeway triangle, in a mixed business/residential district, and so well connected to all area locations. Nearby sites include John Wayne Airport (2.5 miles; complimentary shuttle provided), South Coast Plaza (0.5 miles) and Santa Ana Country Club (1 mile). The building is old but well maintained, and large, with a spacious atrium lobby and 486 oversized, richly decorated rooms, most of which have a balcony. Bristol Palms is the on-site restaurant, open all day (plus 24 hour room service); also available are a pizza bar, coffee bar and cocktail lounge. The extensive meeting space comprises 30 separate rooms totalling over 50,000 sq ft.

6.
Residence Inn Costa Mesa - Newport Beach
881 West Baker Street, Costa Mesa, CA 92626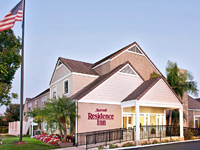 Although it has the older design for this brand, with the suites divided into several two story blocks separated by tree-lined walkways, accommodation at Residence Inn Costa Mesa - Newport Beach is very clean, well maintained, and managed by friendly, efficient staff. All suites include a full kitchen (microwave, refrigerator, stove, dishwasher) plus a sofa bed, work desk and free internet access. The hotel provides a complimentary shopping service, free hot breakfast buffet, and free evening social hour (weekdays); the landscaped grounds also contain an outdoor pool and picnic area. Easy travel to other Orange County locations is possible by the nearby 55, 405 & 73 freeways, and the hotel is within 3 miles of such places as John Wayne Airport, South Coast Plaza & Orange Coast College.

7.
Holiday Inn Express Hotel & Suites Costa Mesa
2070 Newport Blvd, Costa Mesa, CA 92627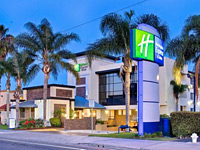 Guests at the Holiday Inn Express hotel in Costa Mesa appreciate the clean and comfortable rooms, the efficient staff, the better-than-usual free continental breakfast and the convenient location - the property is part of a long stretch of shops, restaurants and other businesses along the Costa Mesa Freeway, 2.5 miles from Newport Beach. The many other nearby attractions within a few miles include Orange County Fairgrounds/Event Center, Costa Mesa Golf Course, South Coast Plaza and Santa Ana Country Club. The hotel has a small outdoor pool at the front, and a sundeck; there is no fitness center, though free passes are given to a local health club.

8.
Best Western Plus Newport Mesa Inn
2642 Newport Blvd, Costa Mesa, CA 92627-4626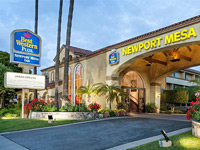 Along Newport Boulevard, the southern frontage road of the 55 Freeway, the AAA Three Diamond-rated Best Western Newport Mesa Inn has a good reputation for cleanliness, comfort & value, and provides a relaxing place to stay despite the proximity to the main road. The 97 room building has 3 floors and interior corridors, with a sheltered outdoor pool at the rear, and a reasonable amount of parking at the side (and underneath). There are several restaurants a short walk away. Free full breakfast, an indoor spa, exercise room, business center, and meetings/banquet facilities for up to 200 guests are the other main amenities.

9.
Ramada by Wyndham Costa Mesa/Newport Beach
1680 Superior Avenue, Costa Mesa, CA 92627-3652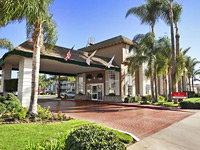 The Ramada is the southernmost hotel in Costa Mesa, 1.5 miles from the Pacific Ocean at Newport Beach, bordered by Superior Avenue on one side and Newport Boulevard on the other. Most guest rooms face northeast, looking across the good-sized parking lot and outdoor pool towards an adjacent shopping center, which includes several restaurants. Onsite dining is available at the hotel's Sunset Grille. All accommodations feature free wi-fi and a refrigerator. A complimentary shuttle service is provided to John Wayne Airport (6.5 miles north).

10.
Travelodge by Wyndham Costa Mesa Newport Beach Hacienda Travelodge by Wyndham
1951 Newport Boulevard, Costa Mesa, CA 92627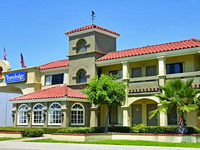 Like most of other Costa Mesa hotels lining the Hwy 55 frontage roads, the Travelodge offers standard, exterior corridor lodging on two floors, with the usual amenities of an outdoor pool/hot tub, free wi-fi, free continental breakfast and a microwave/refrigerator in all accommodations. The motel is situated on the west side of the main road at the south end of the divided, freeway section, at the edge of a mixed business/residential district. Shopping and dining are within walking distance to the south.

11.
Travelodge by Wyndham Orange County Airport Costa Mesa
1400 Bristol Street, Costa Mesa, CA 92626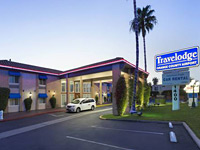 Travelodge Orange County Airport enjoys a pleasant setting bordered to the west by a partly covered streamway and the tree-lined fairways of Santa Ana Country Club. Another golf course (Newport Beach) is close by to the south, while beyond are the wetlands of Newport Bay Nature Reserve. A free shuttle is operated to John Wayne Airport (SNA), 2.5 miles north. Nearby freeways are I-405, Hwy 55 and Hwy 73. Motel highlight is the outdoor pool and garden at the center, out-of-sight of the surrounding roads; other features are free continental breakfast, free wi-fi and a business center. There are many restaurants within one block.
12.
Motel 6 Costa Mesa
1441 Gisler Avenue, Costa Mesa, CA 92626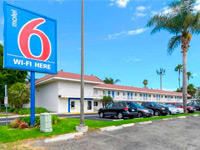 At the Harbor Boulevard exit of I-405, the Motel 6 is a typical budget-priced, exterior corridor motel of two floors and 96 rooms, some of which overlook an outdoor pool and courtyard garden. Accommodations have recently been remodelled, with bright colors and modern furnishings. Wi-fi, guest laundry and free coffee are the only other amenities. There are many restaurants within walking distance along the main road, and an IKEA store also close by, on the far side of the freeway.
13.
Motel 6 Newport Beach
2274 Newport Blvd, Costa Mesa, CA 92627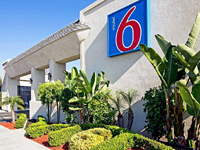 Motel 6 Newport Beach sits along the southern Hwy 55 frontage road, half way (1.7 miles) between the 73 Freeway and downtown Costa Mesa; part of a long row of shops, restaurants, hotels and other businesses. College Hospital Costa Mesa is 0.4 miles west. The motel has a small frontage (and a limited-height entrance) but extends quite a long way back, away from the access road. The interior/exterior corridor accommodation blocks are arranged around three sides of the parking lot, which has an outdoor pool & hot tub at the rear. Wi-fi and morning coffee are complimentary. Guest rooms are modern in appearance, and all contain a microwave/refrigerator.