1.
Marriott's Newport Coast Villas
23000 Newport Coast Drive, Newport Coast, CA 92657-2100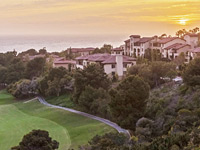 Although primarily a timeshare resort, Marriott's Newport Coast Villas also welcomes short stay guests, and it has a beautiful location on a hillside overlooking Pelican Hill Golf Course and the Pacific Ocean, with the nearest beach (part of Crystal Cove State Park) just one mile away on the far side of CA 1. Apartments feature a full kitchen, separate dining/living areas, a private patio or balcony, a King size sofa bed, multiple TVs and a washer/dryer, while the excellent leisure facilities include swimming pools, tennis courts, hot tubs, a fitness center and a games room. All accommodation and the extensive grounds are very well maintained, in the care of attentive, helpful staff. There is no restaurant on site; the nearest places to eat are a mile in either direction along the Pacific Coast Highway. For shops and other facilities, the center of Newport Beach is 3 miles north.