1.
JW Marriott Scottsdale Resort & Spa - Camelback Inn
5402 E Lincoln Drive, Scottsdale, AZ 85253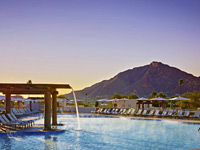 The most upscale of over ten Marriott properties in Scottsdale also has a reputation as the best hotel in the whole city, all the more so after a recent major renovation. JW Marriott Scottsdale Resort & Spa occupies a quiet 125 acre site along Lincoln Drive in the Paradise Valley area, with the main building surrounded by landscaped grounds showcasing the varied plantlife of the Sonoran Desert. There are two golf courses adjacent, and all necessary facilities for dining, meetings, weddings, business and leisure right on site. Guests have a choice of 453 luxurious rooms, all with a private balcony or patio, and including a variety of suites, some boasting their own swimming pool.
2.
Marriott Scottsdale Suites Old Town
7325 East 3rd Avenue, Scottsdale, AZ 85251
The centrally-located, 8 story Marriott Suites Old Town provides high quality, all-suite accommodation to visitors to central Scottsdale - all the varied attractions of downtown are a short walk away, and Phoenix Airport is 12 miles southeast. The 243 extra-large suites comprise a living room, bedroom and bathroom; all have a flat screen TV, wet bar, comfortable bedding, and a private balcony for great views over the city and the nearby mountains. For dining there is one restaurant/bar on site - Allie's American Grille - plus a Starbuck's kiosk open for breakfast. Leisure choices are a outdoor pool, hot tub, courtyard and fitness center, while for meetings/events the Marriott has 8 function rooms totaling over 15,000 sq ft of space.

3.
Hilton Scottsdale Resort & Villas
6333 N Scottsdale Road, Scottsdale, AZ 85250-5428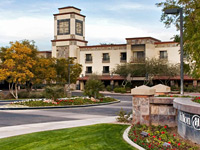 Highlight of Hilton Scottsdale Resort is the beautiful tropical courtyard garden at the center, site of the outdoor pool, poolside bar, sundeck and plenty of comfortable seating, all surrounded by mature palm trees. The hotel has a north-central location along Scottsdale Road, 3 miles from downtown and 10 miles from Phoenix Sky Harbor Airport. West-facing rooms have fine views of Camelback Mountain; the remainder look out either across the gardens, or the surrounding, peaceful residential neighborhood. Accommodations comprise standard rooms, studio suites and luxury two bed villas, these with floor space in the range 1,500 to 1,800 sq ft. There are two restaurants on-site and extensive meeting/event facilities (25,000 sq ft of indoor/outdoor space).

4.
DoubleTree Paradise Valley Resort Scottsdale
5401 N Scottsdale Road, Scottsdale, AZ 85250-7090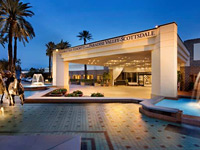 DoubleTree Paradise Valley Resort is one of the largest, most luxurious and best equipped hotels in Scottsdale, offering 387 rooms & suites and every conceivable amenity. The property extends for a quarter of a mile on the east side of Scottsdale Road; the northern section includes the meeting space (40,000 sq ft, 23 function rooms), while to the south the guest accommodations are divided into several blocks arranged around a number of inter-connected tropical gardens, containing pools, bars and other leisure facilities (tennis court, putting green, racquetball and basketball). All rooms have a private balcony or patio, with views of the gardens or the surrounding mountains. The resort includes a fully equipped spa and three dining outlets. Downtown Scottsdale is just one mile south, while the hiking trails of Camelback Mountain are one mile west.

5.
Courtyard Scottsdale Old Town
3311 N Scottsdale Road, Scottsdale, AZ 85251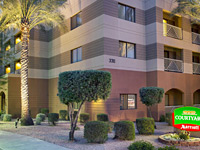 The most central of several Marriott properties in Scottsdale is the Courtyard, part of a group of restaurants, businesses and other hotels a few blocks south of downtown along Drinkwater Boulevard, linked to the main sites in Scottsdale by the free trolley system which runs close by. The hotel is a reliable, mid range, full service establishment offering 180 clean, spacious rooms and all the expected amenities - a cafe (open for breakfast & lunch), a lounge/bar serving dinner, a heated outdoor pool, hot tub, fitness center, business center and three meeting rooms.

6.
Courtyard Scottsdale Salt River
5201 North Pima Road, Scottsdale, AZ 85250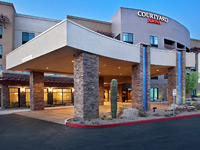 The fourth Courtyard hotel in the Scottsdale area is situated along Pima Road at the east edge of the city, close to the 101 Freeway - near Scottsdale Community College and just 3 miles from the downtown area. Features include a welcoming lobby with media wall, a restaurant open for breakfast, dinner & evening drinks, a pool (indoor), whirlpool & fitness center, and 4,000 sq ft of meeting space. There are few facilities close by in this mixed residential/agricultural neighborhood, apart from a Wal-Mart one block south; the nearest shopping center (Park Scottsdale) is a mile to the north.

7.
Residence Inn Scottsdale Salt River
5351 N Pima Road, Scottsdale, AZ 85250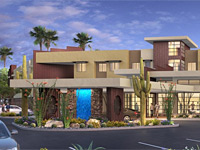 The 112-suite Residence Inn is a late 2019 addition to the long stay accommodation choices in Scottsdale, built right opposite another Marriott property (Courtyard) in between Pima Road and the 101 freeway, part of a small business district adjoining a larger residential area. The hotel offers free hot breakfast, free weekday evening receptions, complimentary grocery shopping service, and full kitchens in all guest rooms, which are available in studio, one bedroom and two bedroom configurations. Two blocks south are a Walmart supermarket and several restaurants.

8.
Residence Inn Scottsdale Paradise Valley
6040 N Scottsdale Road, Scottsdale, AZ 85253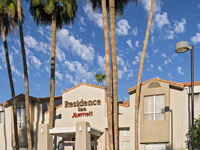 In the Paradise Valley district, 2 miles north of central Scottsdale, the Residence Inn by Marriott has 122 studio or two-bedroom suites (all containing a full kitchen), aimed at longer stay travelers, large groups, or just those guests needing extra space. Free light dinner with beer/wine is served weekday evenings, plus free hot breakfast all days; for other dining there is a good selection of restaurants a block or two north along the main street (Scottsdale Road). All rooms are spotlessly clean, as are the public areas which include a sports court, outdoor pool, hot tub, fitness center, bbq grills and a 38 person meeting room.

9.
Papago Inn, Ascend Hotel Collection
7017 E McDowell Road, Scottsdale, AZ 85257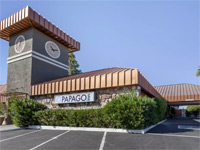 Papago Inn is a small, boutique hotel on the south side of Scottsdale, along McDowell Road, one block from Scottsdale Road and one mile east of the desert landscapes of Papago Park. The resort-like property offers 58 comfortable rooms that overlook landscaped, flower-filled gardens containing a large swimming pool, gazebo and tall palm trees. The many attractions within 2 miles include Scottsdale Stadium, Phoenix Zoo, Desert Botanical Gardens and the Phoenix Municipal Stadium. There is a restaurant on site, plus a lounge/bar, gift shop and fitness center.

10.
Staybridge Suites Scottsdale - Talking Stick
9141 E Hummingbird Lane, Scottsdale, AZ 85250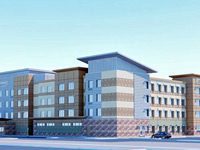 The Staybridge Suites (open summer 2019) has an easterly location in Scottsdale near the Talking Stick Resort, just across the street from the Pavilions Shopping Center, and also within walking distance of the Salt River Fields sports centre. The Pima Freeway runs past one block east. All guest rooms are suites, and all are equipped with a full kitchen; meals can also be cooked using the bbq facilities. Both daily hot breakfast and weekday evening receptions are complimentary. A free shuttle serves local area destinations.

11.
Embassy Suites Scottsdale
5001 N Scottsdale Road, Scottsdale, AZ 85250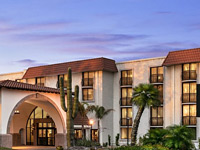 Chaparral Suites Scottsdale rebranded as Embassy Suites Scottsdale summer 2016, retaining its wide range of facilities. The property has a traditional courtyard design, the suites arranged on all sides of two secluded gardens which contain such amenities as an oversized pool, sundeck, fountain and outdoor event space. The onsite restaurant is open for breakfast, lunch & dinner, and provides all-day room service. Hot breakfast and evening drinks/snacks are complimentary. Other leisure facilities are a fitness center and tennis court. The hotel is situated at the Scottsdale Road - Chaparral Road intersection, a few blocks north of the city center.

12.
Hilton Garden Inn Scottsdale Old Town
7324 E Indian School Road, Scottsdale, AZ 85251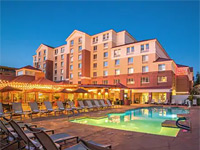 Sites within two blocks of Hilton Garden Inn Scottsdale Old Town include City Hall, the main library and Scottsdale Stadium, together with numerous restaurants, bars, galleries and shops. The hotel occupies a large, handsome, modern building of 7 floors and 200 guest rooms, including several types of suite. The sunny southwest side of the complex has a good-sized outdoor pool, sundeck and al fresco dining area, while a tropical garden with palm trees borders the building to the east. Jake's Restaurant, overlooking the pool, is open all day (room service available); snacks and food for cooking using the in-room microwaves can be purchased 24 hours a day from the on-site convenience store. The fitness center and business center are also open 24 hours.
13.
Hampton Inn & Suites Scottsdale-Riverwalk
9550 E Indian Bend Road, Scottsdale, AZ 85256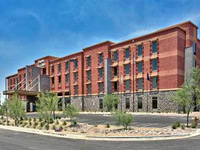 The Hampton Inn is part of the Scottsdale Riverwalk development on the east side of Loop 101, built on previously untouched desert plains, part of the Salt River Indian Reservation; the hotel sits just across the street from Talking Stick Resort, which includes a casino and a 36 hole championship golf course. There are many recently built shops, restaurants and other entertainment outlets nearby. The hotel has four floors and 101 rooms, and offers amenities of a free local area shuttle, free hot breakfast, free wi-fi, a convenience store, fitness center, outdoor pool (on the sheltered north side), business center and one meeting room.

14.
Holiday Inn Express Hotel & Suites Scottsdale
3131 N Scottsdale Road, Scottsdale, AZ 85251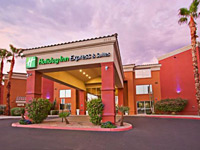 Scottsdale's Holiday Inn Express hotel occupies a sizeable area by the Drinkwater Boulevard-Scottsdale Road junction just south of downtown, within walking distance of major attractions like Scottsdale Stadium and Scottsdale Mall. The hotel contains 170 rooms & suites on three floors, centered around a tropical outdoor pool area, and offers a wide range of amenities including hot tub, gift shop, business center, fitness center, free above average continental breakfast and free evening reception every day - all of which, together with convenient location, complimentary Phoenix airport shuttle and good staff make this one of the more highly rated hotels in town.

15.
Hotel Bixby Scottsdale, BW Signature Collection
409 N Scottsdale Road, Scottsdale, AZ 85257
Highlight of Hotel Bixby, a Best Western affiliate, is the secluded courtyard garden at the center, which includes a pool, hot tub, palm trees, bbq grills and sundeck. The hotel has a southerly location along Scottsdale Road, one mile from the Red Mountain Freeway, and equally close to the varied attractions of Papago Park. Other amenities include a full service restaurant/bar (Jaxon's), a fitness center, coin-operated laundry and business services.

16.
Best Western Sundial Resort
7320 E Camelback Road, Scottsdale, AZ 85251-3404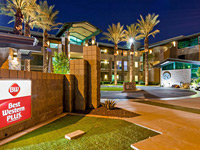 The Best Western hotel in downtown Scottsdale is centrally located along Camelback Road, just a few blocks from Fashion Square, Camelback Miller Plaza and Old Town Scottsdale. Best Western Sundial Resort is a modern, boutique hotel modeled on the designs of Frank Lloyd Wright; guests enter through an elegant atrium lobby and can choose from 54 bright, smartly-decorated rooms, all including modern amenities like free high speed wi-fi and flat screen TVs. The hotel also has an outdoor pool/hot tub, business center & meeting space, and a free breakfast bar.

17.
Comfort Suites Scottsdale Old Town
3275 N Drinkwater Blvd, Scottsdale, AZ 85251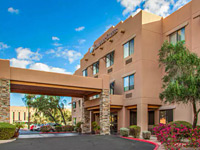 One of the most central of Scottsdale hotels, the pet friendly Comfort Suites is less than half a mile from the Old Town district, Scottsdale Mall and Scottsdale Stadium. The 60 extra large, interior corridor rooms have separate living/sleeping areas and are equipped with a microwave and refrigerator. Unusually for a Phoenix area hotel, the swimming pool is indoors, though the hot tub is outside, in the middle of a sun deck. Free breakfast is provided (including a few hot items); the other main services are an exercise room and a business center.

18.
Quality Inn Phoenix Scottsdale West
4727 E Thomas Road, Building A, Scottsdale, AZ 85018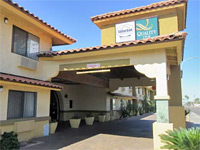 Quality Inn Scottsdale West enjoys a quiet setting in a mostly residential area along Thomas Road, right next to the Indian Bend Wash Greenbelt, an 11 mile, linear route along the course of a former canal; the center of Scottsdale is 4 miles east. Guest rooms are on two floors, accessed by interior corridors, and all contain a microwave & refrigerator; some have a kitchenette. The motel shares a building with the Suburban Extended Stay, and is centered on an enclosed courtyard garden with pool and bbq grill. Wi-fi and continental breakfast are complimentary.

19.
Suburban Extended Stay Hotel Phoenix Scottsdale West
4727 E Thomas Road, Building B, Scottsdale, AZ 85018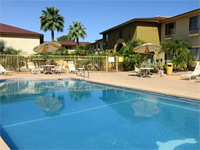 The Suburban Extended Stay has a westerly location in Scottsdale along Thomas Road, beside the Greenbelt City Park and one block from the Arcadia Crossing shopping complex, which includes a large selection of restaurants. An outdoor pool, meeting room, fitness center and coin-operated laundry are the main facilities, plus free wi-fi and free microwave/refrigerator in all accommodations. All accommodations have a full kitchen, including stove, toaster and utensils. The building is centered on a secluded courtyard garden, shared with a sister property, the Quality Inn.

20.
Howard Johnson by Wyndham Scottsdale Old Town
7110 E Indian School Road, Scottsdale, AZ 85251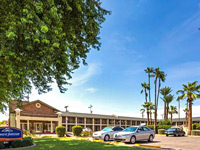 Howard Johnson Scottsdale is a typical old-style, exterior corridor motel of two floors, overlooking the parking lot and outdoor pool. All accommodations contain a microwave and refrigerator, and they include a selection of two bed suites. Free continental breakfast is the only other amenity; for other meals there are many restaurants nearby (and shops), along the main street, Indian School Road, which meets Scottsdale Road half a block east. The motel has a central location in the Old Town district, less than a mile from Scottsdale Stadium.

21.
Days Inn & Suites by Wyndham Scottsdale North
7330 North Pima Road, Scottsdale, AZ 85258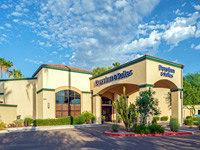 Days Inn Scottsdale is part of the developing area on the east side of Pima Road, close to Salt River Fields and 1.5 miles from Talking Stick Resort/Casino. Downtown Scottsdale is 4.5 miles southwest. The newly built, interior corridor, pet friendly property features a nice outdoor pool area that includes a hot tub and children's wading pool, while interior facilities are a fitness center, business center, coin-operated laundry and a dining room for the complimentary breakfast. Wi-fi and a local area shuttle are also free. All rooms contain a microwave and refrigerator; the suites have a full kitchen, separate living area and extra sofa bed.

22.
Rodeway Inn Old Town Scottsdale
2934 N Scottsdale Road, Scottsdale, AZ 85251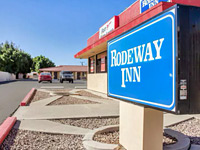 The limited facilities at the budget-priced Rodeway Inn Scottsdale comprise free wi-fi, free coffee and a microwave/refrigerator in all guest rooms, which are all on the ground floor, divided into several blocks facing the parking lot. There are various restaurants and small shops nearby, around the Thomas Road-Scottsdale Road intersection, a few blocks south of the Old Town district.
23.
Motel 6 Scottsdale
6848 E Camelback Road, Scottsdale, AZ 85251
Like most properties of this brand, Motel 6 Scottsdale has two floors and exterior corridors; an L-shaped building along Camelback Road, adjacent to Scottsdale Fashion Square Mall and other nearby large stores. The Cholla Lane trailhead of Camelback Mountain is 1.5 miles west. Affordable rates are the main attraction of the motel, as apart from an outdoor pool, the only amenities are free coffee and a coin-operated laundry. Wi-fi and guest shuttle are available for a small fee.