1.
Pointe Hilton Tapatio Cliffs Resort
11111 North 7th Street, Phoenix, AZ 85020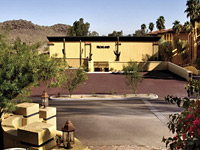 Although well within the Phoenix city limits, Pointe Hilton Tapatio Cliffs is entirely surrounded by pristine desert hills, part of North Mountain Park; the upscale resort is located along an otherwise undeveloped one mile section of 7th Street, between a residential district to the south and Thunderbird Road to the north, along which are found a few restaurants and shops. Centerpiece of the site is Falls Water Village, featuring no fewer than 8 pools, plus waterfalls and tennis courts, all surrounded by flourishing tropical plants. 23 meeting rooms cater for a wide range of events, up to 2,200 people. The resort has five restaurants, including a poolside cafe and the Mediterranean-influenced Different Pointe of View, which provides stunning views of the desert from floor-to-ceiling windows.

2.
Pointe Hilton Squaw Peak Resort
7677 North 16th Street, Phoenix, AZ 85020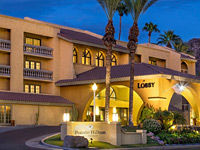 Pointe Hilton Squaw Peak Resort occupies a beautiful, 27 acre site at the foot of the Phoenix Mountains, close to the 51 freeway; the luxurious, all-suite accommodations are divided into many small blocks along tree-lined streets, centered around an extensive recreation area with swimming pools, waterfalls, a river, miniature golf, tennis courts and a childrens' adventure camp. There are 546 suites available, including a selection of two-level casitas; many have a kitchenette. The 10,000 sq ft Tocasierra Spa & Salon offers a wide range of treatments and services. Three on-site restaurants are the Western-themed, family-style Hole-in-the-Wall, Rico's American Grill (with the option of patio dining), and Slim Picken's, serving drinks & snacks beside the main pool.

3.
Sheraton Crescent Hotel
2620 W Dunlap Avenue, Phoenix, AZ 85021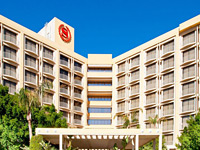 At the Dunlap Avenue exit of I-17 (east side), within walking distance of the Metrocenter Mall, the full service Sheraton is a large hotel with resort-style facilities, including a sizeable, secluded, courtyard garden at the rear, lined by palms and other trees, and incorporating pools, tennis courts and a hot tub. The complex includes a 67,000 square foot conference center, capable of staging events of up to 1,000 people. The onsite restaurant is the Southwestern-style Indigo Bistro, open for dinner, breakfast & lunch. Accommodations feature private balconies and luxurious bedding. Club-level rooms enjoy additional benefits such as free breakfast.

4.
DoubleTree by Hilton Phoenix North
10220 North Metro Parkway East, Phoenix, AZ 85051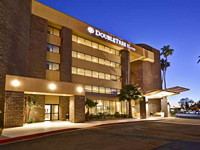 The 284 room/suite DoubleTree (open summer 2017) is the closest hotel to Metro Center Mall in north central Phoenix, located within the Metro Parkway ring road, close to the Peoria Avenue exit of Interstate 17. This is a luxurious property occupying several old-style, mid-rise buildings arranged around a central garden, which contains a good sized outdoor pool and plenty of shady trees. An onsite restaurant/bar (Brixton Pub) serves breakfast, lunch, dinner, room service and evening drinks, while there are numerous other restaurants a short walk away. A complimentary shuttle is available to places within a five mile radius. The business center and fitness center are both open 24 hours a day.

5.
Courtyard Phoenix North
9631 North Black Canyon Highway, Phoenix, AZ 85021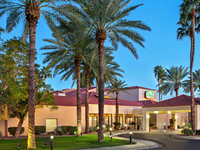 One of several hotels next to interstate 17 on the opposite side to the Metro Center Mall in north Phoenix, the three star Courtyard by Marriott has the familiar design for this brand based on a central landscaped garden with palm trees and an outdoor pool, overlooked by many of the 146 large, clean rooms & suites. The on site cafe serves breakfast only but there is no shortage of restaurants close by, plus a 24 hour market in the lobby where drinks and snacks can be purchased. Other facilities include a fitness center, hot tub, guest laundry, and 2 meeting rooms.

6.
Homewood Suites by Hilton Phoenix-Metro Center
2536 Beryl Avenue, Phoenix, AZ 85021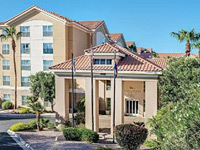 Homewood Suites by Hilton is part of a line of hotels on the east side of interstate 17 south of Peoria Avenue, opposite the huge Metrocenter Mall and also near Cave Creek Park, Lake Biltmore Village, Metro Square and a number of corporate headquarters. The long stay hotel has a good range of facilities for business (meeting rooms, A/V equipment, business center) and leisure (outdoor pool, whirlpool, basketball court, fitness center), plus other useful amenities like a gift shop and convenience store. The modern suites all have a fully equipped kitchen and plenty of space for work and relaxation. Complimentary amenities include hot breakfast and evening reception (light meal and drinks), Monday to Thursday.

7.
TownePlace Suites Phoenix Metrocenter Mall/I-17
9425 N Black Canyon Freeway, Phoenix, AZ 85021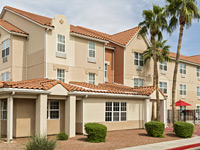 Right next to its Marriott sister property the SpringHill Suites (a little further away from the main road) stands the 94 room TownePlace Suites Phoenix, comprising two blocks either side of the parking lot and outdoor pool. Free continental breakfast is served each morning, and for other meals, there are several restaurants a block or two north and many more at the Metro Center Mall on the far side of I-17; alternatively, guests can cook meals in their room, as this includes a full kitchen with dishwasher, oven, microwave and refrigerator. Also just across the interstate is the popular Castles'N Coasters fun park. The hotel has a business center though no meeting space, however this is available at the adjacent Black Canyon Conference Center.

8.
SpringHill Suites Phoenix Metro Center Mall/I-17
9425 N Black Canyon Freeway, Phoenix, AZ 85021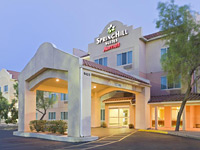 Of two adjacent all suite Marriott hotels near the Metro Center Mall in north Phoenix, the SpringHill Suites has slightly lower rates than its neighbor the TownePlace Suites, though both are clean, modern, well managed establishments. The hotel has 81 studio suites (equipped with sofa bed, microwave & refrigerator), in a three story building next to I-17 and the Black Canyon Highway, with a smallish outdoor pool & hot tub at the rear, and interior facilities of an exercise room, business center and a dining area for the free breakfast buffet.

9.
Best Western North Phoenix Hotel
9455 N Black Canyon Freeway, Phoenix, AZ 85027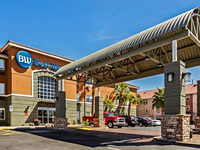 The Best Western North Phoenix hotel offers 87 modern rooms equipped refrigerator and microwave, housed in a new-looking building which is part of a group of other hotels next to I-17, bordered on the east side by the Mofford Sports Complex and Cave Creek Park. Select accommodations contain a sofa bed. To the west, on the far side of the interstate, is the Metro Center Mall together with other attractions like the Castles 'n Coasters family fun park. The hotel serves free full hot breakfast, and has leisure facilities of an outdoor pool, hot tub, bbq grills and exercise room.

10.
Best Western Plus InnSuites Phoenix Hotel & Suites
1615 E Northern Avenue, Phoenix, AZ 85020-3932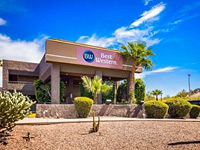 The well regarded Best Western InnSuites Hotel in northeast Phoenix has an excellent, quiet location along 16th Street - close to many businesses and shopping centers in the Glendale-Phoenix-Scottsdale region, but also just one mile from Squaw Peak and Phoenix Mountain Park, good for hiking and biking. Features of the hotel include better than average free full breakfast buffet, a free evening reception, well maintained outdoor pool/hot tub, and friendly staff. The surroundings are mostly residential but a few restaurants can be found 0.4 miles west along Northern Avenue.

11.
Baymont by Wyndham Phoenix North
10210 N 26th Drive, Phoenix, AZ 85021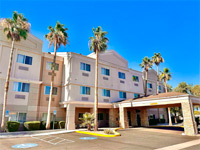 Part of a sizeable group of hotels serving the vast Metrocenter Mall in north Phoenix, the Baymont by Wyndham has 60 oversized rooms with separate sleeping/working areas, equipped with microwave, refrigerator and coffee maker. Like many similar hotels in the area it faces interstate 17 (near exit 209; Peoria Avenue) so can be noisy at times, but the compensation is the close proximity to many shops and restaurants, and good connections to other sites in Phoenix. Leisure options are a fitness room, indoor pool and outdoor hot tub; free continental breakfast is served.

12.
Econo Lodge Phoenix
2735 W Sweetwater Avenue, Building A, Phoenix, AZ 85029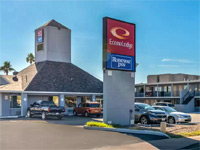 The Econo Lodge occupies part of a two story building on the west side of I-17 between exits 209 and 210; 12 miles north of downtown Phoenix, 1.8 miles from Metrocenter Mall and a similar distance from the popular Castles N Coasters amusement park. A selection of restaurants are within walking distance, and continental breakfast is complimentary. Pets are welcome. The complex includes an outdoor pool, well shielded from the adjacent roads.

13.
Rodeway Inn Phoenix
2735 W Sweetwater Avenue, Building B, Phoenix, AZ 85029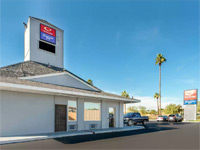 The Rodeway Inn shares a site with another Choice Hotels property, the Econo Lodge, offering slightly cheaper accommodations. Amenities are free wi-fi, coin-operated laundry, free continental breakfast and an outdoor pool. Guest rooms are on two floors of an exterior corridor building, which adjoins a small business district on the west side of Interstate 17, near the Cactus Road exit. Downtown Phoenix is 13 miles south.