1.
Marriott Scottsdale McDowell Mountain
16770 North Perimeter Drive, Scottsdale, AZ 85260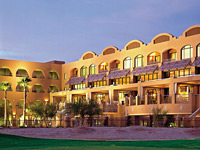 Golf is one of the main reasons to stay at Marriott Scottsdale McDowell Mountain - the luxurious resort property has a beautiful setting at the foot of the saguaro-studded mountains bordering Paradise Valley, right next to the two TPC Scottsdale golf courses. But the 270 room, all-suite, Mediterranean-style hotel has many other attractions, including the Agave lounge/bar, Zambra Grille all-day restaurant with patio, a large outdoor pool, and 15,000 sq ft of elegant meeting space. The 101 loop road runs past just to the east, though not so close as to spoil the relaxed, peaceful atmosphere.

2.
AC Hotel Scottsdale North
15200 N Kierland Blvd, Scottsdale, AZ 85254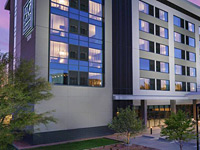 Open early 2021, the AC Hotel is a luxurious, boutique, European-influenced hotel in north Scottsdale, beside the shops and restaurants of Kierland Commons; along Greenway Parkway 2 blocks west of Scottsdale Boulevard, and 2.5 miles from Loop 101. A cafe serves buffet breakfast, while the AC Lounge is open in the evenings for dinner and drinks, either indoors or on the outdoor patio, overlooking the pool. The hotel contains 165 guest rooms, in a six storey building that affords good views across the city to the nearby McDowell Mountains.

3.
Holiday Inn Club Vacations Scottsdale Resort
7677 E Princess Boulevard, Scottsdale, AZ 85255
The well regarded Holiday Inn Club Vacations Scottsdale Resort caters for guests in 431 beautifully decorated rooms, divided into several blocks separated by gardens, pools and tree-lined walkways, all part of a sizeable complex right at the north edge of Scottsdale, bordering untouched desert. The resort is 1.5 miles from Loop 101, and a similar distance from attractions such as the TPC Players Club, Scottsdale Sports Complex, Promenade Shopping Center and Scottsdale 101 Mall. Facilities include indoor & outdoor event space, a restaurant/bar (open all day), a convenience store and a courtesy shuttle.

4.
Holiday Inn Hotel & Suites Scottsdale North - Airpark
14255 North 87th Street, Scottsdale, AZ 85260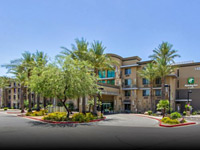 In north Scottsdale adjacent to the Pima Freeway (Loop 101), the Holiday Inn is an attractive, affordable and well reviewed mid range hotel, with a nice pool area on the south side, surrounded by tall palm trees. The four floor property lies at the edge of the Scottsdale Airpark business district, 3 miles from the municipal airport. Wi-fi is complimentary, as is the local area shuttle, serving locations up to 5 miles away. There are plenty of shops and restaurants within half a mile, to the north. A 24 hour business center and meeting space for up to 90 people are available for guests here on business.

5.
Courtyard Scottsdale North
17010 N Scottsdale Road, Scottsdale, AZ 85255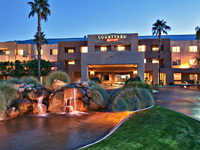 There are three adjacent Marriott hotels in far north Scottsdale, built at the edge of the TPC Stadium Golf Course a mile south of the Pima 101 Freeway along Scottsdale Road; largest is the Courtyard, a well established, 3 floor building of 147 rooms and 6 suites. For dining, the onsite Bistro restaurant is open for breakfast & dinner, with other dining choices provided by several restaurants next door or one block south. Leisure facilities are the usual three of outdoor pool, hot tub and a fitness center.

6.
Courtyard Scottsdale Mayo Clinic
13444 E Shea Boulevard, Scottsdale, AZ 85259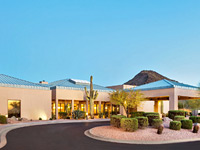 Saguaro-covered Sonoran desert land at the foothills of the McDowell Mountains surrounds the Courtyard Scottsdale Mayo Clinic, built beside the hospital campus right at the northeast edge of Scottsdale along E Shea Boulevard - part of a sparsely developed residential district, near Fountain Hills. The hotel is an older building but well enough maintained, and provides a quiet, safe place to stay; there are 124 rooms either side of the familiar courtyard garden, outdoor pool & hot tub, with meals available from the on-site, all-day restaurant.

7.
Residence Inn Scottsdale North
17011 N Scottsdale Road, Scottsdale, AZ 85255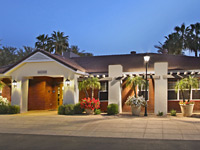 Comfortable, long stay accommodation in 120 large, modern suites is available at the Residence Inn by Marriott Scottsdale North - a well maintained building in a quiet location bordered by the TPC Golf Course to the east, a canal to the south and other businesses to the west; the main road (N Scottsdale Road) is 500 feet away. The rooms feature luxurious bedding, a full kitchen, a pull-out sofa bed, large executive desk and separate working/sleeping/living areas. Guests are treated to a free full breakfast and free evening reception, plus a complimentary grocery shopping service for those cooking in their room. At the center of the property is an outdoor pool, hot tub and sports court. There are many restaurants and stores nearby at the Promenade Shopping Center.

8.
Homewood Suites by Hilton Phoenix-Scottsdale
9880 N Scottsdale Road, Scottsdale, AZ 85253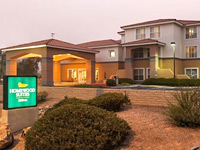 Five miles north of downtown Scottsdale along Scottsdale Road, the Homewood Suites by Hilton hotel enjoys a quiet setting in a mostly residential district, though is just a short walk away from the restaurants & stores of Shea Shopping Center. The attractive, 114 room property has an excellent reputation as one of the top hotels in Scottsdale, on account of the friendly staff, the spacious suites (studio, one bed or two bed, all with full kitchen) and the reasonable rates - relatively low for this upscale area despite the many amenities which include free hot breakfast and free light dinner on weekday evenings. Leisure facilities are an outdoor pool, whirlpool, fitness center, sports court and bbq area. Two meeting rooms cater for events of up to 50 people.

9.
Hilton Garden Inn Scottsdale North/Perimeter Center
8550 East Princess Drive, Scottsdale, AZ 85255-5469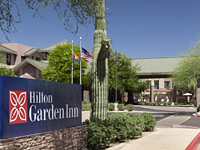 Right on the northeast edge of Scottsdale, the Hilton Garden Inn enjoys a scenic, peaceful setting within sight of unspoilt desert hills, and is easily reached from Loop 101 which runs past one block east. The bright, spacious guest rooms contain a microwave, refrigerator & sofa bed; those to the east have views over the attractive outdoor pool/whirlpool, ringed by shady trees. There is also a fire pit and putting green nearby, while inside, facilities include a convenience store & business center (both open 24 hours), fitness center and meeting space for up to 80 people. The Garden Grille restaurant/bar is open for breakfast, lunch, dinner & evening room service. The hotel is part of the Perimeter Center business district, also close (0.7 miles) to TPC Scottsdale Champions Golf Course.
10.
Hampton Inn & Suites Phoenix/Scottsdale on Shea Boulevard
10101 N Scottsdale Road, Scottsdale, AZ 85253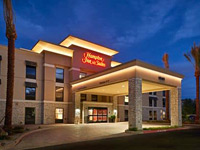 The more central of the three Hampton Inn hotels in Scottsdale adjoins Scottsdale Road about half way (5 miles) between downtown and the northern section of Loop 101, a short walk from many shops and restaurants. The property was newly constructed late 2017, and is centered on a courtyard garden/outdoor pool, with a good-sized parking lot all around the perimeter. All rooms contain a refrigerator, microwave & coffee maker; some have pool views while the remainder look out over the busy, partly residential neighborhood. Free breakfast is served each morning, complete with a selection of hot items. A complimentary 24 hour shuttle serves places within a five mile radius. Accommodations include a selection of two room suites.
11.
Hampton Inn & Suites Scottsdale
16620 N Scottsdale Road, Scottsdale, AZ 85254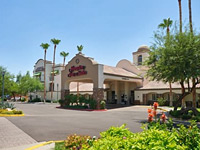 Hampton Inn Scottsdale is centered on a secluded, south-facing garden with outdoor pool, and it has a quiet location along a side street just off Scottsdale Road, 1.5 miles from Loop 101. Nearby locations include Scottsdale Municipal Airport (1.6 miles), TPC Scottsdale Golf Course (1.5 miles) and the Promenade Shopping Center (0.2 miles). The hotel operates a free shuttle to downtown Scottsdale, ten miles south. Free hot breakfast is provided, and a 24 hour convenience store sells drinks, snacks and meals for cooking using the microwaves in each guest room. Accommodations include one bed suites, with one of a balcony, whirlpool bath or kitchen. Other facilities are a fitness center, business center and meeting space.

12.
TownePlace Suites Scottsdale
10740 North 90th Street, Scottsdale, AZ 85260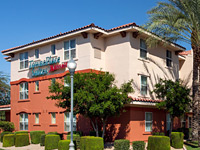 One block east of the busy Shea Boulevard - Loop 101 intersection in northeast Scottsdale, the TownePlace Suites welcomes guests to mid range, long stay accommodation comprising 130 suites (all with a full kitchen) in three blocks arranged around the parking area and palm tree-lined outdoor heated pool. Nearby locations include the Scottsdale Shea Healthcare building on the other side of the main road, Mayo Clinic 5.5 miles east, Scottsdale Pavilions mall to the south, and many golf courses & country clubs. The hotel serves free continental breakfast and is close to plenty of restaurants.

13.
SpringHill Suites Scottsdale North
17020 N Scottsdale Road, Scottsdale, AZ 85255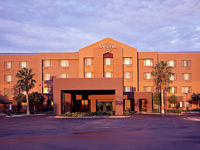 Next to the Courtyard and opposite the Residence Inn stands the SpringHill Suites Scottsdale North, a well regarded, affordable, all suite hotel with spacious rooms, friendly staff and a convenient location, along N Scottsdale Road. Many shops, restaurants and company buildings are found a short distance south, while other sites in Scottsdale are within easy reach via the 101 Freeway which runs by to the north. Rooms contain a microwave, refrigerator and extra sofa bed; the hotel has an outdoor pool, hot tub, guest laundry and one meeting room. Free full hot breakfast buffet is served. A free shuttle is provided to/from Scottsdale Airport.

14.
Holiday Inn Express Scottsdale North
7350 E Gold Dust Avenue, Scottsdale, AZ 85258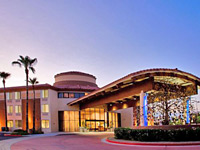 The 122 room, pet friendly Holiday Inn Express hotel in Scottsdale is located along a quiet side road towards the north of the city, by the major intersection of Shea Boulevard and Scottsdale Road. There are many shops, businesses, golf courses and other attractions nearby, with over 20 restaurants within walking distance of the hotel. Amenities of the Holiday Inn Express include a fitness center, large outdoor swimming pool, hot tub, free local area shuttle, refrigerators in every room, and free deluxe continental breakfast; all facilities were fully renovated early 2011 following conversion from another brand. A complimentary shuttle is operated to locations within a 5 mile radius.

15.
Aiden by Best Western @ Scottsdale North
10801 N 89th Place, Scottsdale, AZ 85260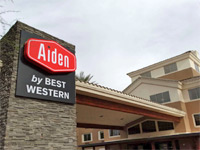 Aiden by Best Western is a boutique-style hotel in a quiet area near the Shea Boulevard exit of the Pima Freeway, within walking distance of Scottsdale Healthcare Shea Medical Center and Scottsdale Fiesta Shopping Center. The hotel has a pleasant garden and outdoor pool, enclosed on three sides by the east-facing guest rooms, and also offers a business center, laundry and fitness center. Besides the regular accommodations there are various suites available, featuring a microwave, refrigerator and wet bar.

16.
Surestay Plus Hotel by Best Western Scottsdale North
13440 N Scottsdale Road, Scottsdale, AZ 85254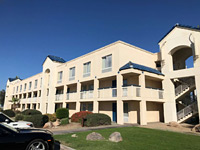 Palm trees, flowering bushes and saguaro cacti create a relaxing atmosphere at the Best Western hotel in north Scottsdale - a clean, modern property along Scottsdale Road, close to the airport and several country clubs/golf courses. The building is part of a line of restaurants, large shops and other hotels, though it borders an extensive residential area. For leisure guests can use the sizeable outdoor pool, a whirlpool and a fitness room; other services are free hot buffet breakfast, coin-operated laundry and a refrigerator in each room.

17.
Best Western Plus Scottsdale Thunderbird Suites
7515 E Butherus Drive, Scottsdale, AZ 85260
Recently acquired by the Best Western chain, Scottsdale Thunderbird Suites is the closest hotel to Scottsdale Municipal Airport, situated right outside the terminal buildings along Butherus Drive, within walking distance (half a mile) of Kierland Commons shopping center. Guest accommodations are divided between several blocks surrounding a sheltered, palm tree-lined courtyard garden, with outdoor pool, hot tub and sundeck. The complex includes an all-day, full service, American-style restaurant, together with a fitness center, meeting room and business center. Pets are welcome, and rates are reasonable.

18.
Sleep Inn at North Scottsdale Road
16630 N Scottsdale Road, Scottsdale, AZ 85254
Good basic accommodation, a convenient location and reasonable rates characterize the Sleep Inn at North Scottsdale Road - at the north edge of town in a small complex of restaurants and other businesses near the Promenade Corporate Center. Places within 1.5 miles include Scottsdale Municipal Airport, Kierland Golf Club, and the TPC Golf Course. The hotel has the expected amenities of free continental breakfast, outdoor pool, hot tub, fitness center, and guest laundry, plus a complimentary 5 mile local area shuttle.