Fountain Hills
is the most northeasterly suburb of Phoenix, adjoining Hwy 87 at the edge of the
Tonto National Forest
and the Goldfield Mountains. The land is hereabouts is hilly, split into thin mesas and branched canyons, and the many upscale residences in town are built along the ridges, giving fine views over the surrounding desert. Fountain Hills is bordered to the east by
Fort McDowell Indian Reservation
along the Verde River, to the south by the
Salt River Indian Reservation
, and to the north by
McDowell Mountain Regional Park
, which contains over 50 miles of scenic hiking trails.
Most of the limited facilities in town, including a small shopping center, are near the south end of Shea Blvd, just off Hwy 87; the next nearest locations are a ten mile drive away across open desert, at the north edge of
Scottsdale
.
Please refer to the
disclosure notice
for information about the affiliate (commissionable) links on this page.

1.
Copperwynd Scottsdale
13225 N Eagle Ridge Drive, Fountain Hills, AZ 85268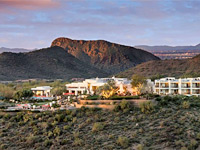 Copperwynd is a luxury, boutique resort in the McDowell Mountains, occupying a secluded, elevated site with far reaching views over the surrounding desert. There are 32 rooms available, all with 450 square feet of floorspace and a private terrace; other features include an oversized bath, separate shower, 46 inch TV and gas fireplace. Also on the premises are several swimming pools and tennis courts, a spa and a restaurant (Flourish), serving American-style cuisine. A half mile nature trail starts from the hotel, linking with longer paths into the mountains.

2.
Lakeshore Hotel & Suites Surestay Collection by Best Western
12800 N Saguaro Blvd, Fountain Hills, AZ 85268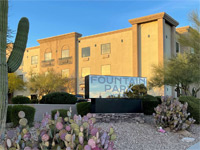 The Lakeshore Hotel is a modern, full service property along Saguaro Boulevard in the center of Fountain Hills, facing Fountain Park, which contains a lake that features the world's highest fountain - 560 feet tall when at full power. Saguaro and other desert plants decorate the surrounding roads and paths, while unspoilt wilderness is just a short drive away in McDowell Mountain Regional Park. There are plenty of restaurants within walking distance, and one on the premises, together with a lounge/bar, outdoor pool, meeting room, fitness center and coin-operated laundry.

3.
Comfort Inn Fountain Hills
17105 E Shea Blvd, Fountain Hills, AZ 85268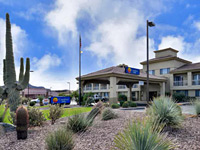 The Comfort Inn hotel in Fountain Hills is right at the south edge of town, at 17105 E Shea Boulevard, on the south corner of its intersection with Saguaro Boulevard. Firerock Country Club is a short distance west, Desert Canyon Golf Club just to the north and We-Ko-Pa Golf Club to the northeast, along highway 87. The hotel, which is situated in a residential neighborhood, has an outdoor pool & hot tub, newsstand, microwaves in all rooms, and is next to a 24 hour Denny's restaurant.