Payson
is surrounded by densely wooded hills at around 5,500 feet - half way in elevation between the
Mogollon Rim
a few miles north and the cactus deserts to the south. All the neighboring land is part of the
Tonto National Forest
, containing various trailheads and campgrounds, plus one developed attraction at
Tonto Natural Bridge State Park
(13 miles away), where a small creek has carved a 400 foot-long cavern through a travertine outcrop.
There are three main roads into Payson - Hwy 87 from
Phoenix
and the south, Hwy 260 from
Heber
and the east, and Hwy 87 from the north; the town is centered on the intersection, and most facilities are within walking distance, including the small selection of hotels and shops. Payson also has an airport, a medical center, a few RV sites, a country club/golf course, a rodeo ground and several city parks.
Please refer to the
disclosure notice
for information about the affiliate (commissionable) links on this page.

1.
Best Western Inn of Payson
301 S Beeline Highway, Payson, AZ 85541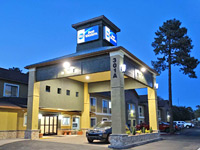 The interior corridor Best Western hotel in Payson benefits from a quiet location, set back a little from the main road (Hwy 87) - on the south side of Payson, one mile from the Hwy 260 junction. There are several small shops and restaurants nearby, and a supermarket (Basha's) two blocks north. All guest rooms are equipped with a microwave and refrigerator, wi-fi, iron and ironing board, while general amenities are a fitness center, pool, coin-operated laundry and free full breakfast.

2.
Comfort Inn Payson
206 S Beeline Hwy, Payson, AZ 85541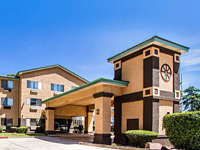 Just south of the central Highway 260 - 87 junction in Payson, AZ, the Comfort Inn along Beeline Highway offers 42 rooms and 2 hot tub suites on 3 floors; an old but quite elegant building surrounded by large pine trees, in a mostly rural area. All the rooms contain a microwave and refrigerator, coffee maker and ironing facilities. Free continental breakfast (with hot waffles) is provided in the hotel, and there are plenty of restaurants and bars in the center of Payson a short distance along the road. Other amenities include an indoor pool, whirlpool and laundry facilities. The nearest major natural attraction in the area (
Tonto Natural Bridge
) is 13 miles north along Highway 87.

3.
Quality Inn Payson
801 N Beeline Highway, Payson, AZ 85541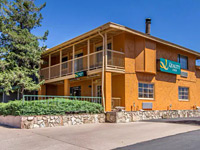 Located on the main street through Payson (AZ 87, Beeline Highway), the Quality Inn has 99 extra large rooms, most with private patios or balconies that overlook the hotel's well kept landscaped gardens and large outdoor swimming pool/hot tub. Also available are several two bedroom apartments. Various shops and restaurants are within walking distance of the inn (including Wal-Mart), and Payson Airport is a mile to the west. The Quality Inn is generally considered one of the top hotels in Payson - guests appreciate the free hot breakfast, the quiet setting, the friendly staff and reasonable rates.

4.
Super 8 by Wyndham Payson
809 Highway 260 East, Payson, AZ 85541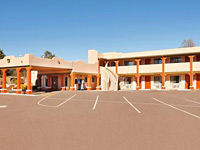 The Super 8 sits at the east edge of Payson, close to the start of unbroken pine forest, but is a short walk from several restaurants, and half a mile from the main shopping area in town, by the junction of Highways 87 and 260. The motel is quite compact, with 40 rooms on two exterior corridor floors, overlooking the small parking lot, which is somewhat shielded from the road and has an outdoor pool/hot tub at one side. Some of the rooms congtain one or more of a whirlpool bath, refrigerator and fireplace. The usual free continental breakfast is provided.
5.
Motel 6 Payson
1005 S Beeline Hwy, Payson, AZ 85541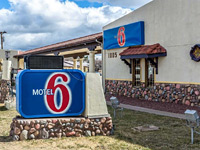 An outdoor pool, whirlpool, coin-operated laundry and free wi-fi are the rather limited amenities of Motel 6 Payson, a small, single story motel along Hwy 87 towards the south side of town, near a few restaurants, gas stations and shops. Selected rooms have a fireplace and refrigerator. The motel is half a mile from Payson Regional Medical Center and 3 miles from the local airport.