Along with adjacent
Springerville
,
Eagar
sits at the intersection of the major north-south route US 191 with the east-west highway US 60, at the edge of the Colorado Plateau; high desert plains stretch northwards towards the horizon, while to the south rise the foothills of the
White Mountains
, crossed by a very scenic section of US 191 (the
Coronado Trail
). Both towns are served by Springerville Municipal Airport.
This area receives heavy snowfall in winter, reflecting the relatively high elevation of 7,000 feet, and the largest ski center in Arizona (
Sunrise Park
) is just 25 miles away. Main Street through Eagar is lined by a few restaurants and small stores, but the majority of area facilities are a few miles away in Springerville, including the largest supermarket in the area (Safeway). Apart from the mountains there are few natural attractions close by; the nearest popular site is
Petrified Forest National Park
, 70 miles northwest.
Please refer to the
disclosure notice
for information about the affiliate (commissionable) links on this page.

1.
Best Western Sunrise Inn
128 N Main St, Eagar, AZ 85925-9690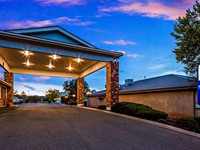 Eagar is a small town near Springerville, beside the
Coronado Trail
(US 191) and right next to the north edge of the Apache National Forest. There is only one hotel in the area - the Best Western Sunrise Inn at 128 N Main Street, which has 41 rooms, an indoor sauna, fitness room, guest laundry and a small business center. Complimentary continental breakfast is provided. There is a supermarket next door (Basha's) and a small selection of restaurants within walking distance. Rooms are clean, all equipped with microwave/refrigerator, and the place is comfortable and friendly.