Show Low
is an important east Arizona crossroads town, at the junction of highways 77, 260 and US 60, situated close to the
Mogollon Rim
; the thickly wooded land descends steeply a short distance south, to the canyons and ridges of
Fort Apache Indian Reservation
. To the north, the trees persist a for a few miles but then give way to wide, flat plains; the high desert of the Colorado Plateau, which contains
Petrified Forest National Park
, 60 miles away by road. Closer to Show Low there are no major attractions, but the surrounding national forest harbors many lakes, trails, 4WD roads and campsites. Facilities in town are concentrated along the 2.5 miles of US 60 between the two Hwy 260 junctions, including two large stores (Kmart and Safeway) and a limited selection of hotels.
Please refer to the
disclosure notice
for information about the affiliate (commissionable) links on this page.
1.
Hampton Inn & Suites Show Low-Pine Top
1501 East Woolford Road, Show Low, AZ 85901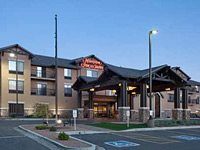 On the southeast approach to Show Low (Hwy 260), the Hampton Inn has a scenic setting in a wooded valley adjacent to a creek, bordered by grassland to the north and set back 300 feet from the main road. There are several shops nearby, but most services, including restaurants, are a mile or more north, in the town center. The modern, three floor hotel occupies a spacious site with plenty of parking, and it provides all the expected amenities: free hot breakfast, free wi-fi, an indoor pool/whirlpool, fitness center, business center and meeting space for up to 175 people.

2.
Holiday Inn Express Show Low
151 Deuce of Clubs, Show Low, AZ 85901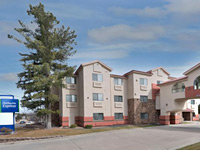 Right in the middle of Show Low, the Holiday Inn Express hotel offers 71 rooms and suites in a modern, tree-lined building along US 60, one mile west of the Hwy 260 junction. All necessary facilities of Show Low are within walking distance, including the main shopping area a few blocks west and several restaurants adjacent. The hotel has an indoor pool, since this is a relatively high elevation town, a fitness center, business center and meeting facilities for up to 100 people. The free breakfast comes with a selection of hot items.

3.
Best Western Paint Pony Lodge
581 W Deuce of Clubs, Show Low, AZ 85901-5813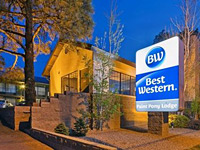 The Best Western hotel in Show Low is centrally positioned along US 60, the main highway through town, opposite a shopping area that includes a supermarket and a good selection of restaurants. The well regarded hotel has 50 exterior corridor rooms (all with refrigerator/microwave) on two floors, including several honeymoon suites containing a whirlpool bath, and one larger Presidential suite. Facilities are somewhat limited: a 24 hour front desk, fireplace lobby, business center and free full breakfast, but the staff are friendly and the rates reasonable. Show Low municipal airport is 2 miles east, and all major sites in town are within 1 mile.

4.
Quality Inn Show Low
1941 E Deuce of Clubs, Show Low, AZ 85901
Accommodations at Quality Inn Show Low are on two floors of an exterior corridor building, in two blocks, facing north and east, behind a gas station along the main road through town, US 60, in a lightly developed area close to the Hwy 77 intersection. Several restaurants are within walking distance. The motel offers free wi-fi, business & fitness centers, and free breakfast, including a few hot items.

5.
Days Inn by Wyndham Show Low
480 West Deuce of Clubs, Show Low, AZ 85901
All rooms at Days Inn Show Low contain a microwave & refrigerator and are divided into two blocks, one exterior corridor, the other interior corridor, on the north side of US 60 near the town center; there are plenty of restaurants and bars nearby, one (JB's) sharing the parking lot at the front. Some rooms overlook the good-sized outdoor pool. Stores in the vicinity include Safeway and Kmart. Other facilities are free wi-fi, free continental breakfast, guest laundry, a business center and meeting space for up to 300.

6.
Super 8 by Wyndham Show Low
1751 W Deuce of Clubs, Show Low, AZ 85901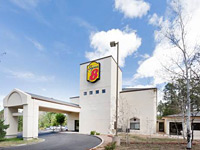 Super 8 Show Low is located towards the west side of town, close to Northland Pioneer College and the many recreation opportunities of the Apache-Sitgreaves National Forest. Free hot breakfast is provided, while other dining is available from four nearby restaurants in Show Low; there is also a Safeway supermarket within walking distance. The pet friendly motel has an indoor pool and newsstand, while some rooms include a microwave & refrigerator. The neighborhood is quiet and peaceful, as the hotel is set back a little from the highway, and all rooms have views of the surrounding pine woodland.
7.
Motel 6 Show Low
1290 E Deuce of Clubs, Show Low, AZ 85901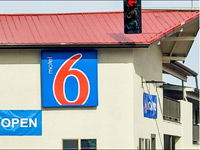 Motel 6 Show Low has a prominent location at one of the major intersections in town, US 60/Hwy 260, backing on to the wooded corridor of Show Low Creek. Many restaurants, shops and bars are within walking distance. Like most properties of this budget chain, guest rooms are on two floors, of two exterior corridor blocks, facing the parking lot. Wi-fi and morning coffee are complimentary. Accommodations include a selection of studio suites equipped with kitchenette, suitable for extended stay guests.