Sites in California
NPS Units

Cabrillo
Death Valley
Devils Postpile
Golden Gate
Joshua Tree
Kings Canyon
Lassen Volcanic
Lava Beds
Mojave
Muir Woods
Pinnacles
Point Reyes
Redwood
Santa Monica Mnts
Sequoia
Whiskeytown-Shasta
Yosemite
Other Places

Anza-Borrego Desert
Big Basin Redwoods
Big Sur
Bodie SHP
Calaveras Big Trees
California Missions
Eastern Sierra
Humboldt Redwoods
Lake Tahoe
Montaña de Oro
Palm Springs
Point Lobos
California Site Map

Site Search
Photograph Search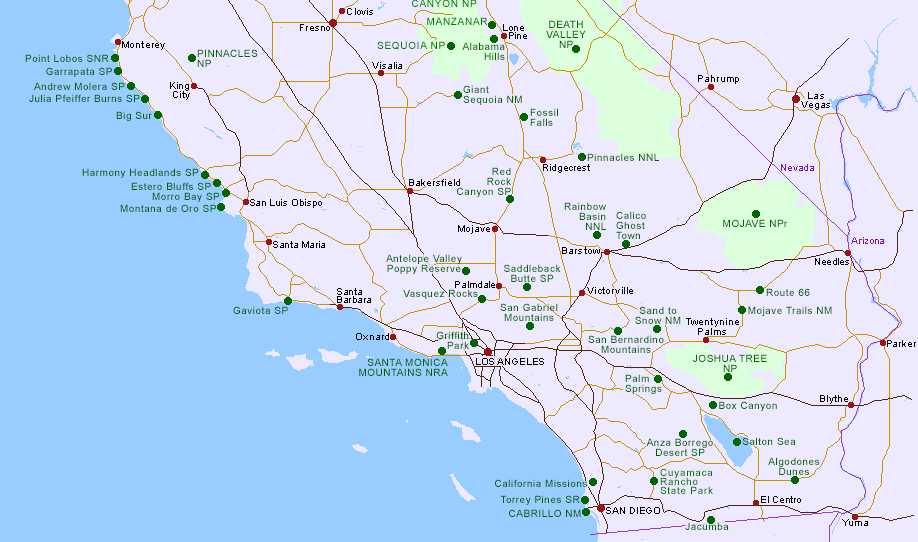 Click on the green circles for descriptions of the various locations.

Map of North California
Combined California Map
Overview Map of the Southwest
Other state maps: Arizona, California (North), Colorado, Nevada, New Mexico, Oregon, Utah, Texas, Wyoming

Other south/central California maps on this site, for specific places:
Anza-Borrego Desert, Big Sur, California Missions, Death Valley, Griffith Park, Giant Sequoia National Monument, Joshua Tree, Kings Canyon/Sequoia, Mojave, Montaña de Oro, Palm Springs, Pinnacles, Point Lobos, Salton Sea, Santa Monica Mountains.

PDF maps of south/central California national parks and monuments, from the NPS:
Cabrillo,

Death Valley (6.2 mb), Joshua Tree, Kings Canyon and Sequoia National Parks,
Mojave National Preserve.




Delorme Southern & Central California Atlas:

The Delorme southern and central California atlas has 110 maps, each covering an area 26.25 minutes of longitude by 30 minutes of latitude, from Santa Cruz south to Mexico, and including the various Pacific Ocean islands. The atlas also includes a gazetteer, and pages on parks/forests/recreation areas, wilderness areas, beaches, historic sites, campgrounds, unique natural features, golf courses and more.

More information - amazon.com