Map of Nevada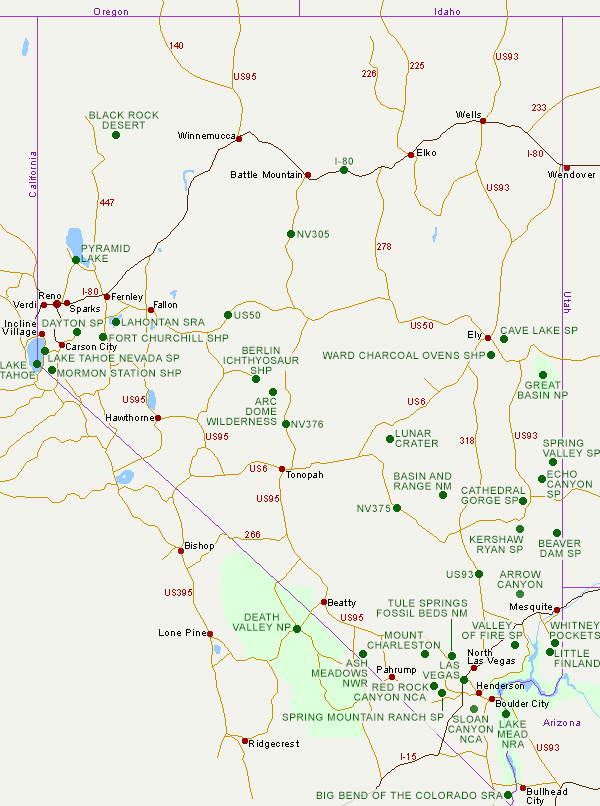 Switch to
Nevada Hotels Map
Click on the green circles on the Nevada state map for descriptions and photographs of parks and other scenic areas.
Nevada Driving Distances
Overview Map of the Southwest
Other state maps:
Arizona
,
California (North)
,
California (South and Central)
,
Colorado
,
Idaho
,
New Mexico
,
Oregon
,
Utah
,
Texas
,
Wyoming
Descriptions of
Lake Mead
and the
Hoover Dam
are given in the
Arizona Guide
, while details on
Lake Tahoe
and
Death Valley
are in the
California Guide
.
Delorme Nevada Atlas
The Nevada atlas from the Delorme topographic series covers the state at a scale of 1:250,000 or 1 inch to 4 miles, resulting in 55 individual maps, plus a more detailed street map of Las Vegas. Contour lines are given at 200 foot intervals, and every road in the state down to the roughest 4WD track is clearly depicted. Other sections include an index of all named features on the maps, and pages about unique natural features (24 of them), historic sites, scenic drives, casinos, hunting zones, hiking trails and fishing locations.
Buy from amazon.com