Access and Facilities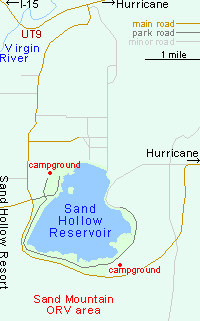 Map of Sand Hollow State Park
The main access to Sand Hollow State Park is via a wide, bendy route up the south side of the Virgin River valley from UT 9, passing a mixture of new housing estates and empty lands ripe for future development. A left turn after a few miles leads to the park, for which entry is relatively expensive at $15 per vehicle (2019), while a right turn enters Sand Hollow Resort (golf, residences and vacation rentals), and straight on is an alternative approach route from Hurricane. The entrance road ends at a large parking area, adjacent to a boat launch, a few narrow beaches and a viewpoint of the Island, a red Navajo sandstone outcrop 500 feet from the shore. Other, smaller semi-submerged red rocks are reachable by paddling, while the most popular waterfront area is a little way north, where a red ridge slopes down to the lake, forming rocky coves and small beaches. The nearby Westside Campground caters for tents or RVs, offering 59 full hookup sites.
Shoreline
The majority of the shore is reachable by a side road that initially heads south parallel to the causeway then turns east past the gently sloping sandy shore, and curves back to the north where the edge of the lake is more overgrown, though still with small, private coves where it is possible to park or camp right beside the water. The road ends with a short unpaved section leading to another primitive camping area, set beneath the 200 foot high volcanic mesa. Also on the south side of the road is the ORV staging area, from where the vehicles cross under the adjacent highway via a tunnel and are free to explore 16,000 acres of sandy terrain beyond, rising to a highpoint of 4,182 feet at the summit of Sand Mountain.
Sand Hollow Hotels
Nearby towns with hotels are
Hurricane
(8 miles),
Washington
(11 miles) and
St George
(15 miles).