1.
Clarion Inn & Suites Hurricane Zion Park Area
58 North 2260 West, Hurricane, UT 84737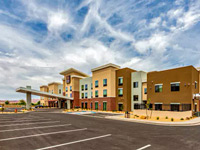 Unlike most hotels of this brand, Clarion Inn Hurricane is a newly constructed property, open spring 2018, located in a lightly developed area on the north side of State Street (Hwy 9) near the west edge of town. A pharmacy is the only facility in the vicinity; most restaurants are between 1 and 2 miles east. Hot breakfast and wi-fi are provided free of charge, while other amenities are a heated indoor pool, a modern fitness center, meeting space and coin-operated laundry. Select rooms contain a sofa bed; all have a refrigerator and microwave. The main entrance to Zion National Park is 25 miles away.

2.
Wingate by Wyndham Hurricane Zion
780 W State Street, Hurricane, UT 84737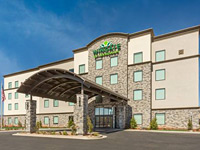 Wingate by Wyndham has a central location in Hurricane, along Hwy 9, within walking distance of a supermarket (Lin's Marketplace), a cinema and a variety of restaurants; one (DQ Grill) shares the parking lot. The hotel opened early in 2017, and offers all the expected facilities for business and recreation, including a 16 person boardroom, a business center, a fitness center, a hot tub and an outdoor pool, plus a convenience store. Free breakfast is prepared each morning. North-facing rooms have fine views towards the Pine Valley Mountains, while those to the south look out towards the long red ridge that borders the town.

3.
Comfort Inn and Suites Hurricane
45 North 2600 West, Hurricane, UT 84737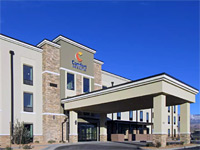 The Comfort Inn hotel was newly constructed in 2019, part of a small group of businesses along the western approach to Hurricane, Hwy 9 from Interstate 15, located in an otherwise undeveloped neighborhood, 2.5 miles from the town center where most of the shops and restaurants are found. Guest rooms have good views of the surrounding red cliffs, and all are equipped with a refrigerator, coffee maker & microwave. The hotel has a spa, fitness center and meetings facilities, and it provides free hot breakfast.

4.
Quality Inn Zion Park Area
43 North 2600 West, Hurricane, UT 84737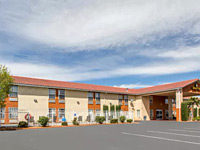 The Quality Inn is located right at the west edge of Hurricane, on the north side of highway 9, surrounded by undeveloped sandy desert.
Zion National Park
is still quite far away, 24 miles to the east, but the hotel is a good choice for a one night stop en route. The inn has a heated outdoor pool at the front and an 18-hole mini golf course at the rear, and also offers free breakfast (including a few hot items), spa, sun deck and guest laundry.

5.
Days Inn by Wyndham Hurricane/Zion National Park Area
40 North 2600 West, Hurricane, UT 84737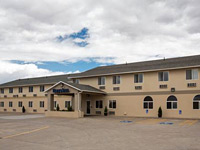 On the west side of Hurricane, the Days Inn occupies a compact two floor building just off Hwy 9, surrounded by plenty of parking space, and well separated from neighboring businesses. Rooms have good views of the Pine Valley Mountains to the west and the white cliffs of
Zion National Park
, 26 miles (by road) east. Two closer attractions are the Quail Creek and
Sand Hollow
state parks, 5 and 6 miles away respectively. Leisure amenities of the Days Inn are an indoor pool & hot tub, while a business center is also available. Free continental breakfast is provided; for other meals the nearest restaurants are 1.5 miles east along the main road.

6.
Econo Lodge Hurricane Zion Park Area
280 W State Street, Hurricane, UT 84737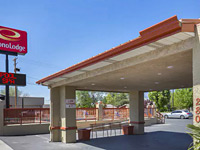 The Econo Lodge is the easternmost motel in Hurricane and therefore the closest (23 miles) to
Zion National Park
. There are many shops, restaurants and other attractions nearby, including Hurricane Community Center and the local heritage museum, both two blocks east by the junction of highways 9 and 59. Most guest rooms face west, looking across the parking lot and an adjacent residential side street. The exterior corridor motel has an outdoor pool & hot tub, and it provides the usual free continental breakfast, free wi-fi and guest laundry service.

7.
Super 8 by Wyndham Hurricane Zion National Park
65 S 700 West, Hurricane, UT 84737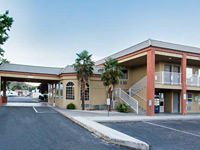 Although centrally positioned along Hwy 9 (State Street), Super 8 Hurricane enjoys a quiet location, set back from the main road adjacent to a residential complex and several restaurants. The motel is a relatively old, exterior corridor property of 2 floors and 52 rooms, a few of which contain a hot tub bath. Rates are low, and amenities somewhat limited, to free continental breakfast, free wi-fi, guest laundry and an outdoor pool.

8.
Rodeway Inn Hurricane
650 W State Street, Hurricane, UT 84737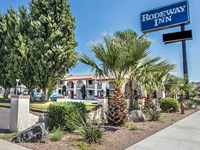 The best of the small selection of hotels in Hurricane, UT, is generally considered to be the Rodeway Inn (formerly the Motel 6), situated a few blocks west of the town center along state highway 9. Rates are low, the place is quiet, the management friendly, and the 52 guest rooms are clean, equipped with microwave & refrigerator. Some contain an extra pull-out sofa bed. Free continental breakfast, an outdoor pool and a hot tub are the three main amenities. It takes about 40 minutes to drive the 24 miles from the hotel to the entrance station for Zion National Park.