1.
Hilton Denver Inverness
200 Inverness Drive West, Englewood, CO 80112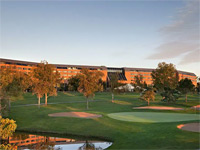 The Inverness Hotel rebranded as Hilton Denver Inverness in spring 2017, retaining all its upscale amenities; the property is a luxurious resort, featuring an 18 hole golf course, full service spa, four dining outlets and 60,000 sq ft of indoor & outdoor function space. The hotel adjoins Interstate 25 at the County Line Road exit, just north of E470 and 11 miles from Englewood city center; other nearby places include Centennial, Greenwood Village and Highlands Ranch. Rooms and suites are contained within a long, narrow building, overlooking the parking lot and some of the leisure facilities to the west, or the golf course to the east. There are several other restaurants within walking distance.

2.
Courtyard Denver South/Park Meadows Mall
8320 S Valley Hwy, Englewood, CO 80112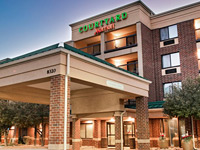 The Courtyard Denver South is the larger of two adjacent Marriott Hotels (the other being the Residence Inn) next to I-25 exit 194 - close to the south edge of the Denver Tech Center and just across the interstate from Park Meadows Mall. Other nearby sites include Centennial Airport, Inverness Golf Course and Meridian Business Park. Dinner and breakfast (not free) are available from the hotel's own restaurant/bar - Charley's, which also provides room service. Guests can relax in a pool, hot tub and fitness center, or visit the many nearby entertainment venues courtesy of the hotel's free 5 mile radius local area shuttle. For those here to work, the Courtyard has three meeting rooms and a business center.

3.
Residence Inn Denver Tech Center
6565 S Yosemite Street, Englewood, CO 80111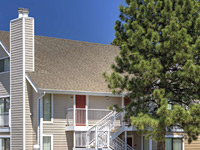 Residence Inn by Marriott Denver Tech Center has the older design for this brand, with the 128 suites divided into several blocks arranged around a central tree-lined parking area. Rooms are available in either studio or two bed/two floor layouts, all containing a full kitchen and most with a fireplace and private patio. The on site restaurant is open for free breakfast each day and a free reception on weekday evenings; for other meals there are plenty of restaurants nearby - the hotel is part of a busy business/commercial area near the Arapahoe Road exit of I-25, in the middle of the Denver Tech Center. A free shuttle is operated to places within a 5 mile radius (Mon-Fri). The hotel also has an outdoor pool, sports court and guest laundry.

4.
Residence Inn Denver South/Park Meadows Mall
8322 South Valley Highway, Englewood, CO 80112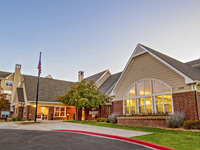 For south Denver visitors needing extra space & facilities, or those here on extended stays, the Residence Inn Denver South is a good choice. Located by exit 194 of I-25 just across from Park Meadows Mall and many other nearby shops & restaurants, the hotel has 112 large, comfortable, modern suites that include a full kitchen, complete with dishwasher. Free full breakfast is served each day, a free light dinner (including beer/wine) is offered on weekday evenings, and room service is available from Charley's Restaurant at the adjacent Courtyard hotel. There are 4 leisure facilities - a pool, hot tub, fitness center and sports court. In addition to the interstate, quick travel to other locations in Denver is possible via the Light Rail system - the County Line stop is a short walk from the hotel.

5.
Homewood Suites by Hilton Denver Tech Center
199 Inverness Drive West, Englewood, CO 80112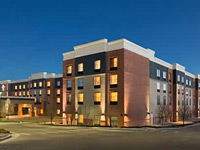 Homewood Suites by Hilton in south Denver has an ideal location for business travelers, right in the middle of Inverness Business Park, within walking distance of Park Place Mall and a few miles from Denver Tech Center & Arapaho (Centennial) Airport. The immediate surroundings are quite peaceful, near but not adjacent to I-25, and overlooking the fairways of Inverness Golf Course. The hotel accommodates long stay guests in 113 studio, one bed or two bed suites, all with a full kitchen. Food for cooking can be purchased via the complimentary grocery shopping service, or from the on-site convenience store, though both hot breakfast and evening reception (Mon-Thu) are provided free of charge. Also available are a fitness center, indoor pool, business center, meeting space and a free shuttle to the nearest light rail station.

6.
Hilton Garden Inn Denver South/Meridian
9290 Meridian Boulevard, Englewood, CO 80112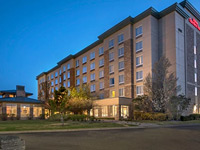 One of several large, new hotels serving Meridian Business Park at the south edge of the Denver suburbs, the Hilton Garden Inn has a quiet location facing a golf course in a lightly developed area, with views over lawns and fields in most directions. The hotel provides a free shuttle to places within 5 miles, such as Sky Ridge Medical Center, Centennial Airport and Park Meadows Mall. Downtown Denver is 17 miles north along I-25. Facilities include an all-day restaurant, lounge/bar, meeting space, convenience store, fitness center and indoor pool.

7.
TownePlace Suites Denver Tech Center
7877 S Chester Street, Englewood, CO 80112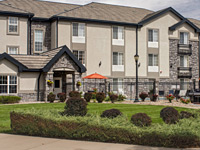 The TownePlace Suites in Englewood is slightly further (half a mile) from the interstate than many other nearby hotels in the I-25 corridor through the Denver Tech Center - the pet friendly property is located in a business park along a quiet side road, so its 95 rooms (in two adjacent blocks) provide a peaceful night's sleep, yet the place is still close to many dining and shopping outlets, including Park Meadows Mall one mile south. All the suites feature separate areas for living & sleeping, plus a fully equipped kitchen, and all are kept very clean. Free high speed internet access is available, as are a fitness center, outdoor pool, business center and guest laundry.

8.
Holiday Inn Express Hotel & Suites Englewood
7380 S Clinton Street, Englewood, CO 80112
The Holiday Inn Express in Englewood serves the nearby Denver Technology Center as well as all other south Denver suburbs, and travelers on I-25 which runs past just to the west - the hotel is located along Clinton St, beside exit 196 of the interstate and a short distance from Inverness Golf Course. The building is new and well maintained, offering all the standard Holiday Inn Express amenities of free continental breakfast, a fitness center, pool (indoor), hot tub, guest laundry and business center. A free shuttle is provided to places within 5 miles, including Centennial Airport and Park Meadows Mall.

9.
Comfort Suites Denver Tech Center
7374 S Clinton Street, Englewood, CO 80112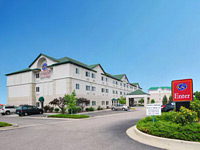 Close to the Denver suburbs of Centennial, Foxfield, Greenwood Village and Cherry Hills as well as Englewood, Comfort Suites Tech Center is part of the extensive technology district either side of I-25 near the south edge of the city. The hotel is also close (less then 2 miles) to two shopping centers: Arapahoe Market Place and Park Meadows, as well as Centennial Airport. It has a good reputation, because prices are fairly low, staff are friendly, the rooms are large, clean & modern, and the location is convenient - easy to find and close to shopping & dining. The main facilities at the Comfort Suites are free full breakfast, free evening reception (Mon to Thu), indoor pool, hot tub, and a refrigerator/microwave in each of the 78 rooms.

10.
Quality Inn & Suites Englewood
10535 El Diente Court, Englewood, CO 80112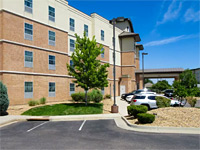 The four floor Quality Suites of Englewood is just about the southernmost hotel in Denver, part of the Meridian Business Park a little way south of the I-25/470 junction. There are many other businesses close by in the Denver Tech Center and Meridien Business park, plenty of shopping in Park Meadows Mall and nearby stores, while just across the road is the Meridian Golf Club. The hotel features 91 modern rooms and one or two-bedroom suites, each of which contains a kitchen and separate living/sleeping areas. Snacks and sundry items can be purchased from the on-site convenience store; other facilities include a fitness center, indoor pool, meeting rooms and basic business services.

11.
Ramada by Wyndham Hotel and Suites Englewood/Denver South
7770 S Peoria Street, Englewood, CO 80112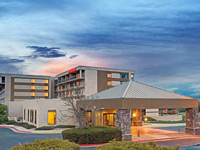 There is just one hotel at Centennial Airport; the full service, 120 room/suite Ramada, situated right opposite the terminal building, and occupying quite a large site, surrounded by gardens and plenty of parking space. Free breakfast is served, and the on-site restaurant is also open for lunch & dinner. Also complimentary are wi-fi and a local area shuttle to places within 3 miles, including many Denver Tech Center businesses. Meeting space and a business center are available, plus a pool & fitness center. The nearest supermarket (Wal-Mart) is 1.5 miles northwest.

12.
Days Inn by Wyndham Englewood Denver Tech Center
9719 E Geddes Avenue, Englewood, CO 80112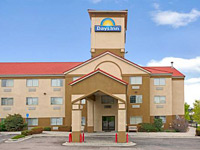 The Days Inn is one of the more affordable hotels in and around Denver Tech Center; a medium sized (68 room), three floor, interior corridor property along Geddes Avenue near the Dry Creek Road exit of I-25. Besides the dozens of corporate locations nearby there are several restaurants and shops within walking distance, and a much bigger selection 2 miles south at Park Meadows Mall. The Days Inn offers free continental breakfast, free wi-fi, a business center and guest laundry. All accommodations contain a microwave and refrigerator.