1.
Sheraton Denver Tech Center Hotel
7007 S Clinton Street, Greenwood Village, CO 80112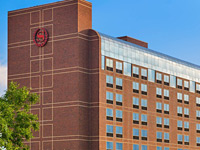 With 263 rooms & suites, the Sheraton is one of the largest Denver Tech Center hotels, and also offers extensive meeting/event space, with ten rooms, largest capacity 700. The mid rise property adjoins I-25 (east side), half way between exits 196 and 197, in a largely business/commercial neighborhood. Recreation amenities are an outdoor pool, patio with fire pits, and 24 hour fitness center. The full-service restaurant, Redfire, is open for breakfast, lunch & dinner, and serves Starbucks coffee. A complimentary shuttle takes guests to and from Centennial Airport, 2.5 miles southeast.

2.
Doubletree Hotel Denver Tech Center
7801 E Orchard Road, Greenwood Village, CO 80111-2508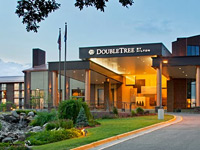 The 305 oversized, beautifully decorated rooms at Doubletree Denver Tech Center feature luxury bedding, granite countertops and private balconies, while the suites have a wet bar and separate dining/living areas. Two food/beverage outlets are Daz Bog Coffee Shop and the all-day Zink Kitchen+Bar restaurant, which also provides room service. Events of up to 800 people can be accommodated by the comprehensive meeting facilities. The hotel has a central location in the Denver Tech Center at the Orchard Road exit of I-25, ten miles southeast of the city center. Places within a 5 mile radius are served by the free shuttle service, including Park Meadows Mall and Centennial Airport.

3.
Courtyard Denver Tech Center
6565 S Boston Street, Greenwood Village, CO 80111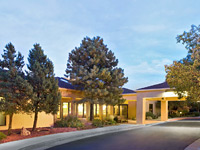 In the middle of the Denver Tech Center, the Courtyard by Marriott features 155 spacious, brightly-decorated rooms & suites arranged around the familiar courtyard garden, and all surrounded by lawns and trees that create a peaceful place to stay in an otherwise busy neighborhood of shops and business premises. The hotel is just northeast of the Arapahoe Rd exit of I-25, 15 miles south of downtown Denver. A free shuttle is operated to places within a 5 mile radius, and the nearby light railway system provides an alternative way to reach the city center. The hotel also has a cafe serving breakfast, a fitness center, indoor pool/whirlpool, 24 hour market selling drinks & snacks, and 2 meeting rooms.

4.
SpringHill Suites Denver Tech Center
7900 E Peakview Avenue, Greenwood Village, CO 80111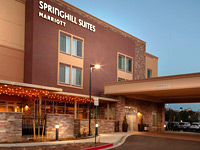 The SpringHill Suites is a late 2018 addition to the large range of hotels serving the Denver Tech Center, located in a business park on the north side of Arapahoe Road, half a mile from the I-15 intersection (exit 197). The shops of Arapahoe Marketplace are a short walk away, and there are many restaurants in the vicinity. The hotel has three floors, 88 studio suites and a small meeting room. Hot breakfast buffet is complimentary, while a convenience store sells snacks and ready-made meals, cookable using the microwaves installed in each guest room. Recreation facilities are the usual fitness center and pool (indoor).

5.
Wingate by Wyndham Greenwood Village/Denver Tech
8000 E Peakview Avenue, Greenwood Village, CO 80111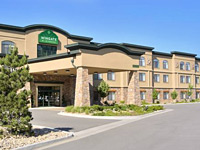 Arapahoe Road, one block south of Wingate by Wyndham Greenwood Village, is lined by many restaurants and several large stores, while for more shopping choices, Park Meadows Mall is just 3 miles south, within reach of the hotel's complimentary local area shuttle. Leisure amenities are the usual indoor pool, whirlpool and fitness center, while wi-fi and hot breakfast are free. Accommodations include a selection of suites with separate bedroom; some have a hot tub bath. Meeting space and a well-equipped business center are available.

6.
Best Western Plus Denver Tech Center Hotel
9231 E Arapahoe Road, Greenwood Village, CO 80112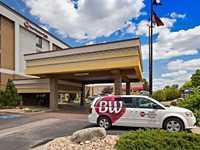 Besides the many corporate locations of the Denver Tech Center, the Best Western hotel is also close to a selection of shops and restaurants, and adjacent to two large stores (Lowe's & Home Depot) - by the Arapahoe Road exit of I-25. All 149 guest rooms feature a microwave, refrigerator, tea/coffee maker and pillow top mattresses; many contain a sofa bed. Complimentary full breakfast is provided, together with the standard facilities for leisure (fitness center, hot tub, outdoor pool) and business (meeting space, business center, free wi-fi).

7.
Sleep Inn Denver Tech Center
9257 E Costilla Avenue, Greenwood Village, CO 80112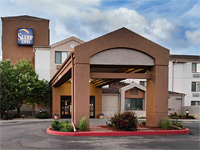 There are many hotels in and around the Denver Tech Center, either side of I-25 on the south side of the city; the Sleep Inn is officially in the district of Greenwood Village, but is also very close to neighboring Centennial, Englewood and Cherry Hills. The inn is a medium sized (119 room) building beside exit 197 of the interstate, part of a busy area with shops, restaurants and other businesses, including Arapahoe Marketplace Mall one mile west. Free continental breakfast, an indoor pool and an exercise room are the main amenities; a microwave & refrigerator are provided in most rooms, and several larger executive suites are also available.
8.
Motel 6 Denver South - South Tech Center
9201 E Arapahoe Road, Greenwood Village, CO 80112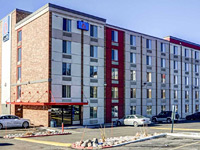 The Motel 6 Denver South in Greenwood Village is one of the bigger properties of this brand and has a good location, though the rates are still low. The 5 floor building sits beside I-25 at the Arapahoe Road junction, part of a group of other hotels, and a short walk from various restaurants and large stores including Home Depot just across the street. Rooms are large, staff are efficient, and the amenities are a little above average, comprising wi-fi, an outdoor pool, guest laundry, cable TV and a mini refrigerator (in selected rooms).