1.
Marriott Denver South at Park Meadows
10345 Park Meadows Drive, Littleton, CO 80124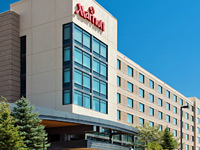 The Marriott is about the southernmost hotel in Denver, situated just half a mile from the start of open countryside around Lincoln Avenue (exit 193 of I-25) - close to the districts of Lone Tree, Centennial, Highlands Ranch & Greenwood Village as well as Littleton. The south terminus of the new light railway system is 0.3 miles away, putting guests within reach of central Denver without needing to drive. Park Meadows Mall is 1.5 miles north, and there are plenty more shops and restaurants close by, yet the hotel has a quiet location, well separated from adjacent buildings, and many of the rooms have fine views of the Rocky Mountains to the west. All the accommodation and public areas are clean, well maintained and elegantly decorated in the distinctive modern Marriott style; the many upscale facilities include a restaurant/lounge, pool, Jacuzzi & fitness center, concierge floor, full service business center and over 12,000 sq ft of meeting/event space.

2.
Courtyard Denver Southwest Littleton
3056 W County Line Road, Littleton, CO 80236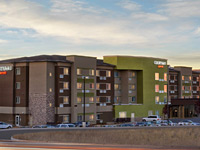 The third Marriott property in Littleton opened late summer 2016 - the Courtyard is a full service hotel of four floors and 125 guest rooms, positioned by the intersection of US 85 with E470, close to McLellen Reservoir, plus several other lakes and a number of city parks. West-facing rooms have fine views of the Rocky Mountains, just six miles away. The Bistro, on the premises, is open for breakfast, dinner & evening drinks, and there is one restaurant adjacent; more can be found 3 or 4 miles north, towards Littleton town center. Other features of the hotel are a convenience store, fitness center, indoor pool and meeting space for up to 100 people.

3.
Residence Inn Denver Southwest/Littleton
3090 W County Line Road, Littleton, CO 80129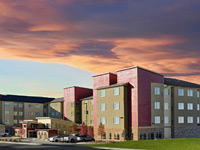 Open late 2017, the Residence Inn adjoins another Marriott property (the Courtyard), at the northeast side of the US 85/E-470 intersection, near McLellen Reservoir, Chatfield Lake and Highlands Ranch Golf Club. There is one restaurant in the vicinity and others one mile north at the Aspen Grove shopping center. Hot breakfast is complimentary at the hotel, as are weekday evening socials, wi-fi and a grocery shopping service. All the suites contain a full kitchen, and are available in two bedroom, one bedroom and studio floorplans. The hotel also has a fitness center, business center, meeting space and a swimming pool.

4.
Staybridge Suites Denver South - Highlands Ranch
8211 Southpark Circle, Littleton, CO 80120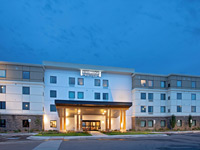 The Staybridge Suites in Littleton/Highlands Ranch benefits from a quiet location along a side road nest to McLellen Reservoir, a short drive from the US 85/E470 intersection, and close to various city parks, walking trails and lakes. There is one restaurant adjacent and others a mile north. The all-suite. extended stay hotel opened summer 2018, offering business services, a pool & fitness center, free breakfast and free evening receptions. The suites are available in three configurations, and all have a full kitchen.

5.
Homewood Suites by Hilton Denver - Littleton
7630 Shaffer Parkway, Littleton, CO 80127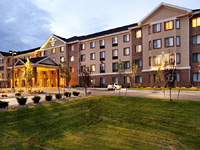 The Homewood Suites hotel in Littleton enjoys a peaceful location, right at the edge of southeast Denver in a lightly developed area, close to such natural attractions as Deer Creek Canyon, Mt Falcon and Chatfield Lake. West facing rooms have good views across Hwy 470 to the Rocky Mountain foothills just beyond, yet there are still plenty of restaurants nearby, and a Safeway supermarket just up the street. The extended stay Hilton property caters for guests in 84 well equipped suites, all containing a full kitchen; some have two bedrooms. Free hot breakfast is provided every day, and a free evening reception 4 days a week. Barbeque grills, an indoor pool, whirlpool, sports court and 24 hour fitness center are the leisure facilities. Events for up to 60 people can be accommodated in the hotel's meeting space.
6.
Hampton Inn & Suites-Denver/Highlands Ranch
3095 W County Line Road, Littleton, CO 80129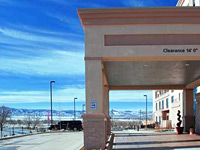 By the US 85/Hwy 470 intersection on the south edge of Littleton, Hampton Inn Highlands Ranch is a large (118 room), recently built property with a scenic location, mostly surrounded by fields and within sight of McLellen Reservoir, which has a trail part of the way around the shoreline and a park at one side. The hotel provides free hot breakfast and is adjacent to one restaurant. Leisure facilities are a fitness center, whirlpool and indoor saline pool, complete with 'rain feature'. The Rocky Mountains are visible from most rooms, while some (the studio suites) have even better views, from their private balconies. A complimentary shuttle service operates to places within a few miles.
7.
Hampton Inn & Suites Denver Littleton
7611 Shaffer Parkway, Littleton, CO 80127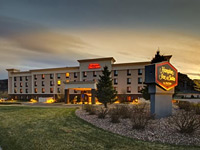 West-facing rooms at Hampton Inn Denver have views across a golf course and Hwy 470 to the Rocky Mountains, which rise up just a few miles away. Those on the east side overlook a small shopping complex with restaurants and Safeway supermarket. There are several parks, lakes and country clubs nearby, in this generally quiet, residential neighborhood right at the southeast edge of the Denver suburbs. Free hot breakfast, an indoor pool, a convenience store and 3,000 sq ft of meeting space (with mountain views through floor to ceiling windows) the are main amenities.

8.
TownePlace Suites Denver Southwest
10902 W Toller Drive, Littleton, CO 80127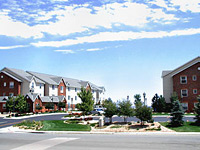 Guests at TownePlace Suites Denver Southwest have a choice of 99 studio, one-bed or two bed suites, all including a full kitchen, and part of a beautifully clean & well managed building that also contains a fitness center, business center, guest laundry, and a dining area for the deluxe free continental breakfast. There is an outdoor pool next to one of the two accommodation blocks, and like most of the rooms this has fine views of the mountain foothills which rise up a mile west - the hotel is built at the edge of the countryside just south of C470, near the mouth of Deer Creek Canyon. The immediate surroundings are mostly undeveloped but many shopping/dining outlets can be found one mile away on the north side of the freeway, along Kipling Parkway.

9.
Holiday Inn Express Hotel & Suites Denver SW - Littleton
12683 West Indore Place, Littleton, CO 80127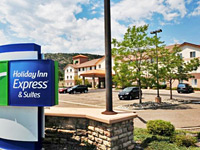 Right at the southwest corner of Littleton and the Denver suburbs stands the elegant new Holiday Inn Express, in a semi-rural location alongside the 470 Freeway, with many of its 76 rooms having nice views over the Rocky Mountain foothills. There are several golf courses & country clubs nearby, and Denver's famous Red Rocks Amphitheater is 8 miles north. All the usual Holiday Inn Express amenities are present: free continental breakfast, a pool (indoor), sundeck, fitness center, Jacuzzi and guest laundry. Outlets within walking distance include a supermarket, several other stores and a selection of restaurants.

10.
Fairfield Inn & Suites Denver Southwest/Littleton
5679 S Alkire Street, Littleton, CO 80127
Fairfield Inn, the fourth Marriott hotel in Littleton, opens spring 2022, providing all the expected amenities including daily free hot breakfast, meeting space and a swimming pool. The 77 room/suite property has a westerly location in the city, beside E470 near the Bowles Avenue exit, just 2 miles from the Rocky Mountain foothills. In the vicinity are a Walmart store and several restaurants, and also several lakes and city parks.