1.
Sheraton Denver West Hotel
360 Union Blvd, Lakewood, CO 80228
Within walking distance of Denver Federal Center and St Anthony Hospital, the Sheraton Denver West is a large, full service hotel, in a busy, urban neighborhood though just a few miles from the edge of the Rocky Mountains - near Red Rocks Ampitheatre and William F Hayden Green Mountain Park. The hotel provides a complimentary shuttle to local area attractions. All guest rooms have elevated views of the city or the mountains. Accommodations include a selection of suites with kitchen. The onsite restaurant, Beau's Kitchen and Tavern, is open all day, and also provides room service. The meetings facilities cater for events of up to 650 people.

2.
Holiday Inn Denver Lakewood
7390 West Hampden at Wadsworth, Lakewood, CO 80227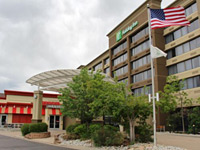 Regular renovations of Holiday Inn Denver - Lakewood have kept this older property amongst the top hotels in the southwest part of the city. Although located by the busy intersection of Wadsworth Boulevard and US 85, the hotel is close to many golf courses, parks and country clubs in the Lakewood-Sheridan area, some within range of the complimentary 5 mile local area shuttle. Leisure amenities comprise an outdoor pool, sauna, whirlpool and fitness center, while for dining the on-site restaurant is open every day for breakfast & dinner, and for lunch at weekends. The Holiday Inn has six floors and 188 rooms, many with distant mountain views; all are spacious, clean, and equipped with a refrigerator in addition to the standard furnishings.

3.
Courtyard Denver Southwest/Lakewood
7180 W Hampden Avenue, Lakewood, CO 80227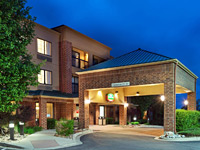 The Courtyard hotel in Lakewood, CO, stands right opposite another Marriott property (the Residence Inn) next to the 285 Freeway - part of a bustling commercial district with shops, restaurants and other hotels. Downtown Denver is 10 miles north, and the Denver Tech Center 12 miles east. The Courtyard receives favorable guest comments for its efficient staff, the convenient location, reasonable rates and nice breakfast (not free, however). The building is relatively old but rooms are large, clean and well furnished; some have a hot tub bath. Also available are an indoor pool, whirlpool, sundeck, fitness center, full service business center and a meeting room.

4.
Residence Inn Denver Southwest/Lakewood
7050 West Hampden Avenue, Lakewood, CO 80227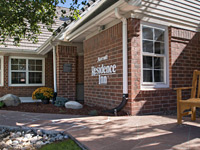 The top choice for extended stay accommodation in the Lakewood district of southwest Denver is the Residence Inn by Marriott, a relatively new building of 102 well appointed suites, part of the main group of hotels in town, by the Wadsworth Boulevard/US 285 junction. All the suites have a full kitchen, separate living/working areas, bright, contemporary decor, and a choice of one or two bedrooms. Guests are treated to a free full breakfast each morning, and a free evening social hour (Mon to Thu); for other meals there are many restaurants within walking distance, and plenty of shops, around the Mission Trace Center. Leisure facilities at the Residence Inn comprise an indoor pool, whirlpool and a fitness center.

5.
Homewood Suites by Hilton Denver West-Lakewood
139 Union Blvd, Lakewood, CO 80228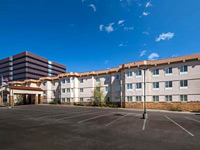 Sites within walking distance of Homewood Suites by Hilton Denver West include Union Square Park, St Anthony Medical Campus, Red Rocks Community College, and a selection of restaurants along Alameda Parkway. The extended stay, all-suite hotel is part of a commercial/business district a few blocks south of 6th Avenue on the west side of Lakewood, and it contains 110 suites with 3 floorplans (two bed, one bed, studio), all equipped with a full kitchen. The free Suite Start hot breakfast is prepared each morning, while a free reception is available on four weekday evenings. Other amenities are the usual pool (indoor), whirlpool, fitness center, convenience shop, business center and meeting space, plus the on-site Le Peep restaurant, open for breakfast and lunch.
6.
Hampton Inn Denver West Federal Center
137 Union Boulevard, Lakewood, CO 80228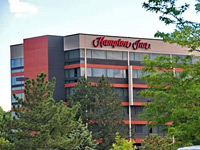 Along Union Boulevard, a short walk from the edge of Denver Federal Center, the 170 room/suite Hampton Inn provides comfortable, reliable accommodation, with a location easily reached from US 6 that runs by just to the north, yet is also quiet, one block from the main road adjoining a city park with ponds, trails, sports facilities, a picnic area and childrens' playground. This location is 8 miles from downtown Denver and 3.5 miles from I-70. The hotel serves free hot breakfast each morning and has all the expected meeting, business & leisure facilities. A complimentary shuttle is operated to places within 5 mile radius.

7.
SpringHill Suites Denver West/Golden
1315 Colorado Mills Parkway, Lakewood, CO 80401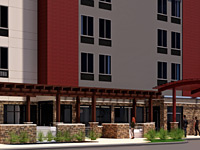 The SpringHill Suites by Marriott has a relatively secluded setting on the east side of Colorado Mills Mall, adjoining a residential district, easily accessed from exit 263 of Interstate 70. There are many restaurants within walking distance, and a 16 screen movie theater. All accommodations are studio suites, featuring spa-like bathrooms, work desk, microwave and refrigerator. Hot breakfast is complimentary, while the lobby bar sells drinks and snacks. Other facilities include a 24 hour market, a fitness center and an outdoor pool.

8.
Best Western Denver Southwest
3440 S Vance Street, Lakewood, CO 80227-5150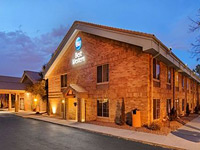 Best Western Denver Southwest is part of a small group of hotels along US 85 in Lakewood, at the junction with Wadsworth Boulevard - within walking distance of many shops & restaurants, and only 8 miles from Red Rocks Amphitheater & the Rocky Mountain foothills. The place is well managed and kept very clean; its 117 rooms are quite large, equipped with microwave/refrigerator, and some have views over the central courtyard garden, location of the outdoor pool. Free full breakfast is provided, and other facilities include an exercise room, guest laundry and several meeting rooms.

9.
Fairfield Inn & Suites Denver Southwest/Lakewood
3605 S Wadsworth Blvd, Lakewood, CO 80235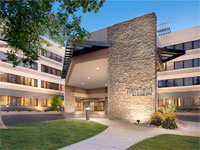 All guest rooms at Fairfield Inn Lakewood are equipped with a refrigerator, microwave, coffee maker & ironing facilities, and are accessed from interior corridors around a full length, floor to ceiling lobby, contained within an older but well maintained building near the intersection of Wadsworth Boulevard and US 285, in mixed business/residential area. There are several golf courses, parks and lakes nearby, including Pinehurst Country Club and Foothills Golf Course, while over a dozen restaurants are within walking distance. Amenities are free hot breakfast, meeting space, business & fitness centers and a secluded outdoor pool. The hotel opened summer 2022, after a full renovation.

10.
Fairfield Inn & Suites Denver West/Federal Center
140 S Union Blvd, Lakewood, CO 80228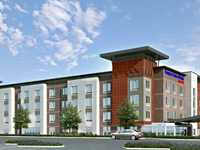 The Fairfield Inn of Lakewood opened early 2019 in a busy commercial area with shops, restaurants and other hotels, along Union Boulevard just north of the intersection with the Alameda Parkway. Also nearby are St Anthony's Hospital and Union Square Park. The reasonably-priced, 128 room property offers amenities of a pool/hot tub, fitness & business centers, guest laundry, a gift shop, free hot breakfast and a 650 square foot meeting room. The location is 9 miles west of downtown Denver.

11.
Comfort Suites Denver Southwest
7260 W Jefferson, Lakewood, CO 80235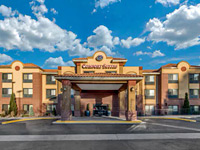 Comfort Suites Denver Southwest is a good quality, mid range hotel of 71 oversized rooms that all contain a microwave, refrigerator and large work desk. The hotel has a relatively quiet location about 500 feet from the main road (Wadsworth Boulevard), a short walk from many restaurants and several shops. Free enhanced continental breakfast is served, including hot items like eggs and bacon. Leisure amenities are the usual pool, hot tub and fitness center. Pets are welcome, for a small charge.

12.
Quality Inn Lakewood
7240 W Jefferson Avenue, Lakewood, CO 80235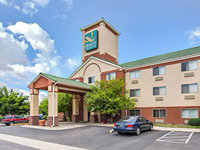 Pet friendly Quality Inn Lakewood offers comfortable, affordable, mid range accommodation with the familiar amenities of free continental breakfast, free wi-fi, a business center, fitness center and guest laundry. Some of the 73 rooms are equipped with a microwave and refrigerator. The motel is part of a quiet business district on the south side of US 285, near various golf courses, lakes, parks and country clubs.