1.
Marriott Denver West
1717 Denver West Boulevard, Golden, CO 80401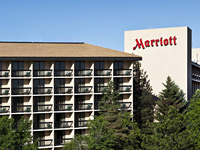 Marriott Denver West occupies a substantial, 305 room building right at the edge of the city, in a semi rural setting by the foot of South Table Mountain - 4 miles east of Golden and 10 miles from downtown Denver along US 40. Guests can dine on the premises at the Blue Mesa Sports Grill/Bar, open for lunch, dinner & drinks, or in Allie's American Grille for breakfast (either buffet or cooked-to-order). For relaxation the hotel has a modern fitness center, indoor/outdoor pools, & a hot tub, and there are hiking/biking trails just one mile away in the hills. Many of the rooms have a private balcony and mountain views; all are recently renovated and include the luxurious new Marriott bedding. The hotel is built next to exit 263 of I-70, on the opposite side from Colorado Mills and Denver West Village.

2.
Courtyard Denver West Golden
14700 W 6th Avenue, Golden, CO 80401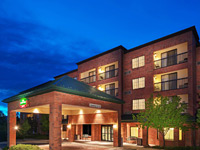 Larger of two adjacent Marriott hotels along US 6 near Golden and the west edge of Denver, the Courtyard caters principally for business travelers, with facilities including free internet access, a 600 sq ft meeting room and a business center, but is well suited to leisure visits too, offering an indoor pool/hot tub and a fitness center. Nice freshly cooked breakfast is served each morning in the Bistro restaurant, and many nearby restaurants provide other meals. The place is clean, well managed, and has a good location close to many shopping outlets - Colorado Mills Mall is just half a mile north. Also nearby are Jefferson County Fairgrounds, Red Rock Community College and Red Rocks Amphitheater.

3.
Residence Inn Denver West/Golden
14600 W 6th Avenue, Golden, CO 80401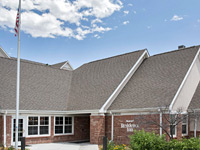 Residence Inn Denver West/Golden sits at the edge of a residential area by the Indiana St/6th Avenue intersection, half a mile from Colorado Mills, within walking distance of Jefferson Country Fairgrounds and directly opposite another Marriott hotel, the Courtyard. The main amenities are free hot breakfast buffet, free evening reception (Mon-Thu), free internet access, a pool/hot tub, a small fitness center and a 40 person meeting room. There are 88 suites available at this extended stay, pet friendly hotel - in studio, one bed or two bed layouts - all very clean, comfortable, nicely decorated, and containing a fully furnished kitchen.

4.
The Golden Hotel, an Ascend Collection Hotel
800 11th Street, Golden, CO 80401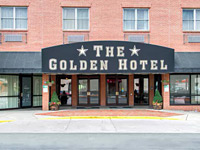 One of the few hotels in Golden, CO, that are actually in the town center, The Golden Hotel, an Ascend Collection Hotel (formerly the Clarion) is ideally located on the banks of Clear Creek, adjacent to a footpath along the river which leads to several city parks and other sites in the historic downtown district. Many shops, restaurants and bars are also within walking distance, though the hotel has its own dining outlet (Bridgewater Grill), open for breakfast (not free), lunch & dinner. The 62 oversized rooms are on 4 floors; all are very well furnished, and have views of either the creek or the mountains. Other facilities include an exercise room, guest laundry and a business center. The Golden Hotel has received the Platinum Award from Choice Hotels, in recognition of its high standards of customer service.
5.
Hampton Inn Denver-West/Golden
17150 W Colfax Avenue, Golden, CO 80401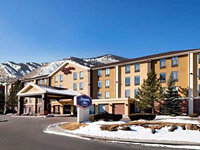 Hampton Inn Golden is part of a business district a few miles southeast of the city center near the I-70/470 intersection, and it benefits from a quiet location away from main roads, adjoining a shopping complex with several restaurants and such stores as Kohl's, Staples and Home Depot. West-facing rooms have mountain views. Guests enter through a spacious lobby, which includes a TV and plenty of comfortable seating, and is the location for the free hot breakfast served each morning. A pool (indoor), hot tub and fitness center are available for relaxation. Four meeting rooms cater for events of up to 90 people, theater style.

6.
TownePlace Suites Denver West/Federal Center
800 Tabor Street, Golden, CO 80401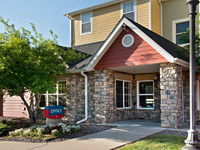 The newly renovated, 100% non smoking, three story TownePlace Suites Denver West features 107 comfortable suites, either studio, one bed or two bed, and all containing a small but fully equipped kitchen. The hotel is part of the west Denver suburbs a few miles from the center of Golden, well connected to all nearby locations by US 6 which runs past just south, and just up the street from another Marriott property (the Fairfield Inn). As a self-catering hotel there is no free breakfast, though many nearby restaurants offer alternatives to in-room cooking. For leisure the TownePlace Suites has an outdoor pool, pleasantly sited in a small garden area between the two accommodation blocks, plus a fitness center.

7.
Holiday Inn Express Hotel & Suites Golden - Denver Area
17140 W Colfax Avenue, Golden, CO 80101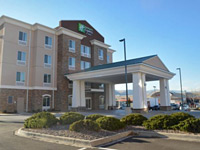 Open late summer 2015, the newly built, 100 room/suite Holiday Inn Express hotel in Golden adjoins a business park within the I-70/US 6/Hwy 470 triangle, close to several restaurants and two stores (Kohl's, Home Depot). Downtown Denver is 11 miles east, while the foothills of the Rockies are just 2 miles west. All the standard, good quality Holiday Inn Express amenities are provided, including free hot breakfast buffet, an indoor pool/hot tub, fitness center, guest laundry and one meeting room, accommodating up to 50 people.

8.
Aiden by Best Western @ Denver West/Golden
15059 W Colfax Avenue, Golden, CO 80401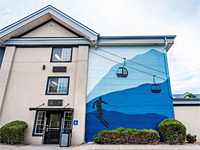 Aiden by Best Western provides the closest chain lodging to Colorado Mills Mall, located along Colfax Avenue (US 40) at the I-70 intersection, just a quarter of a mile from the west entrance of the mall, and also close to a good range of restaurants (one is adjacent). Red Rocks Amphitheatre is 6 miles south. Trees shield the hotel from the interstate and the main road, and some grow in the central, secluded courtyard garden, which also contains an outdoor pool and bbq grills. Interior facilities are a hot tub, sauna, fitness center, business center and 1,200 sq ft of meeting space. There are several suites with kitchenette facilities. Breakfast is complimentary.

9.
Comfort Suites Golden West on Evergreen Parkway
29300 US 40, Golden, CO 80401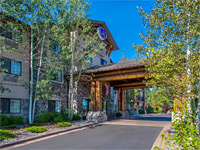 Although officially in Golden, the Comfort Suites hotel has a mountain setting 13 miles west of town along I-70 - at the El Rancho exit, overlooking the start of the Evergreen Parkway which heads south further into the hills. A belt of trees separates the hotel from the interstate so the place is generally quiet and peaceful - all 85 rooms have pleasant countryside views, and contain a microwave/refrigerator; some have a whirlpool bath, patio or balcony. Above average free continental breakfast is served, while for leisure guests have a choice of an indoor pool, three hot tubs, a steam room and fitness center. Nearby El Rancho has a fair selection of restaurants.

10.
Quality Inn & Suites Golden - Denver West - Federal Center
11907 West 6th Avenue, Golden, CO 80401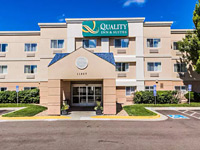 The Quality Inn of west Denver is situated midway between Lakewood, Golden and Wheat Ridge, part of a small group of hotels around the junction of Simms Street/Union Boulevard with US 6, one mile from Denver Federal Center. There are several restaurants within walking distance, and a selection of large stores 1.5 miles south at Market Square. The interior corridor, three floor hotel provides typically clean and comfortable lodging at reasonable rates, with the full set of basic amenities: free hot breakfast, swimming pool, hot tub, and guest laundry. A microwave and refrigerator are installed in all guest rooms.

11.
Baymont by Wyndham Golden/Red Rocks
11909 West 6th Avenue, Golden, CO 80401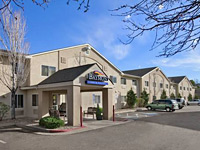 Baymont Inn Golden is a good, mid range hotel with an easily-reached location along the 6th Avenue Freeway, close to Colorado Mills Mall and several other large shopping centers in this part of west Denver. Some of the 62 rooms contain a whirlpool bath; all are larger than average and equipped with microwave, refrigerator, coffee maker & ironing facilities. The standard free continental breakfast is served daily, and the hotel also offers a pool, exercise room, hot tub and sauna.