1.
The Westin Westminster
10600 Westminster Blvd, Westminster, CO 80020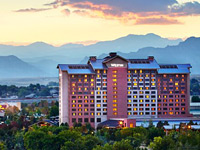 The Westin is a large, full service proerty of 14 floors, 370 guest rooms and nearly 100,000 square feet of indoor/outdoor function space, catering for events of up to 1,200. The hotel is part of an extensive commercial district around the US 36/104th Avenue intersection, within walking distance of shopping, dining, a cinema, and City Park, which offers sports facilities, an artificial lake and walking trails. Downtown Denver is 12 miles south, and the center of Boulder 15 miles north. The onsite restaurant, Kachina Southwestern Grill, is open all day, and also provides 24 hour room service. Other meals can be delivered from local restaurants. Accommodations include studio suites and one bedroom suites, these latter with fireplace and/or sofa bed.
2.
Denver Marriott Westminster
7000 Church Ranch Boulevard, Westminster, CO 80021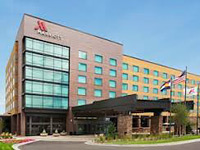 The Marriott hotel in Westminster is situated in a business district on the west side of US 36 at the Church Ranch Boulevard intersection, half way (14 miles) between Boulder and downtown Denver. The luxurious accommodations at the six story (two concierge levels) hotel comprise 207 rooms and suites, many with good views west towards the mountains. The American-style Tiller's Kitchen restaurant/bar provides breakfast, lunch, dinner & room service, and there are around ten other quality restaurants a short walk away. All the usual business, meetings and leisure facilities are available.

3.
DoubleTree Hotel Denver - North
8773 Yates Drive, Westminster, CO 80031-3680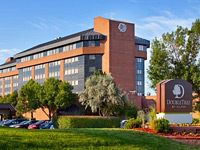 DoubleTree Hotel Denver North enjoys a prominent position facing Hwy 36 close to the huge Westminster Mall and its associated restaurants & other stores - 11 miles from downtown Denver and 21 miles southeast of Boulder. The Mall and many other nearby locations are within range of the hotel's complimentary six mile radius shuttle. Accommodations are large, comfortable and stylishly decorated; choices are standard rooms, executive rooms, king suites and whirlpool bath suites. All day dining and evening drinks are provided by the New Orleans-style LaFitte's lounge/restaurant. Also available are an indoor pool, sun deck, fitness center, business center and 8,000 sq ft of meeting/event space.

4.
Courtyard Denver North/Westminster
14344 Orchard Parkway, Westminster, CO 80023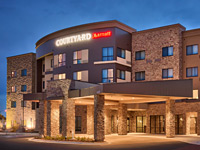 The Courtyard by Marriott hotel in Westminster is part of a small development on the west side of the St. Anthony North Health Campus, close to I-25 exit 226 (144th Avenue), and also within walking distance of the many stores and restaurants at Orchard Town Center. Highlights include the brightly decorated lobby with media wall and plenty of comfortable seating, the Bistro restaurant/bar (open for dinner, lunch & breakfast), meeting/business facilities, and a pool, fitness center & hot tub. Denver International Airport is 25 miles east, while downtown Denver is 16 miles south. The hotel opened September 2016.

5.
Residence Inn Denver North/Westminster
5010 W 88th Place, Westminster, CO 80031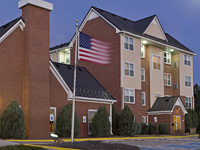 Although it has many features - including free full breakfast, free weekday evening reception, and rooms with a full kitchen - rates at Residence Inn Denver North/Westminster are relatively low, and the hotel is a good choice for all-suite or extended stay accommodation in northwest Denver. Most rooms have nice views towards the Rocky Mountains on the horizon, though the immediate neighborhood is a busy commercial area of restaurants and shops, including Westminster Mall on the far side of US 36. The hotel is about half way (15 miles) between Boulder and downtown Denver. Suites are available in two bed/two bath, one bed or studio configurations, all extremely clean and well maintained. For leisure, the Residence Inn offers an indoor pool, Jacuzzi, sports court and fitness center.
6.
Hampton Inn Denver NW/Westminster
5030 West 88th Place, Westminster, CO 80030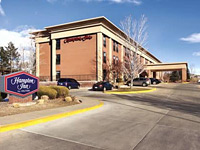 The 106 rooms at Hampton Inn Westminster face north or south, looking out over a partly residential neighborhood on the east side of US 36, though also near a varied selection of restaurants and stores such as Lowe's & JC Penney, plus the varied outlets at Washington City Center Marketplace. The three floor building is surrounded by ample parking space and has a relatively quiet location on a side street, 500 feet from the highway. Amenities are an indoor pool/whirlpool, free wi-fi, free hot breakfast, fitness center and a business center.

7.
SpringHill Suites Denver North/Westminster
6845 W 103rd Avenue, Westminster, CO 80021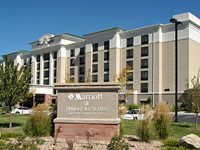 One of the top hotels in north Denver, the SpringHill Suites by Marriott is renowned for its excellent staff, very clean & comfortable rooms, the above average free hot breakfast and the reasonable rates. The building is large and relatively new, containing 164 modern studio suites, all equipped with a microwave & refrigerator, free internet access and extra comfortable bedding. The other main amenities are a meeting room, pool/hot tub, fitness room and a business center. Guest rooms look out over a small area of as yet undeveloped land beside a small stream, near the junction of 104th Ave with US 36, though there is a good selection of shopping and dining outlets nearby, including the Shops at Walnut Creek and Westminster Mall.

8.
Aloft Denver North Westminster
14780 Delaware Street, Westminster, CO 80023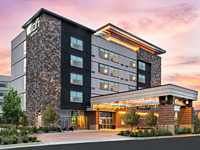 Aloft Westminster opened late summer 2020, beside Orchard Town Center Mall on the north edge of the city, just off I-25 and one mile south of the E-470 toll road. There are plenty of restaurants within walking distance. Features of the 120 room hotel include a 24 hour fitness center, meeting space, a business center, a bar/restaurant staging regular live music, a hot tub and an outdoor pool. Snacks, drinks and cookable meals may be purchased from a 24 hour convenience store.

9.
Fairfield Inn Denver North/Westminster
12080 Melody Drive, Westminster, CO 80234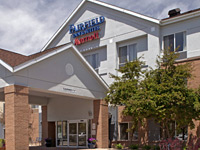 Simple, clean, comfortable accommodation is provided by Fairfield Inn Denver North, a new-looking, 82 room hotel next to I-25 exit 223 (120th Avenue) - near to the districts of Northglen, Eastlake, Broomfield and Thornton as well as Westminster. There are plenty of restaurants within walking distance, and a good selection of shops nearby including Thorncreek Crossing, though the neighborhood is also home to several small lakes, city parks and golf courses. All rooms have a microwave & refrigerator, while other facilities at the Fairfield Inn are free enhanced continental breakfast, an exercise room, hot tub, indoor heated swimming pool and a meeting room.

10.
Quality Inn & Suites Denver North - Westminster
12085 Delaware Street, Westminster, CO 80234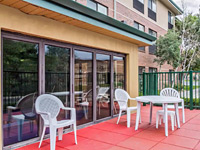 The 78 oversized rooms at Quality Inn Westminster contain a refrigerator, microwave, and separate living/sleeping areas. Guests have use of a good range of facilities including an indoor pool, spa, exercise room, business center, a meeting room, guest laundry and newsstand. Free continental breakfast is served and there are several restaurants nearby along 120th Avenue, just west of exit 223 of I-25. The hotel is an older property but well enough maintained, part of a small group of other lodging either side of the interstate, near the north edge of Westminster/Denver.

11.
Quality Inn & Suites Westminster - Broomfield
10179 Church Ranch Way, Westminster, CO 80021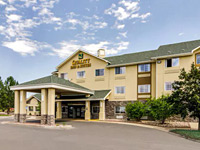 A indoor pool, business & fitness centers, free wi-fi, a 50 person meeting room and free hot breakfast are the principal amenities of Quality Inn Westminster, a modern-looking, three floor property with interior corridors and a quiet location. The hotel sits along a side street west of US 36 at the Church Ranch exit, close to several parks and open areas. The Shops at Walnut Creek are a short walk away to the north. All accommodations contain a coffee maker, microwave and refrigerator.

12.
Quality Inn Denver Westminster
8500 Turnpike Drive, Westminster, CO 80030-4344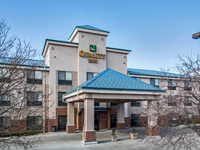 Most hotels in Westminster, northwest Denver, are located around the intersection of CO 95 with the US 36 Freeway, close to the main shopping center in the area (Westfield/Westminster Mall). Quality Inn Denver Northwest faces US 36 a little way south of the junction, along a side street that is quiet despite the nearby highway. Guest rooms are clean and contain a microwave/refrigerator, rates are quite low, and facilities are as expected for this type of hotel - free continental breakfast (including waffles), an indoor pool, hot tub, fitness center and guest laundry.

13.
Suburban Studios Westminster
12095 Mariposa Street, Westminster, CO 80234
The Suburban Studios is a substantial property of four floors and 130 studio suites, all featuring a kitchenette and sofa bed, and catering both for long and short stay guests. The hotel is part of a commercial district that includes other hotels and plenty of restaurants, along Hwy 128 just west of the I-25 intersection. Downtown Denver is 15 miles south. General amenities are limited to a fitness center, coin-operated laundry, and free breakfast.

14.
Super 8 by Wyndham Westminster Denver North
12055 Melody Drive, Westminster, CO 80234-4201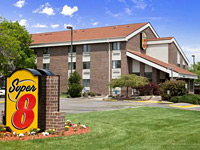 Super 8 Westminister is part of a group of shops, restaurants and other businesses on the north side of town, also close to Thornton & Northglenn. I-25 runs past just to the east, reaching downtown Denver after 13 miles. The international airport is 23 miles east. The motel has a quiet location and a pleasant setting, lined by trees on all four sides, and it offers comfortable, affordable, interior corridor lodging, with a good range of amenities, including a hot tub, fitness center, meeting space and free continental breakfast.