1.
Renaissance Boulder Suites Hotel at FlatIron
500 Flatiron Boulevard, Broomfield, CO 80021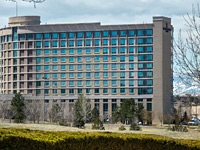 The luxurious, all suite accommodation at the Renaissance hotel in Broomfield (near Boulder) comprises 232 rooms decorated in an elegant combination of traditional and modern styles, part of a beautiful ten story building just off the Denver-Boulder Freeway (US 36) and half a mile from Flatiron Crossing Mall. The rooms are spacious, very comfortable and have nice views of the Rocky Mountains. Customer service is impeccable, and the hotel offers many facilities: for dining there is a cafe serving breakfast, and a restaurant/lounge (Flatz) which specializes in seafood dishes and is open all day. Also available are an indoor pool, whirlpool, spa, fitness center, a full service business center, and 7 meeting rooms. The Renaissance has been voted Marriott Hotel of the Year, and is rated Four Diamond by the AAA.

2.
Residence Inn Boulder Broomfield/Interlocken
455 Zang Street, Broomfield, CO 80021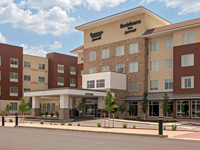 The Residence Inn is part of the Interlocken Business Park which includes Omni and Oracle, on the south side of Flatiron Crossing; a short drive from US 36, Hwy 128 and Rocky Mountain Metropolitan Airport. The four storey property contains 122 suites (studio and one bedroom configurations), all containing a full kitchen, plus an outdoor pool, sports court, a fitness center and a dining area for the free hot breakfast and free weekday evening receptions. South-facing rooms have views over the adjacent Interlocken Golf Club. A free shuttle serves many locations within a five mile radius.

3.
TownePlace Suites Boulder Broomfield
480 FlatIron Blvd, Broomfield, CO 80021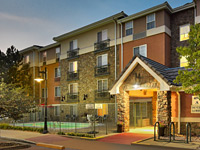 Just across the road (Flatiron Boulevard) from the Renaissance stands a smaller Marriott hotel, the TownePlace Suites Boulder/Broomfield, offering clean, spacious, reasonably-priced rooms (in studio, one bed or two bed configurations) that all contain a full kitchen and separate areas for living/sleeping. There are many restaurants nearby around Flatiron Mall and adjacent shopping areas, and the hotel is within easy reach of Boulder & north Denver (both ten miles away) via the US 36 Freeway. The hotel also has an outdoor pool, 24 hour fitness center, guest laundry, a business center and a free local area shuttle

4.
Aloft Broomfield Denver
8300 Arista Place, Broomfield, CO 80021
Accommodations at Aloft Broomfield Denver, standard rooms and suites, are brightly decorated and equipped with modern amenities, such as walk-in showers. The five floor property is situated at the edge of a residential estate neat the junction of highways 121, 128 and US 36, in a lightly developed neighborhood. A free shuttle serves locations within five miles, including Rocky Mountain Metropolitan Airport. A 24 hour pantry sells snacks and light meals, while the lounge/bar provides all-day dining. Just across the street are several other restaurants, and also the US 36 & Broomfield station of the RTD system.

5.
Holiday Inn Express & Suites Denver Northwest - Broomfield
11401 Via Varra, Broomfield, CO 80020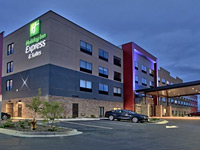 The Holiday Inn Express is a 136 room property just off the Northwest Parkway near the junction with US 36, and one mile from Flatiron Crossing. The center of Bloomfield is 3 miles southeast. West-facing rooms have fine views of the Rocky Mountain foothills, and all accommodations look out over a lightly developed neighborhood, with just a few apartments and other hotels in the vicinity. All the standard brand amenities are provided, including a pool, fitness & business centers, free wi-fi and free hot breakfast.

6.
Fairfield Inn & Suites Boulder Broomfield/Interlocken
455 Zang Street, Broomfield, CO 80021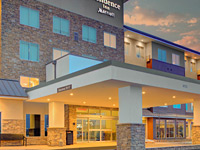 The Fairfield Inn occupies half of a recently (2017) constructed building, shared with another Marriott property (Residence Inn), on the south side of Flatiron Crossing Mall towards the west edge of Broomfield. The hotel has design and decor reminiscent of an Alpine lodge, and is just ten miles from the Rocky Mountain foothills. There are plenty of restaurants nearby, and a Walmart store right next door, though the location is quiet, away from main roads, and bordering the fairways of the Interlocken Golf Club to the rear. Amenities include a sheltered outdoor pool, a lobby bar, a reading library, a complimentary local area shuttle, and free breakfast.

7.
Comfort Suites Broomfield-Boulder/Interlocken
8679 Destination Way, Broomfield, CO 80021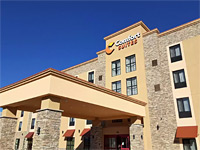 Open early 2021, Comfort Suites Broomfield has an easily-reached location on the south side of the city center, well-connected to other destinations by the adjacent freeways US 36, Hwy 128, Hwy 121 and US 287; 1.5 miles from Rocky Mountain Metropolitan Airport and just down the street from UC Health Broomfield Hospital. Several restaurants are within walking distance. The hotel offers an indoor pool, meeting space, a fitness center, coin-operated laundry and free hot breakfast. All guest rooms contain a microwave and refrigerator.